Learn how to draw a kid on a bike with my easy step by step tutorial. This lesson is very useful and interesting.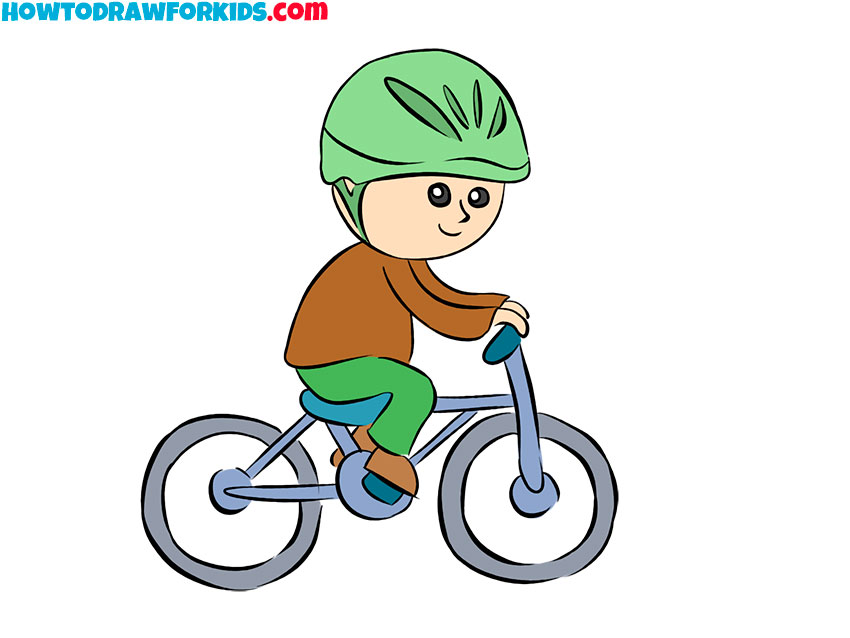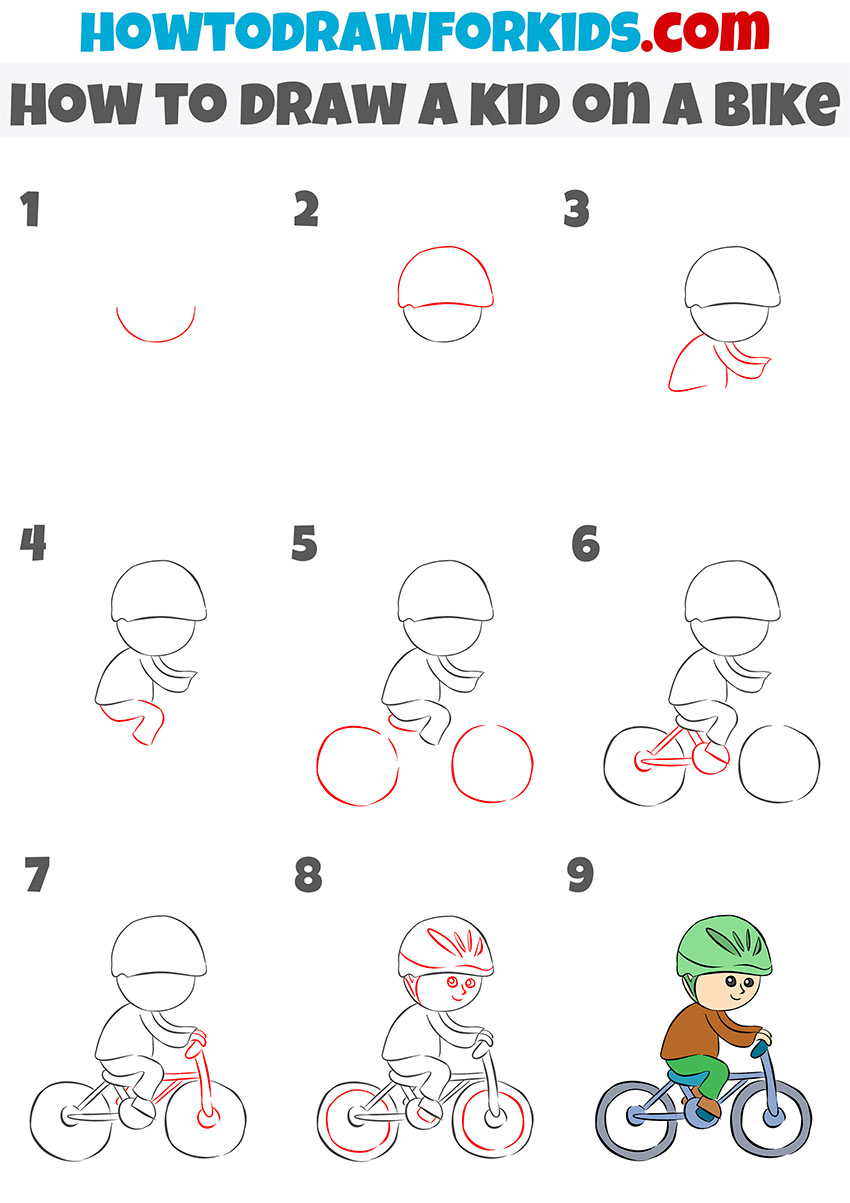 In this lesson, you will learn how to draw a kid on a bike. It will be interesting and useful for you because once again you will practice drawing a person and a bike.
In the picture, you see a small kid riding a two-wheeled bike. The kid has a protective helmet on his head. The design of the bike is very simple, here are the main elements that you can easily repeat. You will succeed, even if you have not drawn such an object before.
During the lesson, you will sequentially draw all the parts of this object. Show attention and accuracy at each stage of drawing, then you will get a good result. To color your drawing, you can choose the same colors as in the example, or you can use any other colors.
Materials
Pencil
Paper
Eraser
Coloring supplies
Time needed: 30 minutes
How to Draw a Kid on a Bike
Draw an oval for the face.

Sketch out an even semicircle.

Depict the helmet.

Draw a larger semi-circle at the top and draw a line for the bottom of the helmet.

Add the torso and arms.

With the help of smooth lines draw the small torso and arms that are extended forward.

Depict the lower part of the body.

Draw the legs in the same position as in the example.

Add the saddle and wheels.

Draw two circles at some distance from each other and depict the small saddle.

Add details.

Sketch out the frame, gear system, and kids' foot.

Depict the front of the bike.

Using straight lines draw the front frame and steering wheel. Add the center part of the front wheel.

Add more details.

Detail the helmet. Draw the facial features, add the circles on the wheels, and depict the pedal.

Color the drawing.

You will need gray and blue for the bike, and brown, beige, and green for the kid.
You can turn on the fantasy and add other elements to your drawing. For example, draw a kid riding a bike in a park. Do not forget to subscribe to us on social networks and leave your comments on the lesson. If you'd like to revisit this tutorial, you can download a PDF file with a short version of the walkthrough.