I have prepared a new lesson for you, in which I will show you in detail how to draw Dio. This step-by-step guide will be simple.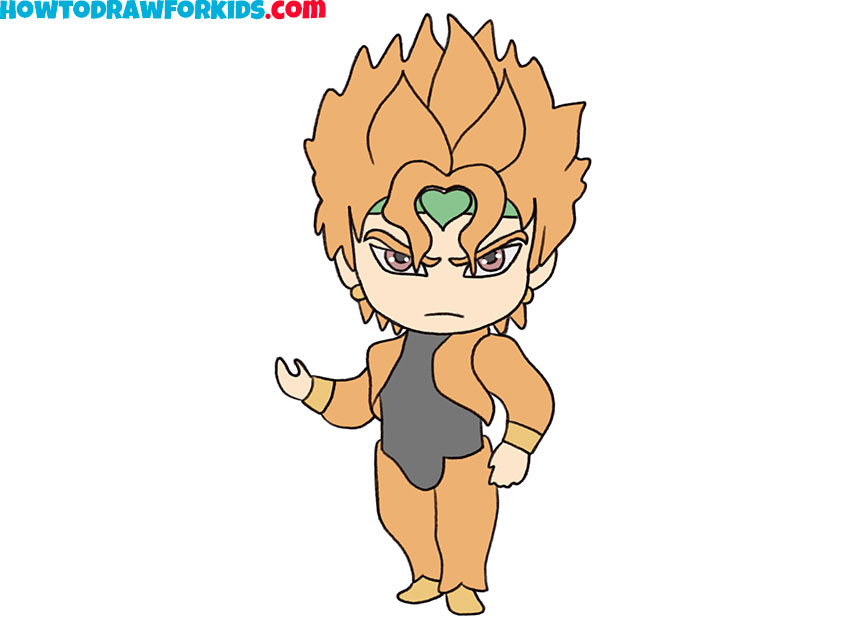 Now I will show you how to draw Dio step by step. The character's full name is Dio Brando. This is the hero of the manga, the main antagonist of the first and third parts of the JoJo's Bizarre Adventure series.
If you are interested in Japanese animation, you know that Dio is an ambitious and cunning villain. Dio has attractive features, blond hair, and a strong, athletic build.
The character's appearance changed after he used the Stone Mask to transform into a vampire. After that, his hair became disheveled, his fangs grew, his eyes became more piercing.
In this tutorial, Dio is depicted in chibi style. You can see that the character has a big head, small torso, short arms and legs. Try to keep these proportions in your drawing.
Materials
Pencil
Paper
Eraser
Coloring supplies
Time needed: 30 minutes
How to Draw Dio
Draw an oval for the face and ears.

The character has the broad face and the pointed chin. Draw the contour of the ears on the sides.

Add the eyes and mouth.

Depict the eyes of the same shape as in the example, draw the mouth with a short curved line.

Sketch out the eyebrows and earrings in the ears.

The eyebrows are long and have curved ends. In the ears, draw small round earrings.

Depict the hair.

Draw the tousled hair with uneven lines. Above the forehead, add individual spiky strands.

Add the ends of the hair and the bandage on the head.

Depict short strands at the back of the head. Sketch out the bandage with the heart.

Draw the torso.

Use curved lines to depict the small torso and the short vest.

Sketch out the hands.

With smooth lines, draw the short arms that are short, which are bent at the elbows.

Depict the legs.

The legs are short and placed side by side. Add the shoes at the bottom.

Color the Dio.

You will need beige, brown, gray, and green.
Especially for your convenience, I have prepared a short version of the lesson in PDF format in advance. Rather, download the file and draw at any convenient time