I have prepared a lesson in which I will show you how to draw Cagney Carnation. The lesson will be interesting and useful for you.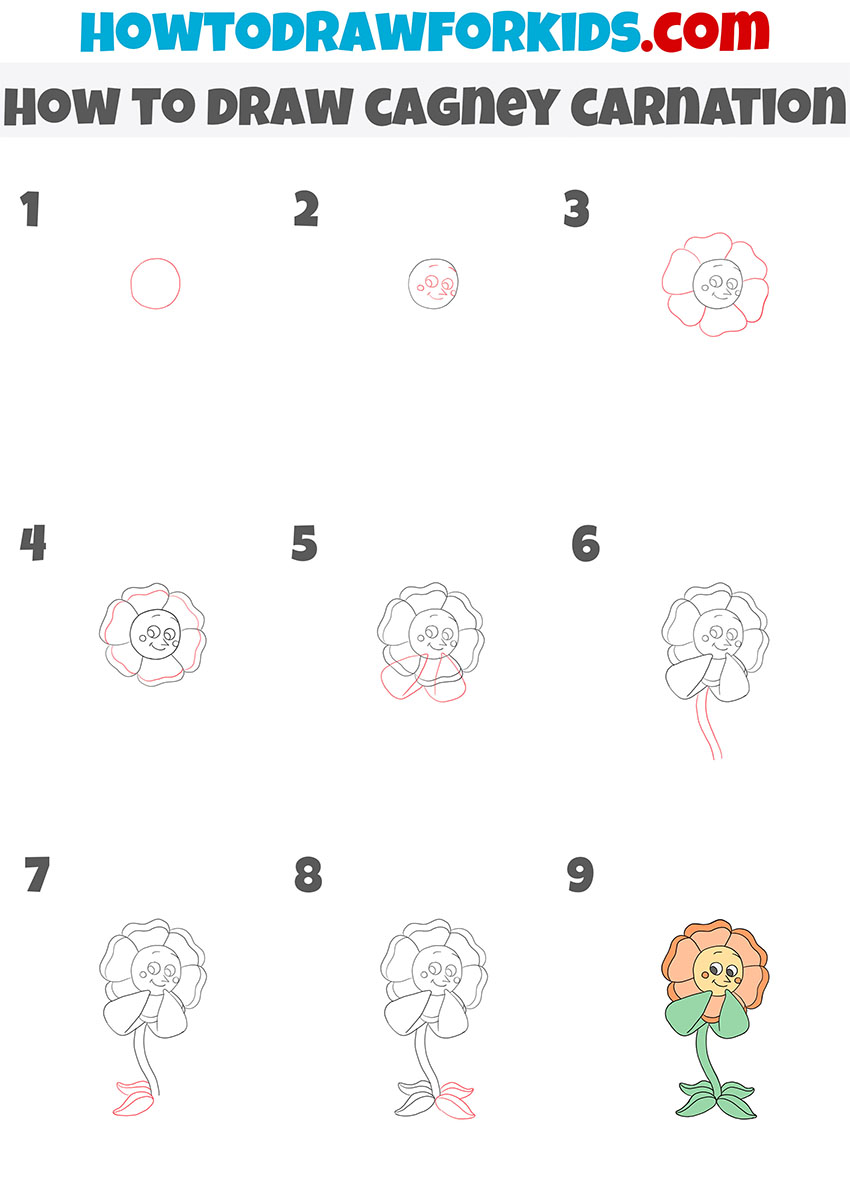 I propose to draw one of the characters of computer games, and now you will learn how to draw Cagney Carnation. It is a tall flower that is one of the bosses in the indie game Cuphead. The flower has a tall stem, large inflorescence and pointed petals.
The inflorescence is the character's head, and the leaves are the arms and legs. Initially, Cagney Carnation appears to be a cute, harmless flower, but during the battle, this character shows his true image. Cagney Carnation roars and changes appearance significantly, dealing damage to the player.
In this tutorial, you will draw Cagney Carnation in an adorable manner. Here the flower raised the leaves to its face and smiles sweetly. Be careful at every stage of drawing and try to carefully draw all the lines that are marked in red.
Materials
Pencil
Paper
Eraser
Coloring supplies
Time needed: 30 minutes.
How to Draw Cagney Carnation
Draw the middle of the inflorescence.

Determine the size of the drawing and draw an even oval.

Add facial features.

Draw the eyes, eyebrows, pointed nose, mouth, and cheeks.

Depict the petals.

Using smooth, curved lines, draw six petals in succession.

Draw the inner outline of the petals.

Depict smooth lines along the outer edge of each petal.

Sketch out the top leaves.

Below the inflorescence, draw wide leaves that are raised up. These will be the hands.

Depict the stem.

At the bottom of the inflorescence, draw down two smooth curved lines.

Add the leaves at the bottom.

On the left side, sketch out two leaves.

Draw the rest of the leaves.

On the right side, add two more leaves of approximately the same shape as in the previous step.

Color the Cagney Carnation.

You will need green, yellow, pink, and orange.
I remind you that you have the opportunity to download a short version of the lesson in PDF format. In this file, you will find a brief instruction and additional materials necessary for the successful completion of the lesson.