How to Draw a Realistic Flower
In this drawing lesson, you will learn how to draw a realistic flower. I am sure that this lesson will be very useful for you.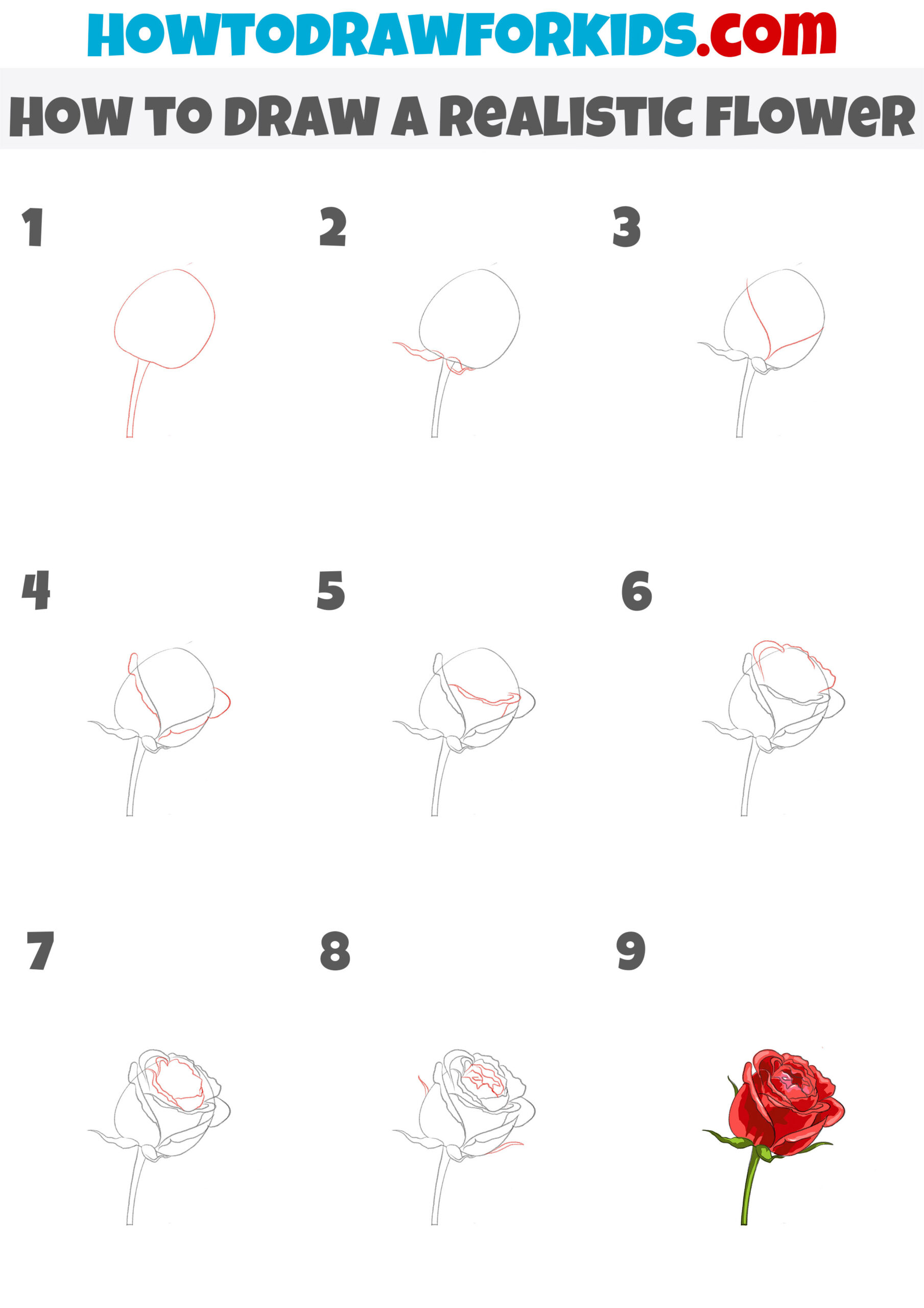 So, I am glad to offer you this drawing lesson in which I will tell and show you how to draw a realistic flower step by step. This lesson consists of nine steps, each of which has a detailed description.
This lesson can be done by novice artists, as well as children. Completing this drawing lesson will greatly help you improve your artistic skills, and you will also spend time enjoying the creative process.
In this tutorial, you will draw a realistic rose. By learning how to draw a realistic flower with this tutorial, you will be able to use the skills you have learned to draw many of your other paintings.
The most important step in the implementation of this lesson will be the stage of coloring the picture. It is in the process of coloring that you can depict the flower in the most realistic way.
In order for your flower to look voluminous and realistic, you need to correctly depict the areas of light and shadow using different shades of scarlet.
Materials
Pencil
Paper
Eraser
Coloring supplies
Time needed: 30 minutes
How to Draw a Realistic Flower
Draw the stem and guidelines.

Depict the outline of the future flower bud, and add the stem using curved lines.

Depict the leaves near the bud.

Sketch out two leaves using wavy lines of different sizes.

Start drawing the borders of the petals.

Inside the previously drawn outline of the flower bud, draw two curved lines of different lengths.

Add the bottom contours of the petals.

Next to the previously drawn curved lines, depict wavy and rounded lines.

Sketch out the outline of the petal.

Draw several wavy, curved lines between the previously drawn elements.

Draw the outlines of the petals at the top of the bud.

Depict wavy and rounded lines near the upper contour of the previously drawn bud.

Add the inside of the flower bud.

Now you should draw some more wavy and curved lines.

Finish drawing the bud and add the leaves.

On the sides of the flower, add curved lines, and also draw wavy lines inside the bud.

Color the drawing.

To color this flower, use different shades of red as well as shades of green.
I remind you that you can download the PDF file that I have prepared especially for your convenience. This file contains a short version of this lesson and has additional useful training materials. Download this file so as not to lose it and return to this lesson at any time convenient for you.