Today in this tutorial I will show you how to draw an elf. With this lesson, you improve your drawing skills. You will also find here several more options for drawing elves with different appearances.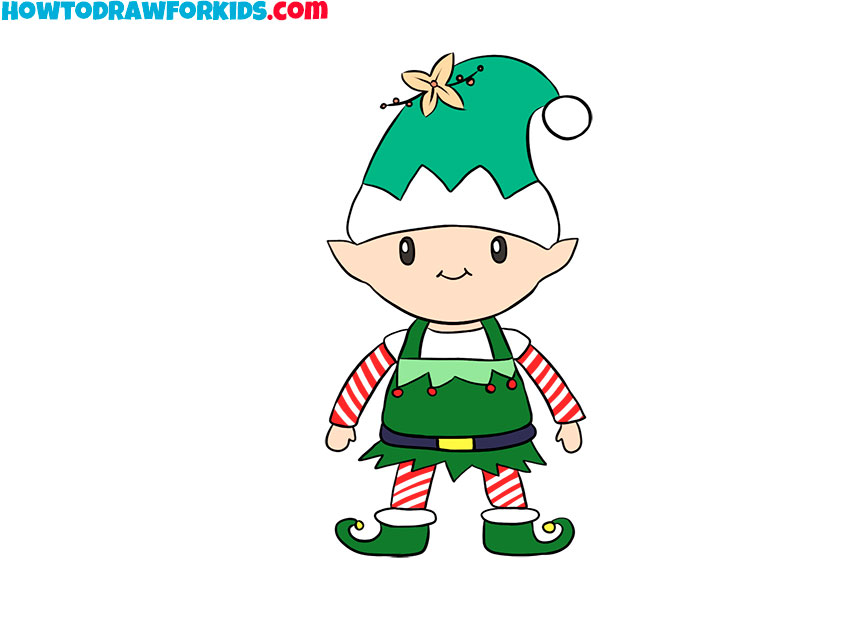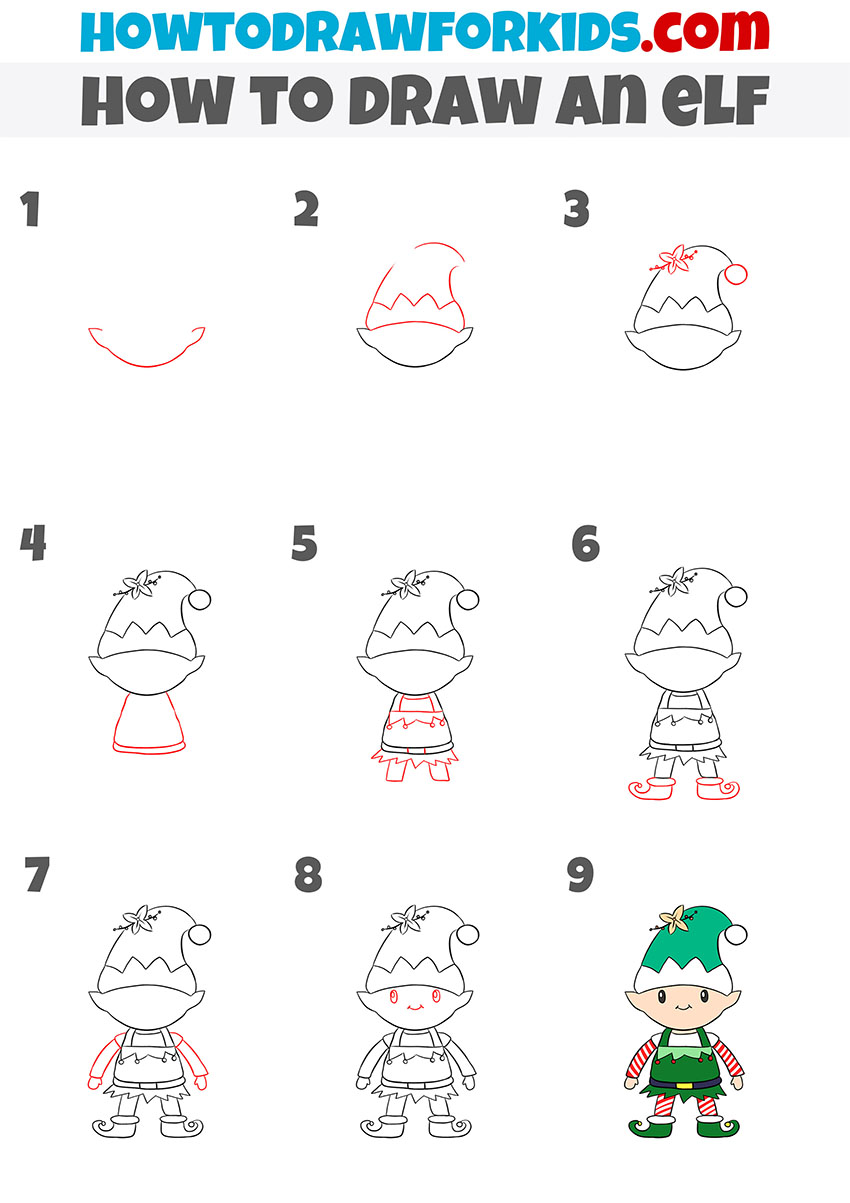 I hope you will find it very interesting to learn how to draw an elf step by step. This is a fabulous creature that we know from Scandinavian mythology.
Elves live underground and only occasionally come to the surface. Elves are sometimes depicted as little men with wings. A distinctive feature is the unusual shape of the ears. Usually, elves have protruding ears that have a pointed shape.
In the picture you see a little funny elf, who is dressed in a smart suit, there is a festive cap on his head. With a simple instruction, you can easily draw all the elements of an elf. Consistently follow all the steps of drawing, be careful and accurate.
Materials
Pencil
Paper
Eraser
Coloring supplies
Time needed: 30 minutes
How to Draw an Elf
Draw an oval for the face and ears.

Depict a smooth rounded line and add the pointed ears on the sides.

Sketch out the cap.

The lower part of the cap has a figured shape, the upper part consists of smooth curved lines.

Add the remaining elements of the cap.

Depict the flower decoration and the round pom-pom at the end of the hat.

Draw the torso.

The torso has the shape of a trapezoid, draw the small belt below.

Add the rest of the clothes.

Depict some curly elements on the clothes and draw the legs.

Sketch out the shoes.

The toes are turned up and have little pom-poms at the ends.

Draw the arms.

The sleeves consist of two elements, draw the hands below.

Add the elements of the face.

Depict the eyes in the form of ovals and add the small mouth.

Color the elf.

Use some bright colors to color the elf.
I invite you to download the short version of the lesson as a PDF file for free. Save this file and use it whenever you want to get creative.
How to Draw an Easy Elf
The instruction includes eight clear and accessible steps. Each step in this tutorial is one simple action that you can easily repeat. Take your time during the lesson and use small hints to help you achieve the best results.
How to Draw an Elf Step by Step
In the picture, you see a little elf who has an unusual outfit. The elf has a cap on his head, a curly collar around his neck, and boots have sharp ends that are raised up. This character looks very funny. Elves have an unusual pointed ear shape, and this feature gives the elves a special charm.