This drawing lesson will help you learn how to draw a chicken step by step. It consists of nine simple steps that you are sure to manage.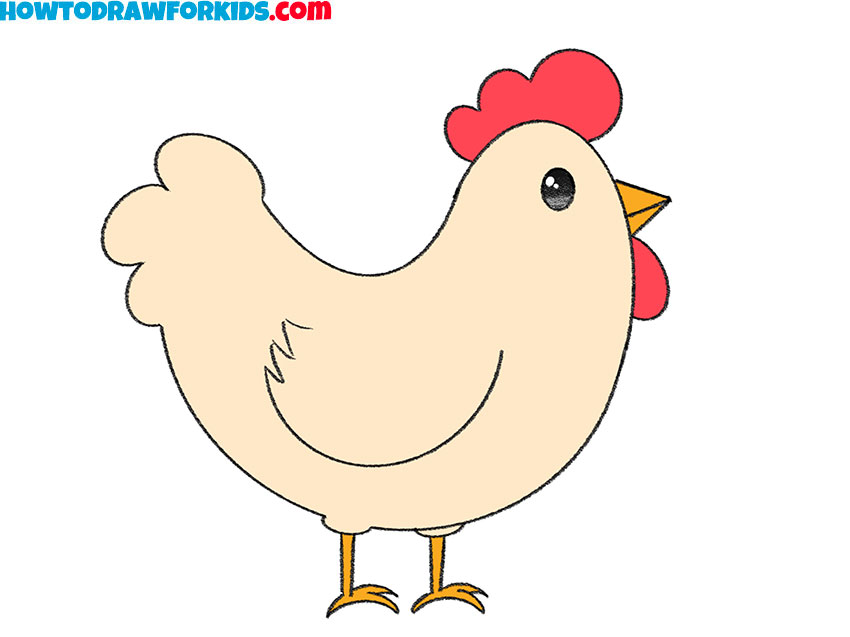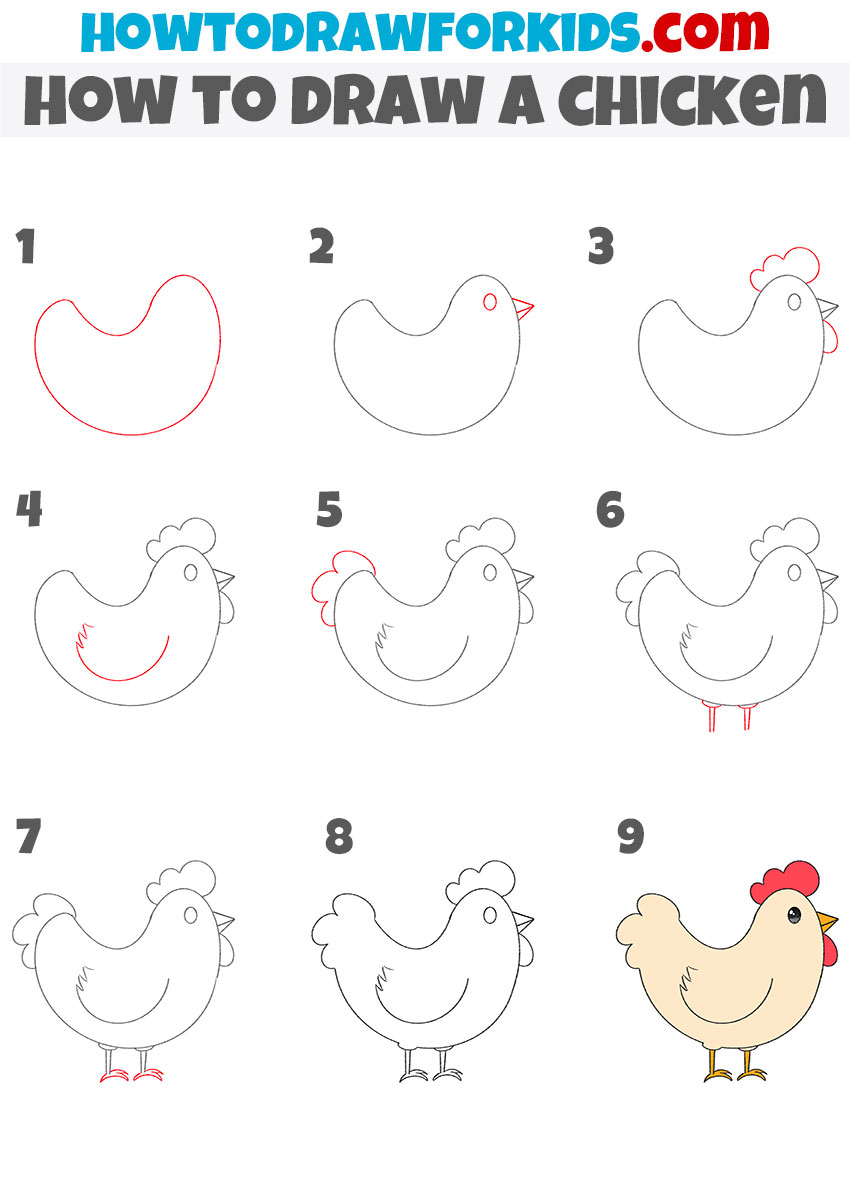 In this drawing guide, I would like to tell you and show you how to draw a chicken. Even if you don't have any drawing experience at all, you can draw a chicken step by step with these instructions.
A chicken is a bird. It is a type of bird kept on a farm for its eggs or its meat or the meat of this bird that is cooked and eaten.
I suggest you prepare all the materials you will need for drawing and then begin a step-by-step drawing of this domestic bird.
Materials
Pencil
Paper
Eraser
Coloring supplies
Time needed: 20 minutes
How to Draw a Chicken
Draw the torso.

To depict the chicken's torso, you should use a curved line.

Add the facial features.

Make an oval shape for the chicken's eye and add a triangular shape for the beak, which is split in half.

Outline the comb and two wattles.

Use curved lines to depict these elements on the chicken's head and neck.

Picture the wing.

Add a wing on the side of the chicken in a half-circle and a zigzag line.

Draw the tail of the chicken.

You can depict this detail with rounded lines at the back of the chicken's torso.

Add the top of the chicken's legs.

Depict two identical details using semicircles and straight lines.

Depict the lower parts of the legs.

Picture these elements the same and placed them below the previously drawn parts.

Erase the auxiliary lines.

Use an eraser to remove unnecessary lines from the drawing.

Color the drawing.

To color the chicken, use beige, red, orange, and black.
This concludes this step-by-step lesson on drawing a chicken. Please tell us in the comments if you enjoyed this lesson and if you were able to do everything as shown in the instructions. Traditionally, I have prepared a PDF file for you, which you can use whenever you feel like drawing.
The picture shows an ordinary white chicken. It is sitting, so the paws are not visible. The head and torso are one object. This tutorial consists of a few simple steps and is suitable for any child and aspiring artist. This will require your skill to create smooth, rounded lines. Also, be careful to maintain the correct proportions.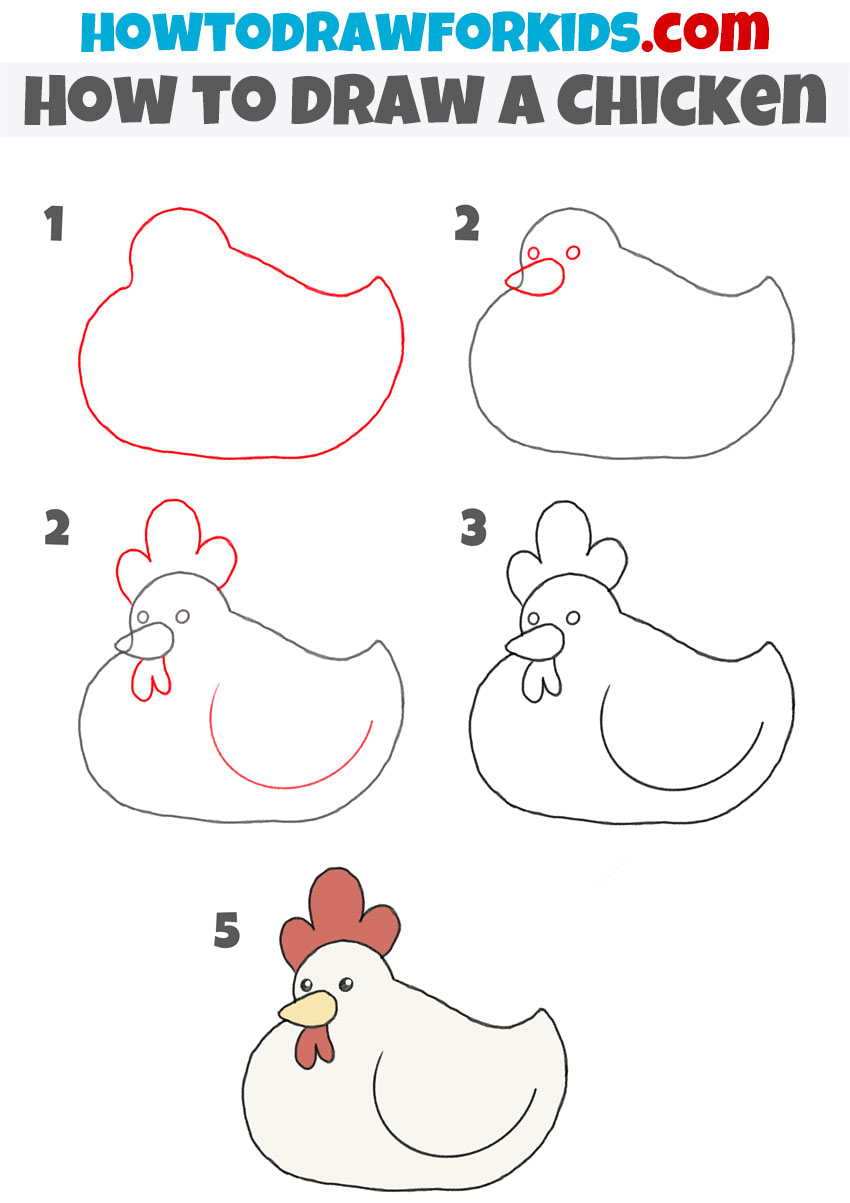 How to Draw a Chicken for Kids
In this drawing lesson you will also be able to see how to draw a chicken. If you follow these simple steps you can end up with a very cute sketch.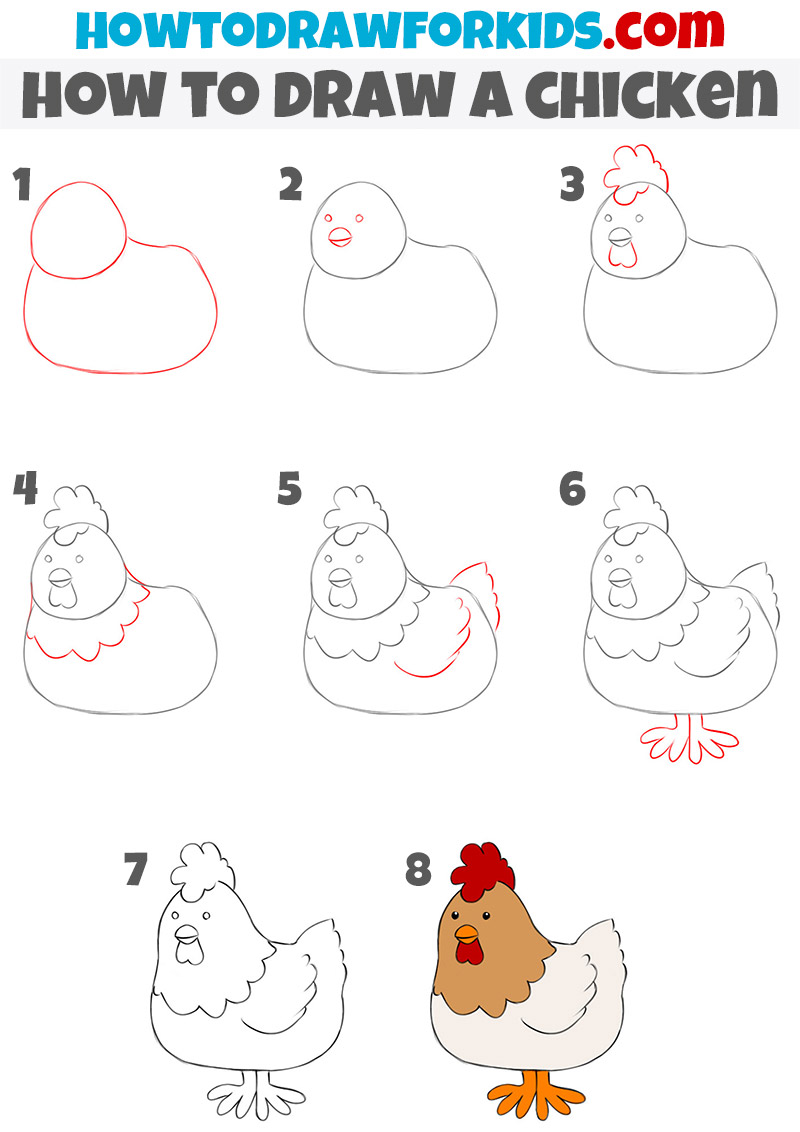 he picture shows a white chicken, but you can paint the chicken in any other color, such as brown, gray or black, if you wish. You can also detail the feathers with short strokes. The lesson consists of nine steps. Each step is one simple action. For your convenience, in each step, there is a small hint that will help you correctly depict the next element.