Today, in this tutorial, you will learn how to draw a fox face. This guide consists of just nine easy steps with helpful hints.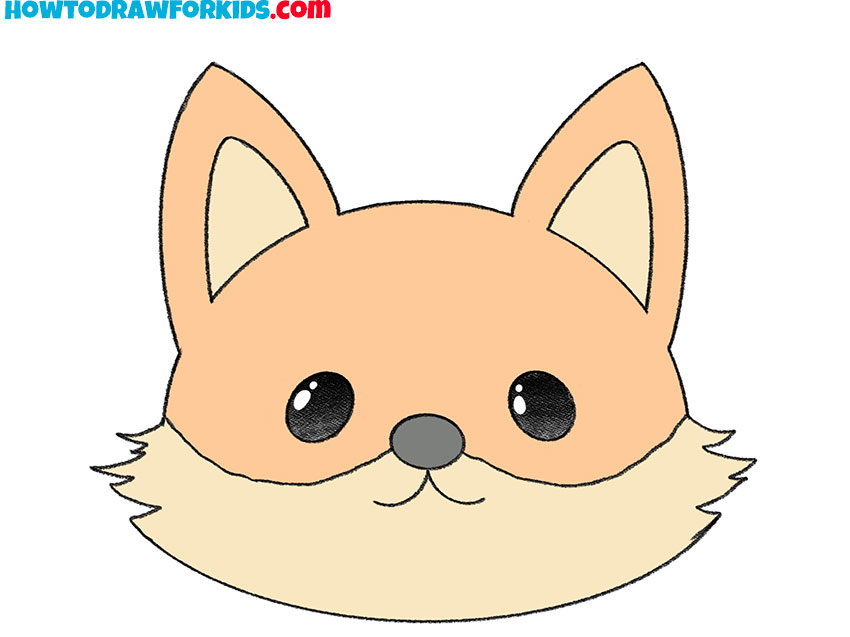 I suggest you complete a new, exciting lesson in which I will show you how to draw a fox face. The lesson is great for beginners because the instructions are very simple and easy.
Now you will learn how to draw the fox face. In this lesson, you will acquire useful skills that will come in handy for drawing other animals. The fox is a beautiful predatory animal.
In this tutorial, the face of the fox is presented in a cartoon style and looks very funny and cute. You can easily draw a fox face with the help of a clear and accessible instruction.
Materials
Pencil
Paper
Eraser
Coloring supplies
Time needed: 30 minutes
How to Draw a Fox Face
Draw the top outline of the head.

Sketch out a smooth, rounded line.

Add the bottom outline of the head.

With the help of short strokes, depict fluffy fur around the edges.

Depict the bottom of the face.

Draw a smooth, rounded line at the bottom.

Add the eyes and nose.

Draw three even ovals in the same position as in the example.

Detail the lower part of the face.

Draw the contour where the color of the fur will be different. Add the mouth using rounded lines.

Sketch out the ears.

Add two ears that are spiky.

Depict the inside of the ear.

Using smooth lines, add the outline inside each ear.

Color the drawing.

You will need orange, gray and black.
At the end of the lesson, I suggest you download the PDF file that I have prepared specifically for your convenience. In this file you will find a short version of the lesson and additional useful materials. Use the file at any convenient time when you want to get creative.