With this simple tutorial, you will learn how to draw a cupcake. This guide will be very useful and interesting for you!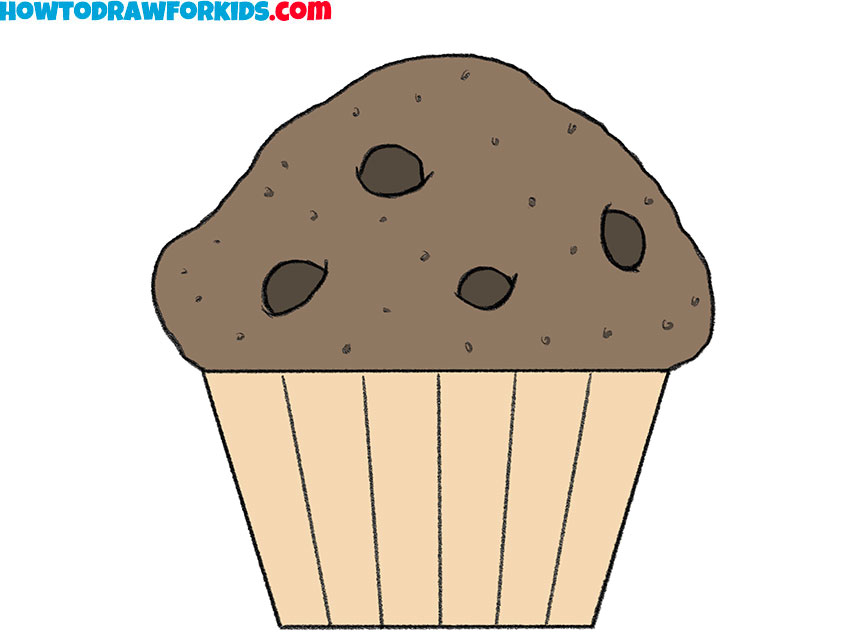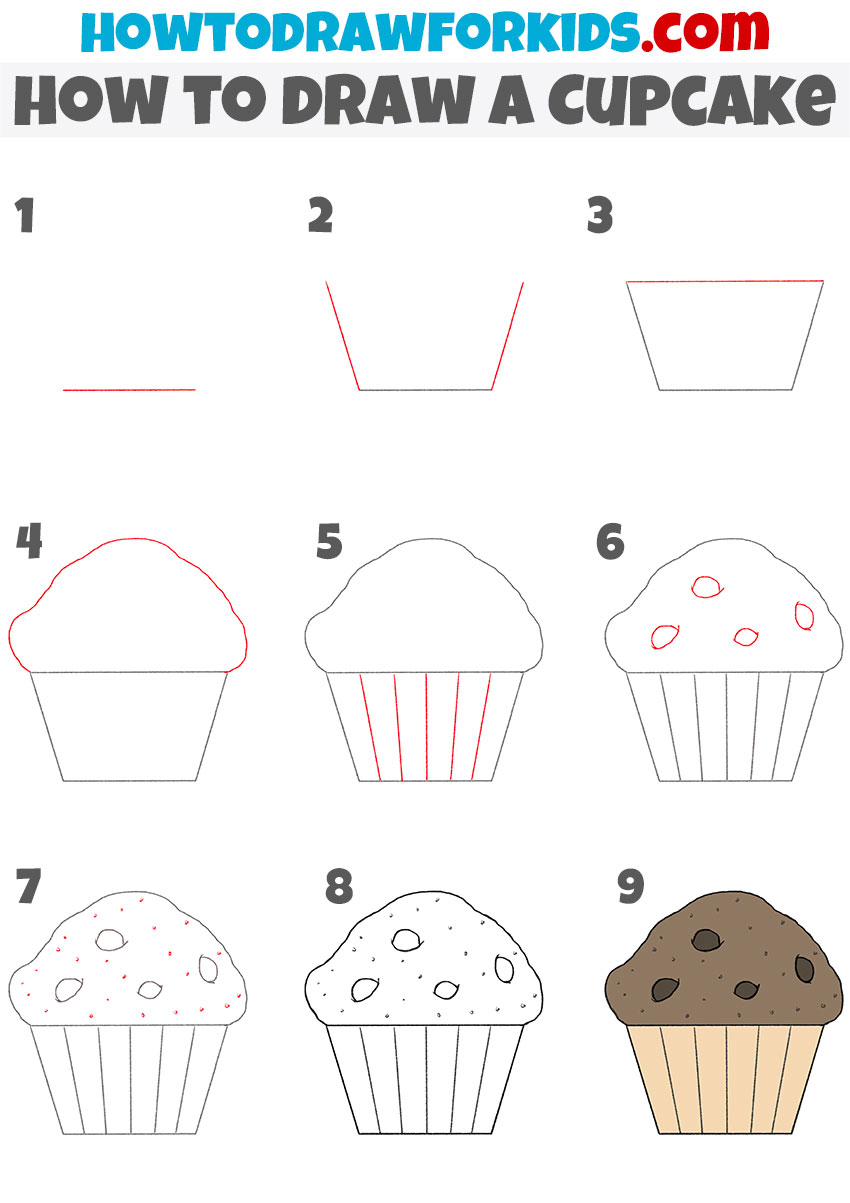 In this drawing tutorial, you can learn how to draw a cupcake step by step in just nine easy steps. The finished drawing will turn out very pretty and appetizing.
Do you know what a cupcake is? A cupcake is a small cake designed to serve one person, which may be baked in a small thin paper or aluminum cup. As with larger cakes, frosting and other cake decorations such as fruit and candy may be applied. Many people enjoy making and eating cupcakes along with other miniaturized foods, and most bakeries offer a line of these cakes in addition to their other desserts.
If you love cupcakes too or would like to taste them someday, I suggest you start drawing this beautiful dessert.
Materials
Pencil
Paper
Eraser
Coloring supplies
Time needed: 20 minutes
How to Draw a Cupcake
Draw the bottom outline.

Depict the straight horizontal line. I'm sure this step will be easy enough for you.

Add the sides of the cupcake.

Outline two straight lines on the right and left sides of the previously drawn line.

Draw the middle of the cupcake.

Outline the straight horizontal line that connects the two previously drawn lines.

Add the top of the cupcake.

You should depict this part of the cupcake with a curved line.

Complete the bottom of the cupcake.

Now you need to draw five straight lines at the bottom of the cupcake.

Draw the chocolate chips on top.

Use the rounded lines to draw four chocolate chips on the cupcake.

Depict the crumbs.

Outline the many dots at the top of the cupcake you have drawn.

Check if it is done correctly.

Now make sure you have drawn everything right and you don't need to erase any details.

Color the drawing.

To color the cupcake you have drawn, use beige and shades of brown.
Excellent! I think you have now learned how to draw a beautiful cupcake step by step with these simple instructions. I have prepared for you a short version of this tutorial as a PDF file, which you can download and use at any time convenient for you.
How to Draw an Easy Cupcake
In the picture you see a small cupcake that looks very appetizing to you. Try to draw the bottom of the cupcake correctly, and drawing the top of the cupcake will not cause you any difficulties, since free lines are used here. So, take all the necessary art supplies and get down to exciting creative work, and I want to wish you creative success.
How to Draw a Cupcake for Kindergarten
You can start drawing with a biscuit, then you need to draw a cream and, to top it off, small particles of powder. For coloring the finished cupcake, you should choose gentle tones – light brown and pink, and let the powder be red.