I have prepared for you a lesson with which you will learn how to draw John Cena. This lesson will be very useful for each of you.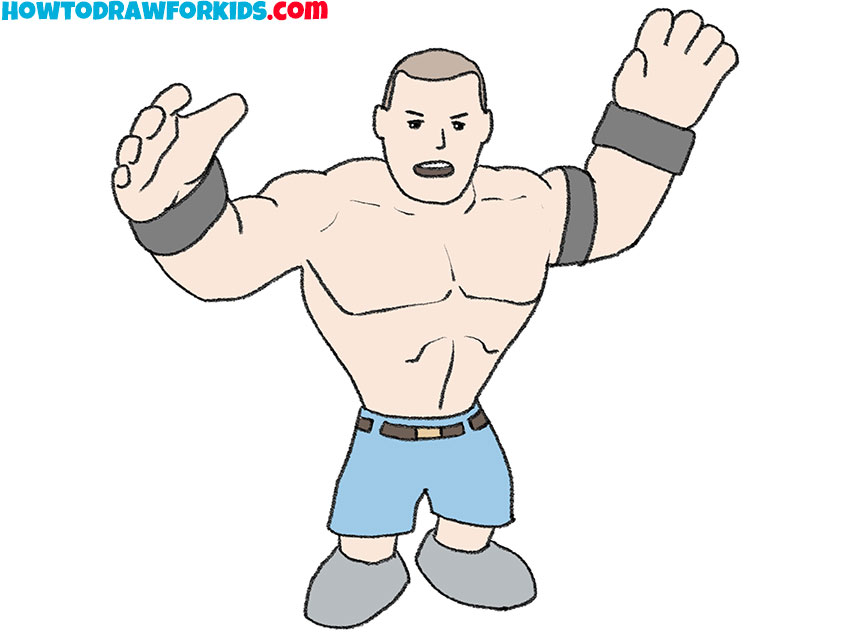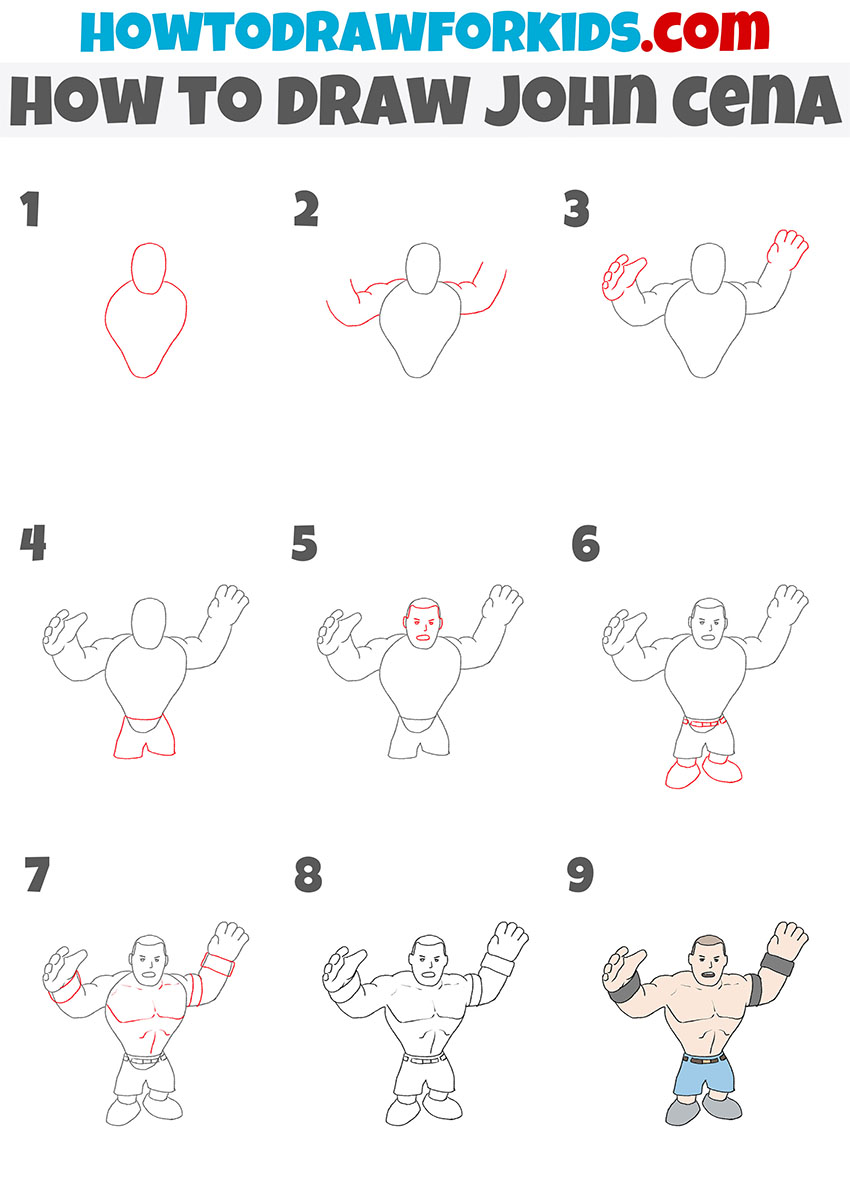 So, I am glad to offer you this wonderful step-by-step instruction, with which you will learn how to draw John Cena step by step. This lesson consists of nine steps, each of which is accompanied by a detailed description. This tutorial is great for kids and beginners artists.
With the help of this lesson, you can practice drawing people in a cartoon style. Surely many of you have heard of a man like John Cena. John Cena began his journey to popularity as an athlete, but managed to gain recognition in other areas of activity. He has a lot of championship titles and sensational films, where he played prominent roles.
To learn how to draw John Cena as soon as possible, you can prepare art supplies right now and start doing this work. If you want to achieve the perfect result, you can try to draw this drawing several times. I wish you good luck with this drawing tutorial, and I hope you have a great time and enjoy the creative process.
Materials
Pencil
Paper
Eraser
Coloring supplies
Time needed: 30 minutes
How to Draw John Cena
Draw the outline of the John Cena's head and torso.

Depict the head as an oval shape and add a long, curved line at the bottom of it.

Add the John Cena's upper arms.

Depict two arms raised up using curved lines and arcs of different sizes, as shown in the figure.

Depict the hands of the John Cena.

On top of the previously drawn curved lines, add two large hands with fingers using curved lines.

Sketch out the John Cena's shorts.

At the bottom of the torso, draw a line for the belt, and add several curved lines.

Draw the ears, hair and facial features.

Sketch out the ears, eyes, nose, mouth, and hairstyle using an oval, straight and curved lines.

Deoict the lower part of the legs and the elements of the belt.

At the bottom of the shorts, add short, straight, curved lines and arcs. Add rectangles at the top.

Add the relief of the body and elements on the arms of the John Cena.

Use curved lines to draw the muscular body and add some elements on the arms.

Correct inaccuracies.

To prepare this drawing for coloring, use the eraser and remove the extra lines.

Color the drawing.

To color the John Cena, use beige, brown, gray, blue, yellow, and black.
For your convenience, I have prepared a PDF file in which you can find a short version of this tutorial and additional useful materials for completing it. Download this file to return to the lesson at any time.