In this drawing lesson, you can learn how to draw a giraffe head step by step. You will definitely enjoy this fascinating drawing lesson!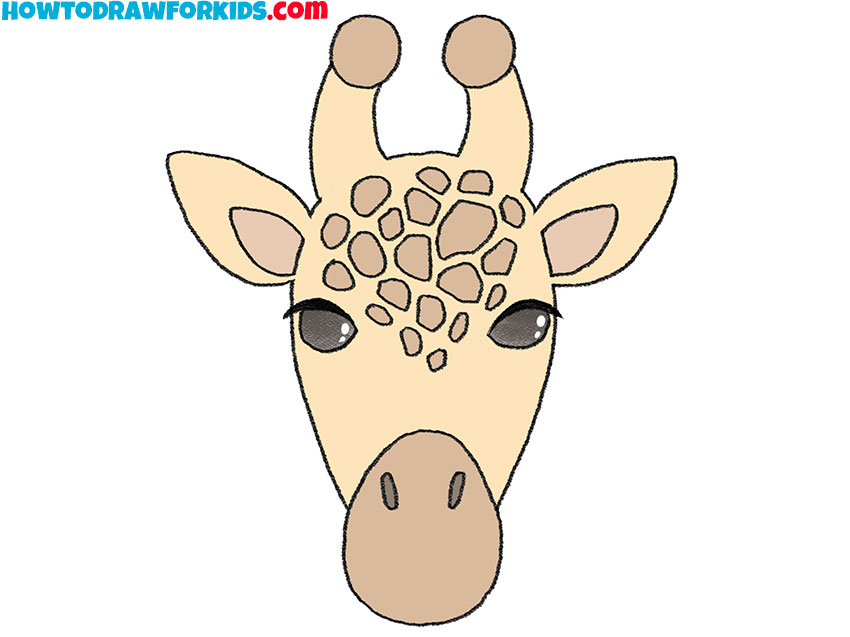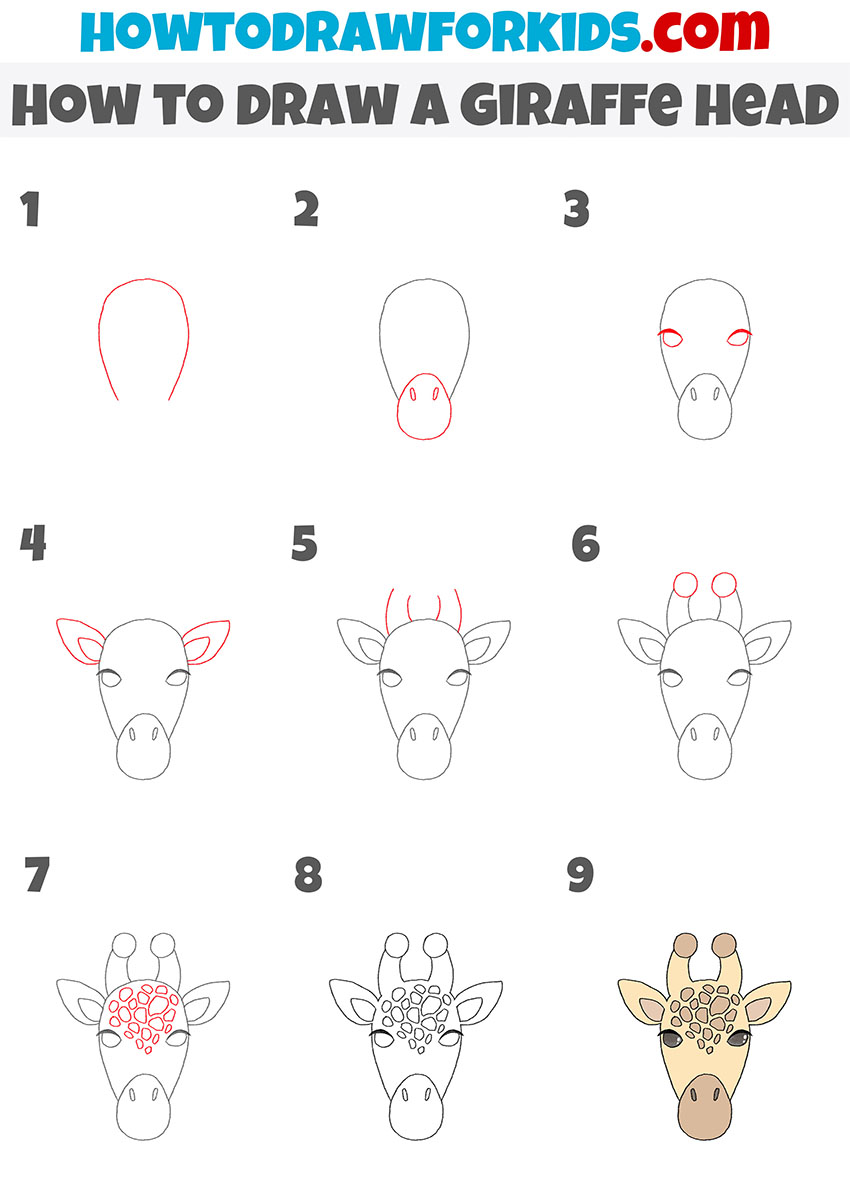 I am glad to offer you a great drawing lesson in which I will tell and show you how to draw a giraffe head step by step. This simple lesson consists of nine steps that any aspiring artist or child can easily follow. To get a great result, you need to carefully follow my instructions and have a good mood!
It is known that the giraffe is the tallest inhabitant among animals on Earth. It has a graceful long neck, an unusual spotted skin and slender legs. This amazing animal lives in hot Africa. The entire body of the giraffe is covered with spots resembling brownish or yellow polygons. The pattern on the body of each giraffe is unique. So many giraffes, so many patterns. In this feature, giraffes are similar to humans, having original fingerprints. The giraffe has small horns on its head.
The finished drawing will turn out to be very cute, because the head of the giraffe is depicted in a cartoon style. Be sure to follow this fun drawing lesson to learn how to draw a giraffe's head, and then depict this as the main subject of your drawing in the future, or draw a whole giraffe depicting his head as shown in this instruction.
Materials
Pencil
Paper
Eraser
Coloring supplies
Time needed: 30 minutes.
How to Draw a Giraffe Head
Draw the top outline of the giraffe head.

To complete this simple step, you need to draw one curved line, as shown in the picture.

Depict the bottom of the head and nostrils.

Below the drawn line, draw a shape that looks like a deformed shaft, add elements inside it.

Sketch out the giraffe eyes.

Inside the outline of the head drawn, draw the eyes using arcs as well as thick, curved lines.

Add the ears on the head of the giraffe.

At the top of the head on the right and left sides, add two symmetrical ears using arcs.

Start drawing the giraffe's horns.

Between the drawn ears, add two large arcs along the edges and two small arcs between them.

Finish drawing the horns.

At the top of the previously drawn arcs, depict two identical circles, as shown in the figure.

Add details.

To draw the spots on the giraffe head, draw many free-form shapes using curved lines.

Correct inaccuracies.

Now you can use the eraser to remove the extra lines and prepare the drawing for coloring.

Color the drawing.

To paint the giraffe head, use gray, beige, pink, and brown.
I remind you that you can download the PDF file that I have prepared especially for your convenience. This file contains a short version of this lesson and has additional useful training materials. Download this file so as not to lose it and return to this lesson at any time convenient for you.