In this drawing lesson you will learn how to draw a face looking down. This drawing lesson consists of just nine simple steps.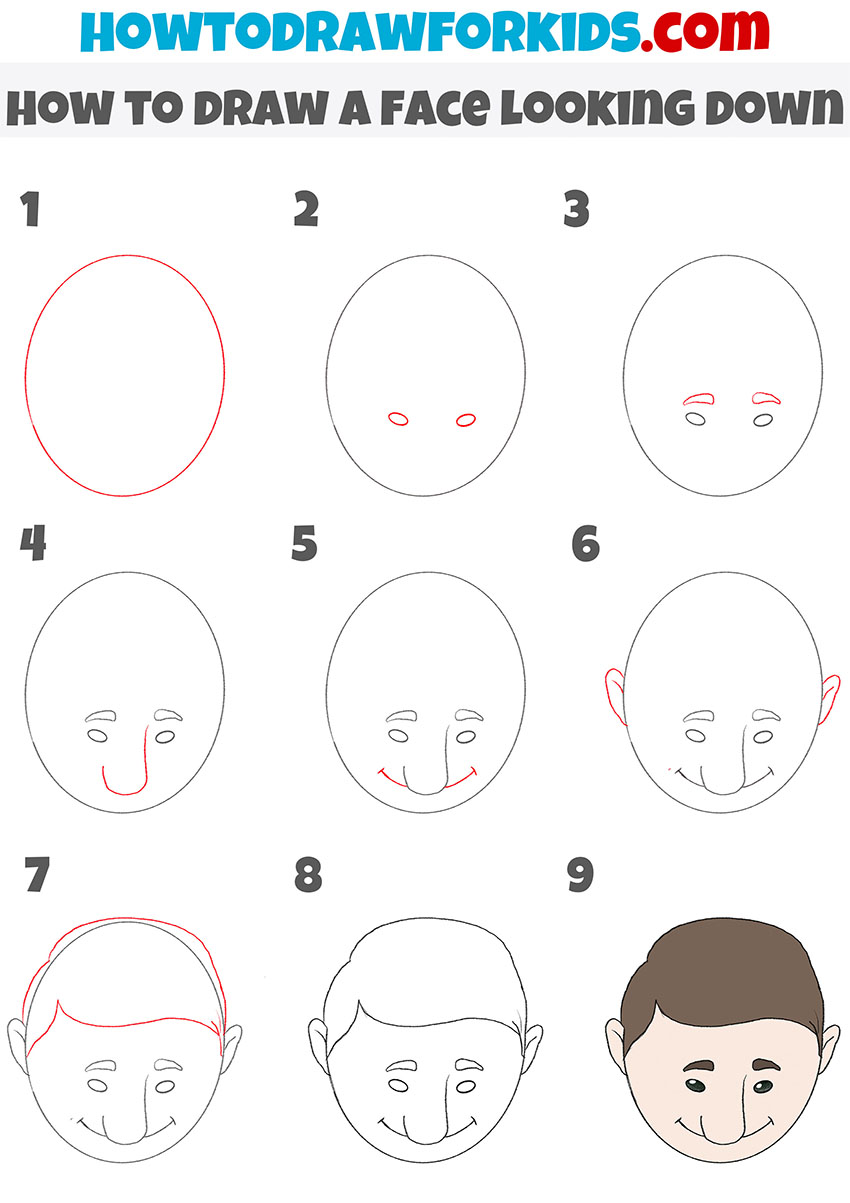 I am sure that this drawing tutorial on how to draw a face looking down will be very useful to you. This lesson contains useful recommendations for drawing a man's face and may be useful to you in the future while doing many different drawings related to the depiction of people.
A feature of this drawing is the perspective of the image of a man's face. To draw a face looking down, you need to depict a person's head, which is tilted slightly forward so that his eyes are directed downwards.
So, prepare the materials that you need for drawing and start doing this interesting step-by-step drawing guide.
Materials
Pencil
Paper
Eraser
Coloring supplies
Time needed: 20 minutes
How to Draw a Face Looking Down
Draw the outline of the face.

To complete this simple step, you should draw one big oval.

Depict the outline of the eyes.

Inside the previously drawn big oval, outline two identical small ovals.

Add eyebrows to the drawing.

Above the two previously drawn eyes, add two eyebrows, using curved lines to do this.

Draw the outline of the nose.

Below the man's eyes depict the nose, using one long curved line. His nose should look wide.

Outline the mouth on the face looking down.

On the sides of the nose add long and short curved lines to depict a smiling mouth.

Depict the outline of the ears.

On the left and right sides of the human head depict two ears, using curved lines.

Add the hair on the head.

At the top of the head add curved lines to represent hair.

Erase unnecessary lines.

Use an eraser to remove auxiliary lines that appeared during the drawing process.

Color the drawing.

To color this drawing, use brown, black, and any color you want to color the skin of the face.
Great job! This drawing lesson has come to an end. Don't forget to download the PDF file I prepared for you. This file contains a short version of this drawing guide and additional useful materials.