In this lesson, you will learn how to draw a peony. With the help of this instruction, any novice artist this flower.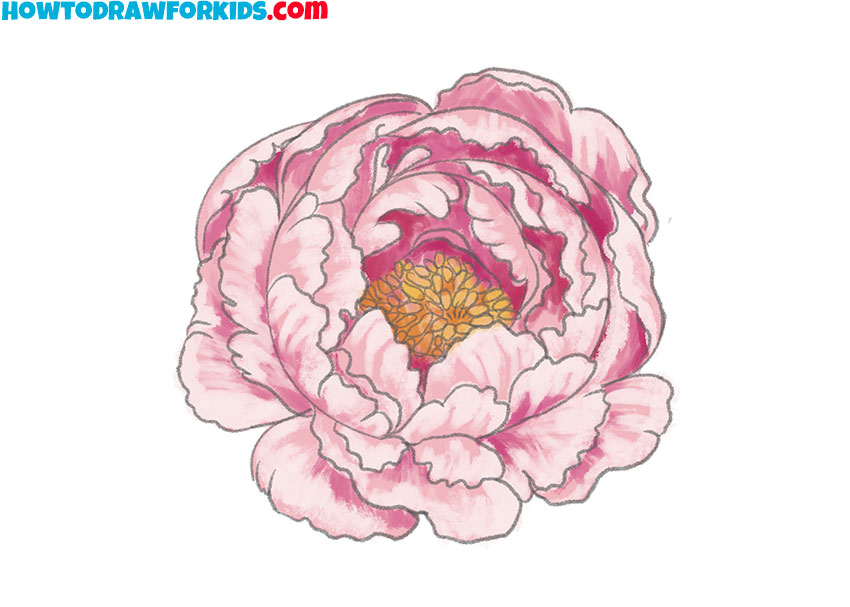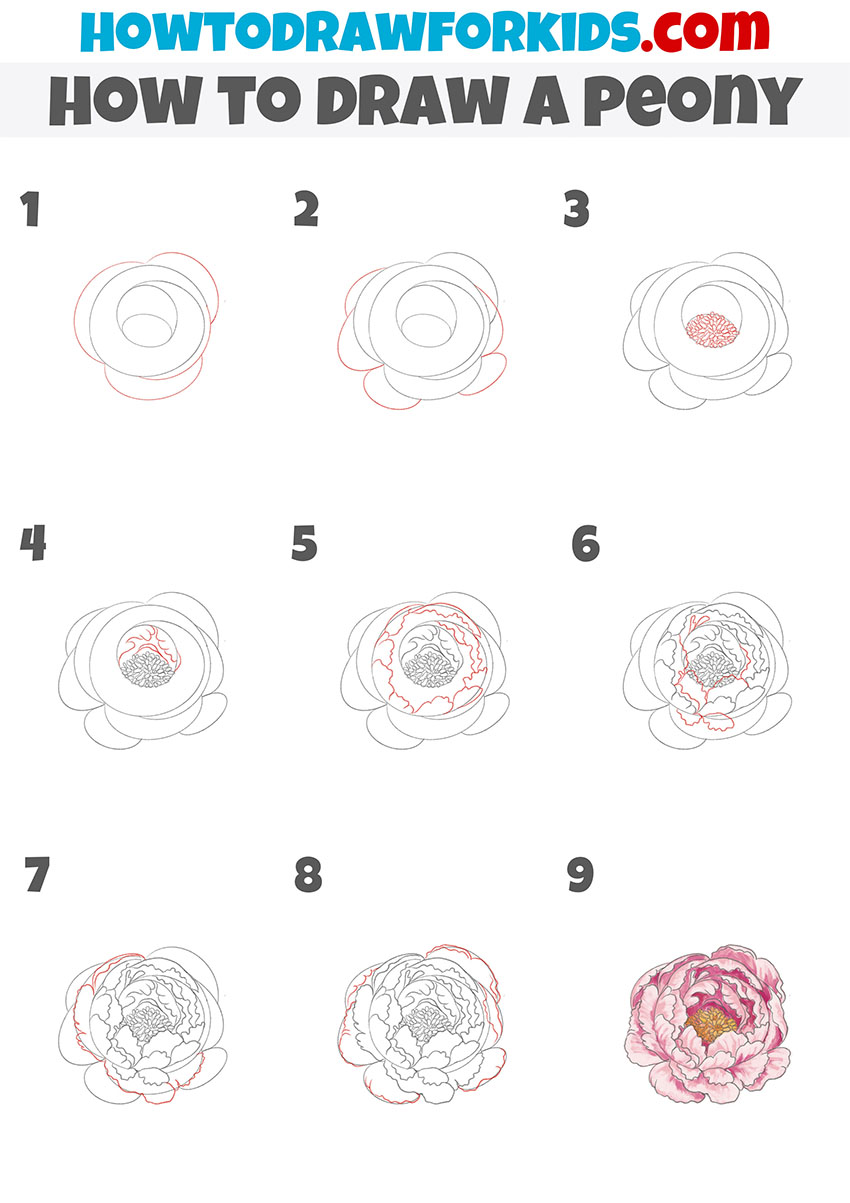 I have prepared for you an unusual and very exciting drawing lesson in which you will learn how to draw a peony step by step. The peony that you draw with these instructions will look just great and will be able to decorate any of your paintings or postcards.
Peonies are shrubs with beautiful flowers that are predominantly white, pink or bright scarlet. By learning how to draw a peony with the help of this instruction, you will easily be able to depict this flower for creating your beautiful paintings in the future.
For example, you can depict a peony against the background of a flower garden, depict it together with flowers in a vase, as a bouquet of peonies, and also as an independent object of your drawing.
Materials
Pencil
Paper
Eraser
Coloring supplies
Time needed: 30 minutes
How to Draw a Peony
Draw the core of the bud and markup.

Use an oval, rounded lines, and arcs of varying sizes to mark out the petals.

Add the petal lines around the edges.

Around the previously drawn elements, add several arcs of different sizes, as shown in the figure.

Depict the inside of the bud.

In the very center of the flower bud, add many ovals and rounded lines.

Start drawing the relief of the petals.

Near the previously drawn bud core, sketch out some rounded lines.

Draw the petals in volume.

Add lots of voluminous petals, using wavy and curved lines of varying lengths.

Continue drawing the petals.

Next to the previously drawn elements, add a few more wavy lines.

Sketch out some more voluminous petals.

Closer to the edge of the flower, add a few more wavy and curved lines.

Finish drawing the flower petals.

Now you should add wavy, curved lines around the edges of the flower.

Color the drawing.

To color this peony, use yellow and various shades of pink.
I remind you that you can download the PDF file that I have prepared especially for your convenience. This file contains a short version of this lesson and has additional useful training materials. Download this file so as not to lose it and return to this lesson at any time convenient for you.