In this drawing lesson, you will learn how to draw a nose for beginners. By completing this lesson, you will improve your artistic skills.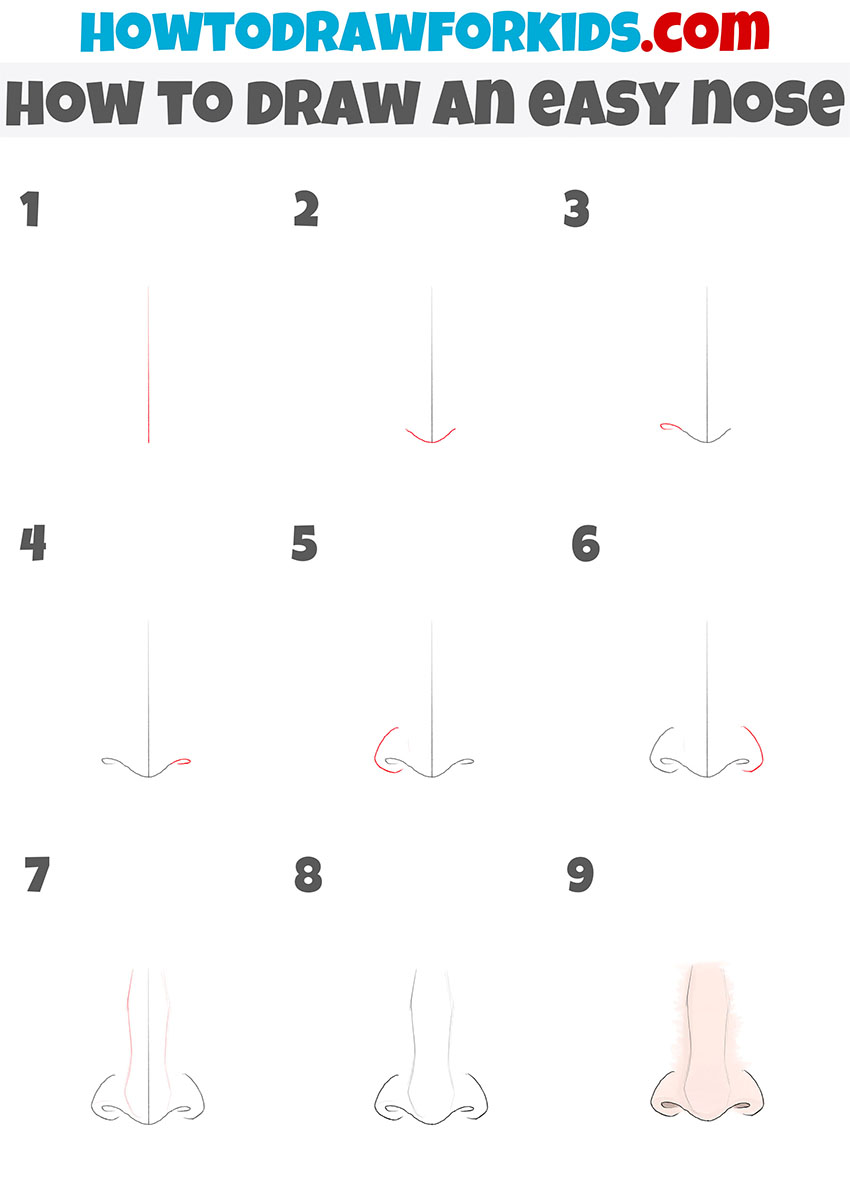 I have prepared for you a new, exciting drawing lesson in which you can learn how to draw an easy nose for beginners. As you already understood, this drawing lesson is dedicated to depicting the facial features of a person.
The skills gained in this lesson will be useful to you in the future if you want to draw a person in full growth or his portrait image.
The nose is one of the prominent features of the human face, located in the center of the human face. The right and left sides of the nose usually look symmetrical. The nose on a person's face is located below the level of his eyes and above his mouth.
Materials
Pencil
Paper
Eraser
Coloring supplies
Time needed: 20 minutes
How to Draw an Easy Nose for Beginners
Draw a line of symmetry.

First, you need to draw a thin straight vertical line.

Add the tip of the nose.

At the bottom of the previously drawn line, draw one curved line.

Depict the outline of the nostril on the left.

Continue the previously drawn line with one rounded line.

Sketch out the nostril on the right.

Depict another curved line, symmetrical to the one previously drawn.

Add the left wing of the nose.

On the left side, draw a curved line, as shown in the example.

Depict the nose wing on the right.

Draw a curved line on the right side, symmetrically to the one previously drawn.

Sketch out the back of the nose.

Draw two symmetrical thin curved lines with hatching.

Correct inaccuracies.

Use the eraser to remove any unnecessary guidelines.

Color the drawing.

At this stage, choose any colors.
Don't forget to follow us on social networks and also download the PDF file that I have prepared especially for your convenience, so that you can return to this lesson at any time.