In this drawing lesson, I would like to tell and show you how to draw a magnolia step by step. You will definitely enjoy this lesson.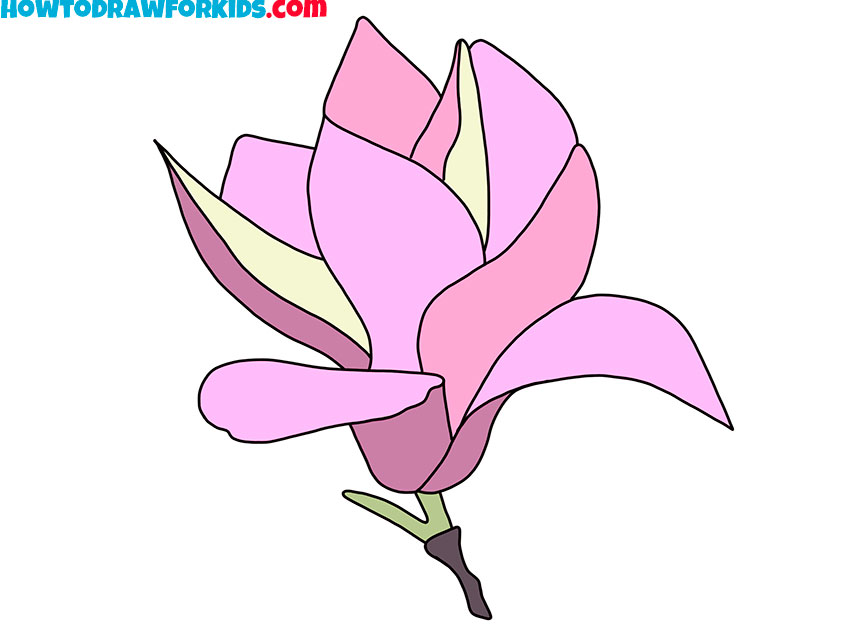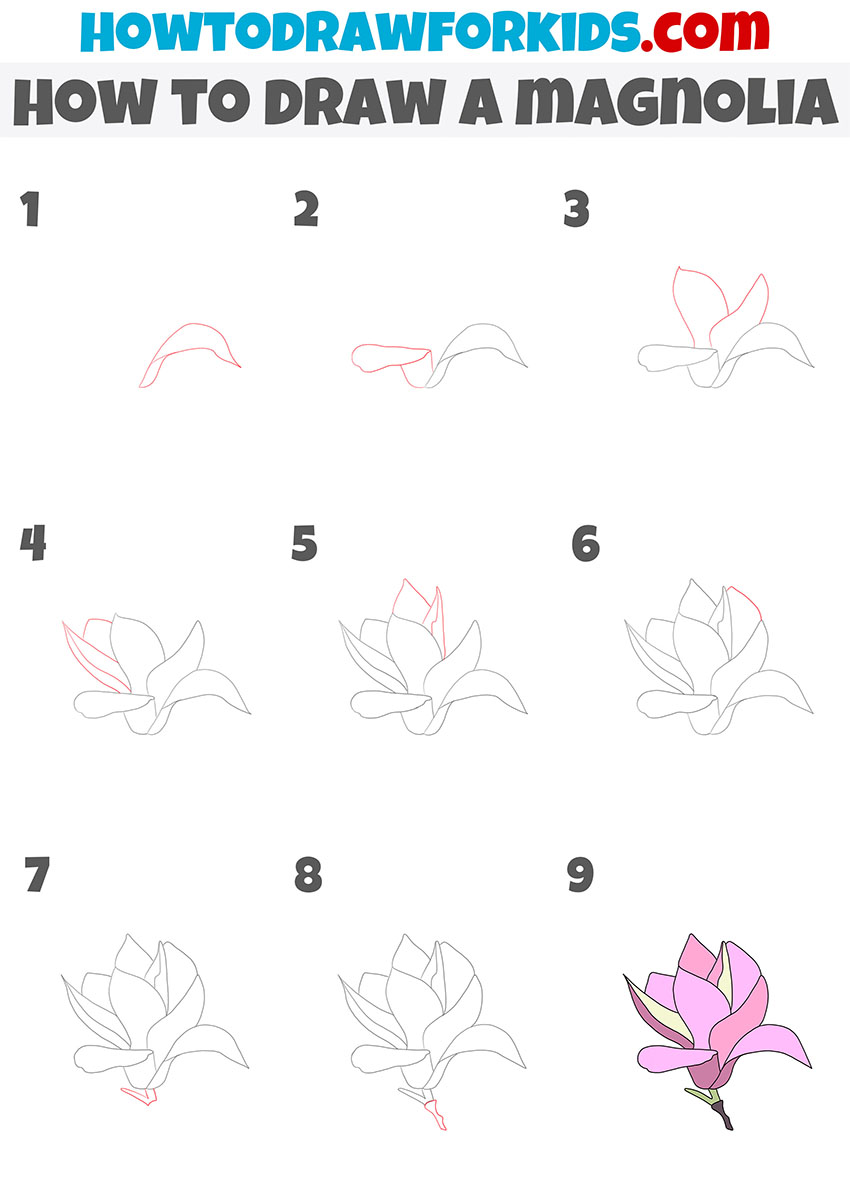 So, I have prepared a very useful and fascinating drawing lesson with which you can learn how to draw a magnolia step by step. This guide will help you improve your skills as an artist. By learning how to draw a magnolia with the help of this lesson, you will be able to depict a beautiful flower garden in the future, a bouquet of flowers in a vase, decorate any card with a magnolia image, and also draw it as the main object of your drawing. This ornamental plant is most often found in the natural zone of East Asia and North America, it loves the subtropical and tropical climate.
Magnolia is an ornamental flowering plant of the magnolia family, which has many species. The first magnolias grew back in the era of dinosaurs, at a time when life on the planet was made up of reptiles. Magnolia is used to decorate garden plots. Magnolia is a deciduous shrub or tree with brown or ash-gray bark with a scaly or furrowed surface. The color of the leaves is emerald green, often they have an elliptical shape. The color of the magnolia is different. You can find red, purple, cream, white, pink and lilac buds. The flowers smell very nice. The plant most typically blooms in early spring, but some varieties of the crop bloom from early summer. After flowering, cone-shaped fruits are formed on shrubs.
Now that you have learned a little more interesting information about such a beautiful flower as magnolia, you probably want to get started with this tutorial. If you have already prepared your art supplies, then you can start drawing a magnolia step by step right now and enjoy the creative process. I am sure that you will be pleased with the result of your work.
Materials
Pencil
Paper
Eraser
Coloring supplies
Time needed: 30 minutes
How to Draw a Magnolia
Draw one magnolia petal.

Depict the outer and inner parts of the pointed magnolia petal using curved lines.

Depict another magnolia petal.

On the left side of the previously drawn petal, draw another petal with a rounded edge.

Add two more magnolia petals.

Draw two pointed petals between the previously drawn petals using curved lines.

Sketch out two petals on the left side.

Between the outermost petals in the middle, add two pointed petals using curved lines.

Draw two petals in the middle.

Near the large petal drawn in the middle, draw two petals of different sizes with a pointed edge.

Add the outline of the last petal.

To draw the outline of another magnolia petal, use a curved line as shown.

Start drawing the stem of the flower.

Below the previously drawn flower, draw curved lines, as shown in the figure.

Depict the stem of the magnolia.

Below the previously drawn element, depict the stem using curved lines.

Color the drawing.

To color the magnolia, use pink, shades of purple, beige, green, and black.
Follow us on social media if you haven't already and stay tuned for our updates. For your convenience, I have prepared a PDF file in which you can find a short version of this tutorial and additional useful materials for completing it. Download this file to return to the lesson at any time.
How to Draw a Magnolia Flower
In the picture, you see a lush magnolia flower, in which the petals are different in different sizes. Below there is a small sepal and two leaves. Free form lines are allowed in this tutorial, so the shape and size of the petals may differ slightly from my example.