Today I have prepared for you a lesson on how to draw a Troll. The tutorial includes a few simple steps that you can easily repeat.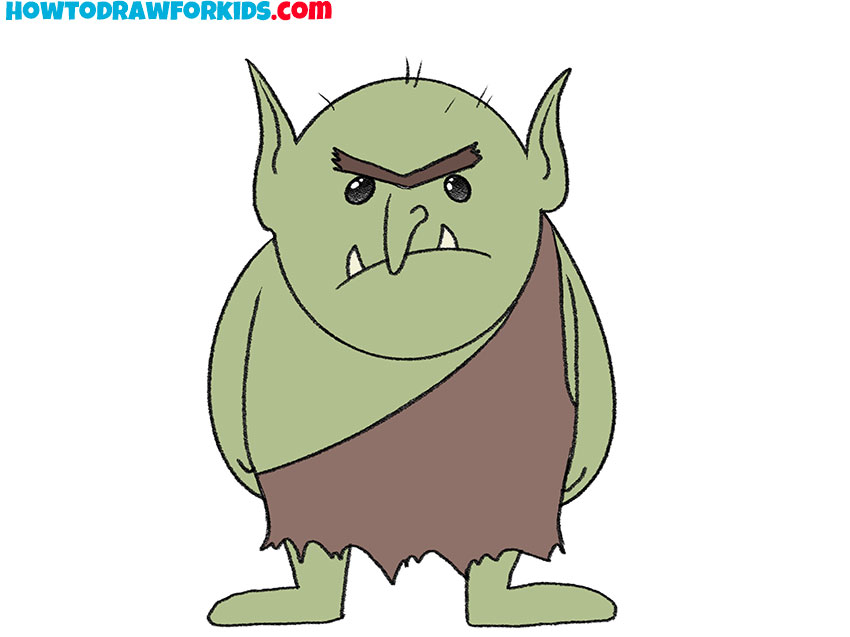 In this tutorial, you will learn how to draw a Troll. This is a negative character that is present in many films, cartoons, and literary works.
The Troll is hostile to humans and has magical powers that it uses to cause harm. Trolls can live in castles or underground palaces, as well as in mountainous areas or in forests.
In this drawing, the Troll has dark green skin, pointed ears, furrowed eyebrows, and two sharp teeth sticking out. On the body, there is only a wide bandage, which is tied over the shoulder. All this gives the Troll an evil look.
Materials
Pencil
Paper
Eraser
Coloring supplies
Time needed: 30 minutes
How to Draw a Troll
Draw the head and torso.

Depict a circle and draw the small torso at the bottom using a smooth line.

Add the eyes and eyebrows.

Draw two small circles and a little higher draw eyebrows of the same shape as in the example.

Sketch out the mouth.

Depict a rounded line and draw two pointed teeth on the sides.

Depict the nose.

Draw a long nose, with the tip of the nose below the line of the mouth.

Sketch out the ears.

On each side draw pointed ears of the same size.

Draw the hands.

On the sides, draw two rounded lines and add the outline of the thumb.

Add the legs.

The legs are short, the feet are wide and the toes point in opposite directions.

Depict the clothes.

Draw the cape over the shoulder. The bottom of the cape has an uneven edge.

Color the Troll.

Choose from green, grey, brown and black. Add highlights to the eyes.
Now you know how to draw a Troll! You can now download a short PDF version of this step-by-step guide for free. You can use this file at any time and repeat the drawing lesson.