How to Draw a Lamborghini Huracán
I suggest you complete a lesson in which you will learn how to draw a Lamborghini Huracán. This instruction consists of nine simple steps.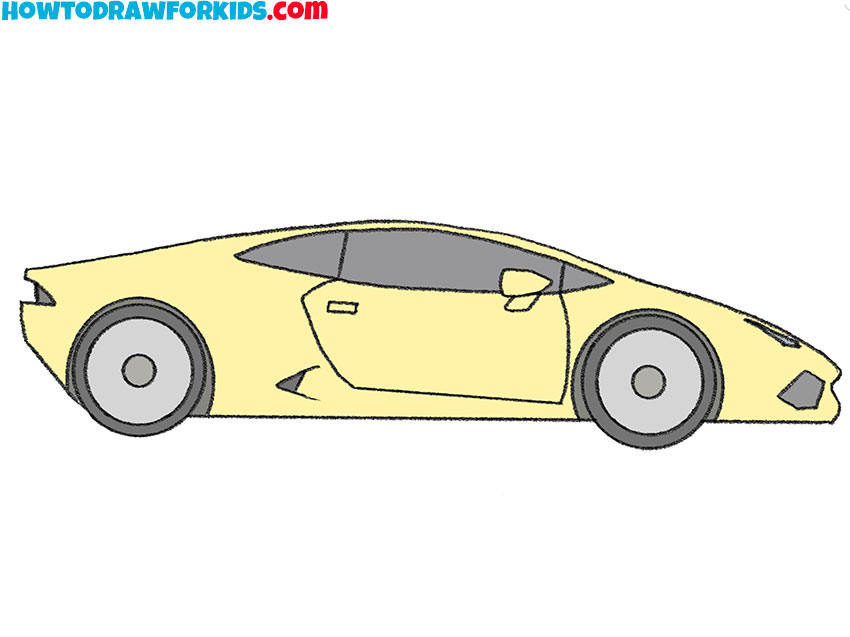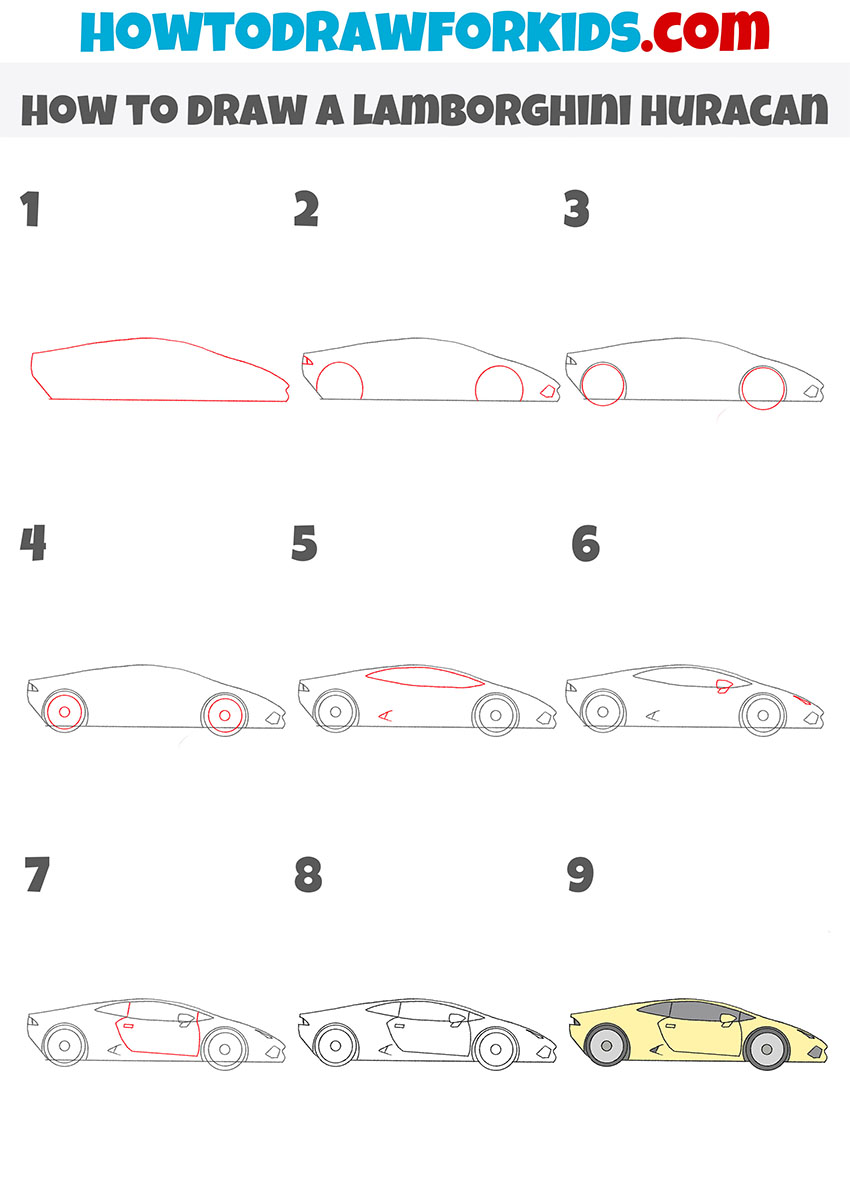 So, I have prepared for you a great drawing lesson in which I will tell and show you how to draw a Lamborghini Huracán step by step. Any novice artist or child can easily cope with the implementation of this instruction, since it does not contain any elements that are difficult to complete.
The Lamborghini Huracán is a sports car manufactured by the Italian company Lamborghini.
To draw a Lamborghini Huracán nicely and neatly, you can use a ruler and compass when necessary.
I think you are ready to start this drawing lesson. To handle this job, you need to prepare art supplies, as well as be in a great mood and follow these instructions carefully. I wish you good luck, and I am sure that you will easily and quickly draw this drawing.
Materials
Pencil
Paper
Eraser
Coloring supplies
Time needed: 30 minutes
How to Draw a Lamborghini Huracán
Draw the outline of the Lamborghini Huracán.

Depict a straight horizontal line and also add some curved lines above it.

Add outlines for the headlights and wheels of the Lamborghini Huracán.

Draw two arcs at the bottom of the drawn figure, and add elements on the right and left sides.

Depict the wheels of the Lamborghini Huracán.

Below the two previously drawn arcs, draw two symmetrical circles of the same size.

Sketch out the inside of the wheels.

Inside the two previously drawn circles, draw two more smaller circles in each.

Add an element to the side of the car, as well as the outline of the windows.

Use short straight lines as well as two long curved lines to draw these elements.

Draw the headlight and side mirror.

To depict these elements, use curved lines of various lengths, as shown in the figure.

Depict the outline of the Lamborghini Huracán door.

Draw two straight lines inside the window outline, draw a rectangle and a few more lines.

Correct inaccuracies.

Use an eraser to remove extra lines and prepare the drawing for coloring.

Color the drawing.

To color the Lamborghini Huracán, use yellow and various shades of gray.
For your convenience, I have prepared a PDF file that contains all the useful information from this lesson, as well as additional practice materials that will help you develop your artistic abilities. You can download this file right now, so you don't lose it in the future, and return to this tutorial even without an internet connection.