How to Draw a Lamborghini
In this lesson, I want to show you how to draw a Lamborghini. The lesson will appeal to novice artists and car lovers.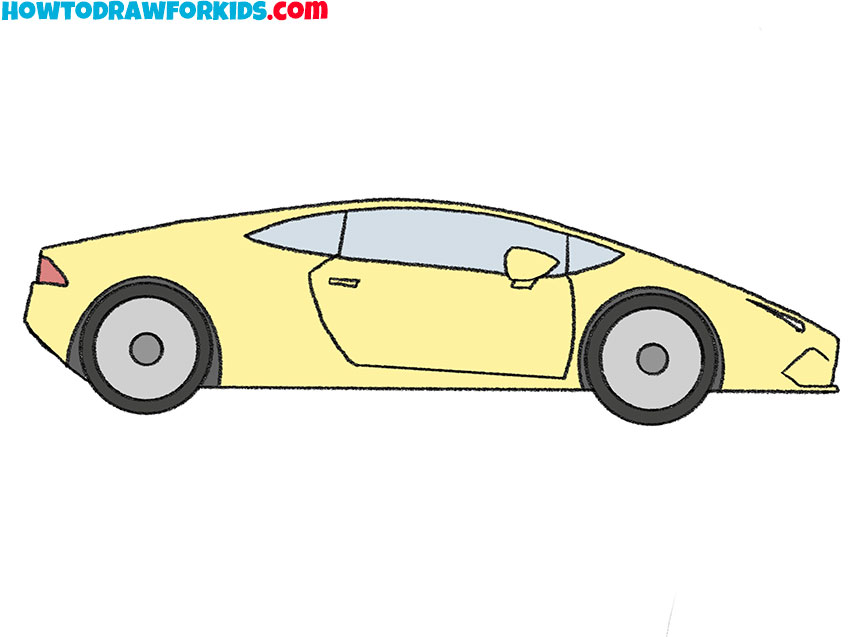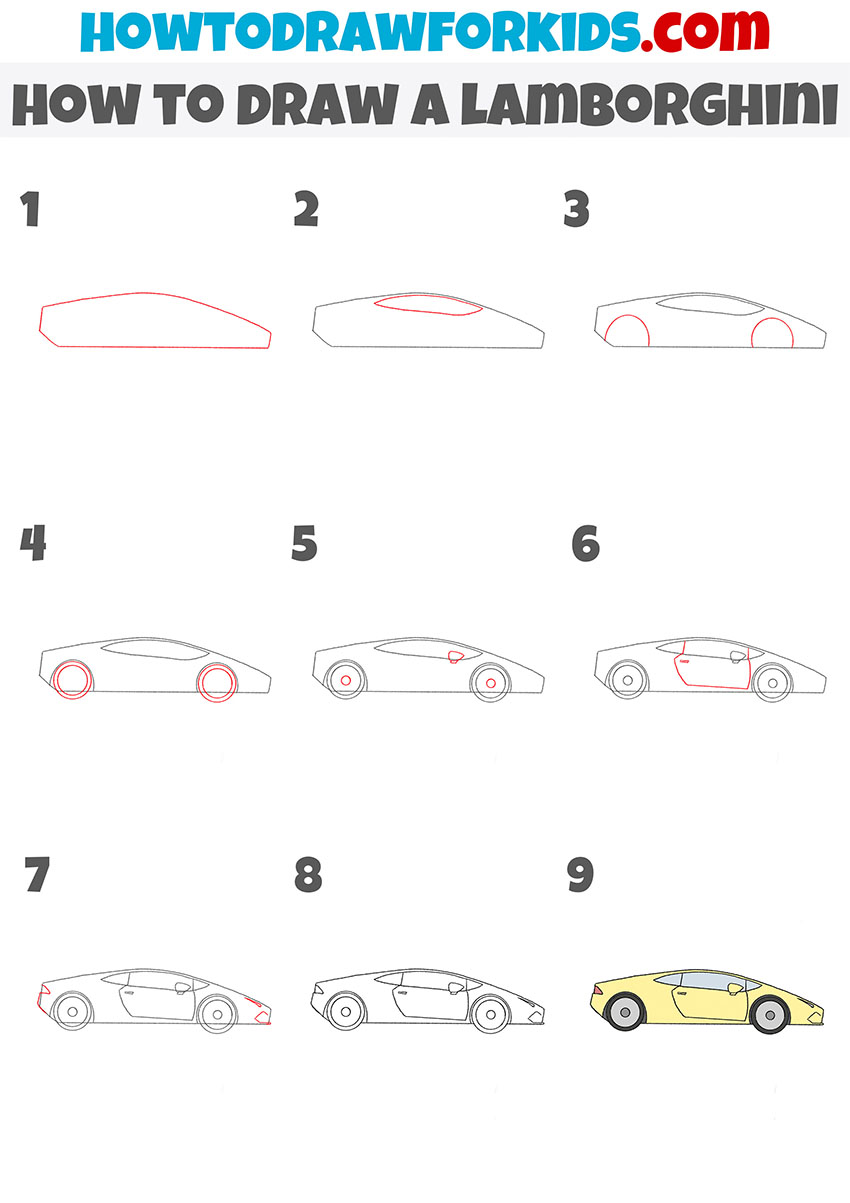 Now you will learn how to draw a Lamborghini step by step. This is an expensive sports car made in Italy. The car is able to develop tremendous speed thanks to a powerful engine.
Attractive appearance and excellent technical characteristics make this car very popular among motorists. The body of the car has a streamlined shape and such a modern design makes Lamborghini a real work of art.
With the help of a simple instruction, you will learn how to draw a Lamborghini and acquire useful skills that you will need to draw other car models.
Carefully follow each step and try to draw the same lines as in the example. If you want the car to look more realistic, then add shadows and highlights.
Materials
Pencil
Paper
Eraser
Coloring supplies
Time needed: 30 minutes
How to Draw a Lamborghini
Draw the body of the car.

Use several even, straight lines. Draw the upper part of the body with a rounded line.

Depict the side window.

The side window has a narrow, elongated shape.

Add the arches on the wheels.

Draw smooth rounded lines of the same size.

Sketch out the wheels.

Depict even circles of different diameters on each side.

Add the wheels and the side mirror.

Draw a small circle in the center of each wheel. Add the side mirror.

Sketch out the door.

Use some straight lines to draw the door and then add the doorknob.

Depict the headlights.

This is a simple step in which you have to draw the front and the rear lights.

Correct inaccuracies.

Check your drawing, remove extra lines and correct mistakes if necessary.

Color the Lamborghini.

You can use the same color as in the instructions or color in a different color.
You can now download a free PDF file that contains a short version of the lesson. Thus, the lesson will always be available, even in the absence of the Internet.
How to Draw a Lamborghini: Alternative Method
I hope that with the help of a simple instruction you will easily draw a Lamborghini and the creative process will give you great pleasure. Try to draw the same lines as shown in the instructions in order to depict the external design as accurately as possible.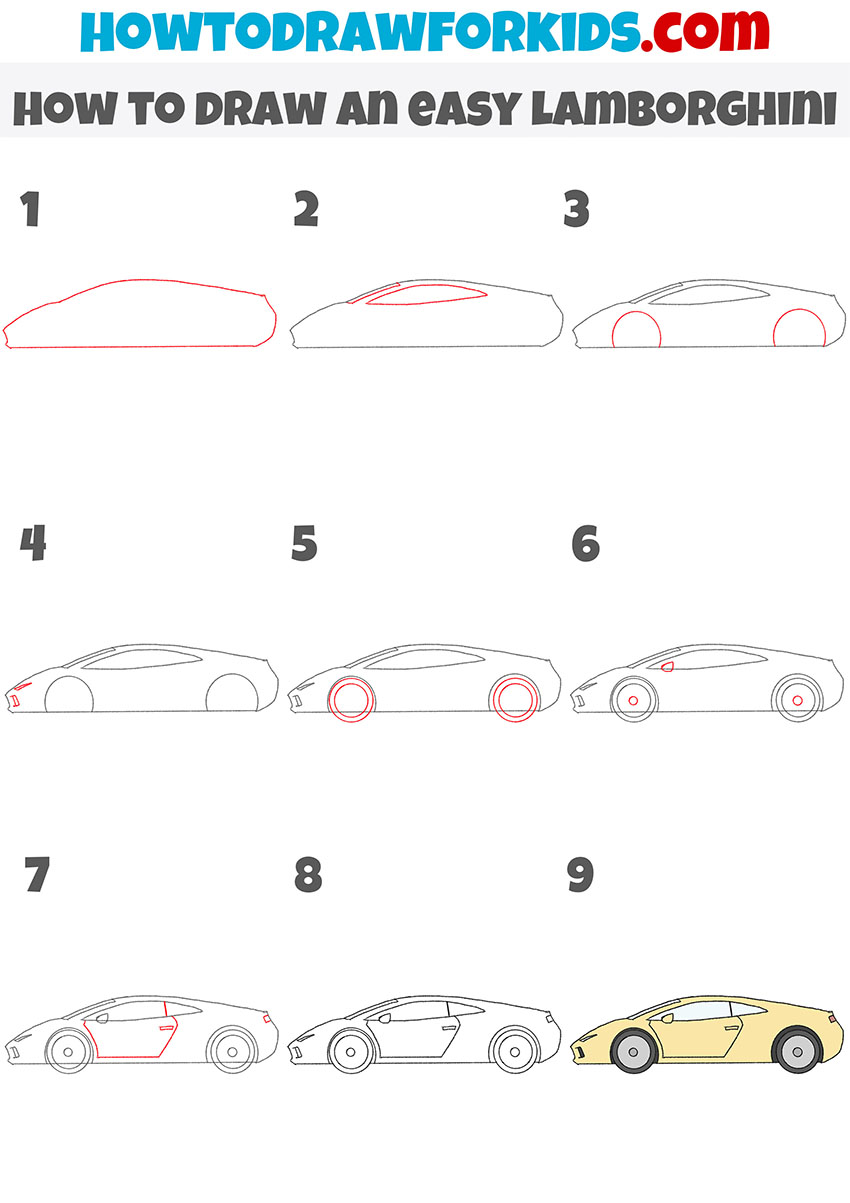 Lambo Drawing Tutorial: Changing the Appearance
Car designers easily draw unusual and interesting cars. To do this, they spent many hours learning to draw, creating a variety of sketches of the same machines, changing certain details. Let's try to draw a Lamborghini by changing some details.