In this simple drawing tutorial, you will learn how to draw a leaf step by step. This lesson will be very easy.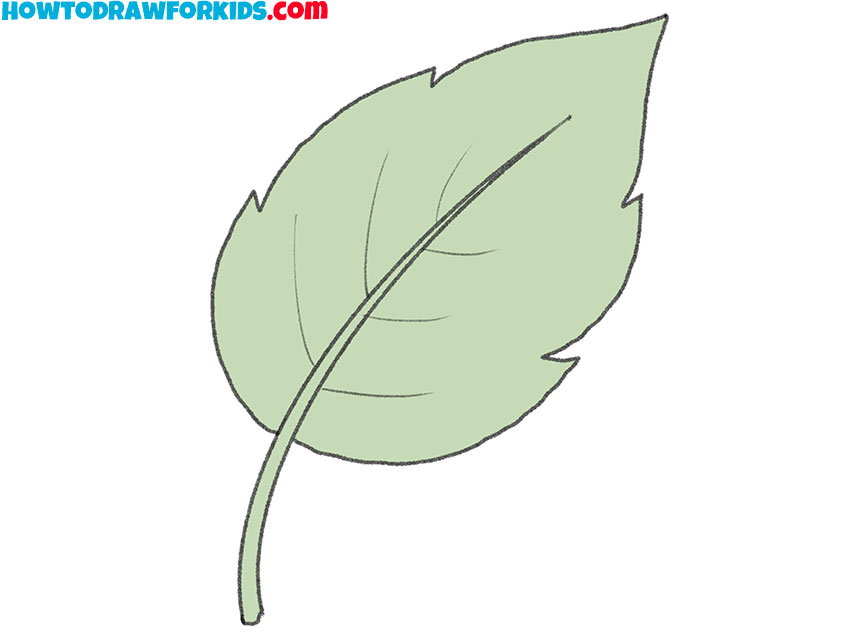 I have prepared for you this useful drawing lesson, in which I will tell and show you how to draw a leaf step by step. This lesson consists of only six steps, each of which is supplemented by detailed instructions.
This lesson will be very helpful for you, as you will be able to apply the skills learned in this lesson to many of your future paintings. For example, you can depict a tree, bush or flower, and you can also use the image of a leaf if you want to depict a natural landscape or flowers in a vase.
The leaves of plants are very important organs, since they provide air nutrition and gas exchange for plants. Usually, the leaves of plants are colored green.
Also on the leaves you can always see the veins that provide nutrition to the plant with useful substances and liquid coming from the root of the plants.
I suggest you prepare your art supplies and start this lesson right now. I hope that you will do great work with this task, and I wish you good luck with this drawing!
Materials
Pencil
Paper
Eraser
Coloring supplies
Time needed: 20 minutes
How to Draw a Leaf
Start drawing the stem of the leaf.

This step is going to be very simple, all you need to do is draw one curved line.

Finish drawing the leaf stem.

Depict a curved line similar to the one previously drawn to connect its ends.

Add the left side of the leaf.

Draw a few curved lines to depict the pointed tips of the leaf.

Add the right side of the leaf.

Draw some lines to add a part of the leaf.

Sketch out the veins.

Inside the leaf, draw several thin, curved lines of varying lengths.

Color the drawing.

To color this leaf, use green.
As usual, I have prepared a PDF file for you, in which you can see a short version of this tutorial and useful materials that will help you complete it. Download this file right now in order not to lose this lesson and return to it at any convenient time.