Welcome to a simple lesson in which I show you how to draw a landscape. I am sure you will have a good time and learn useful skills.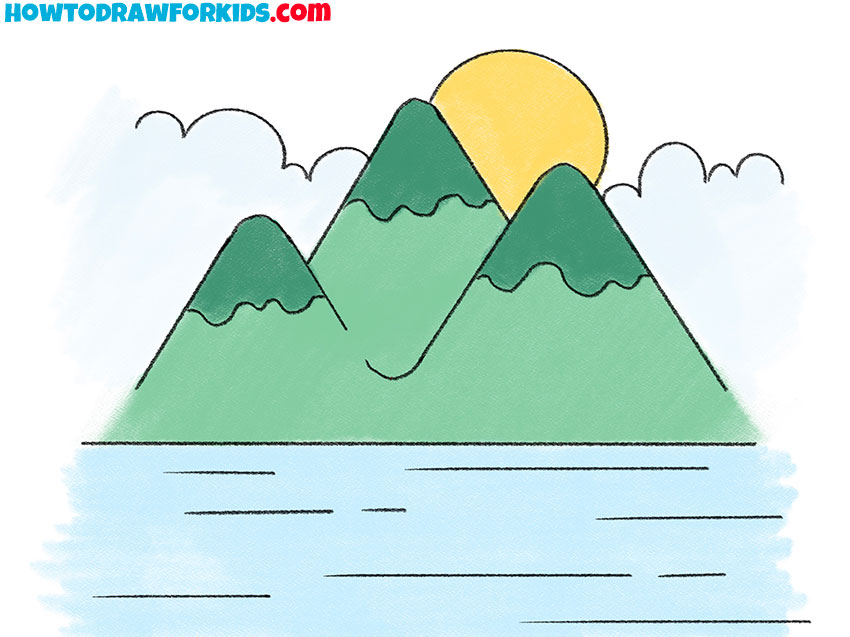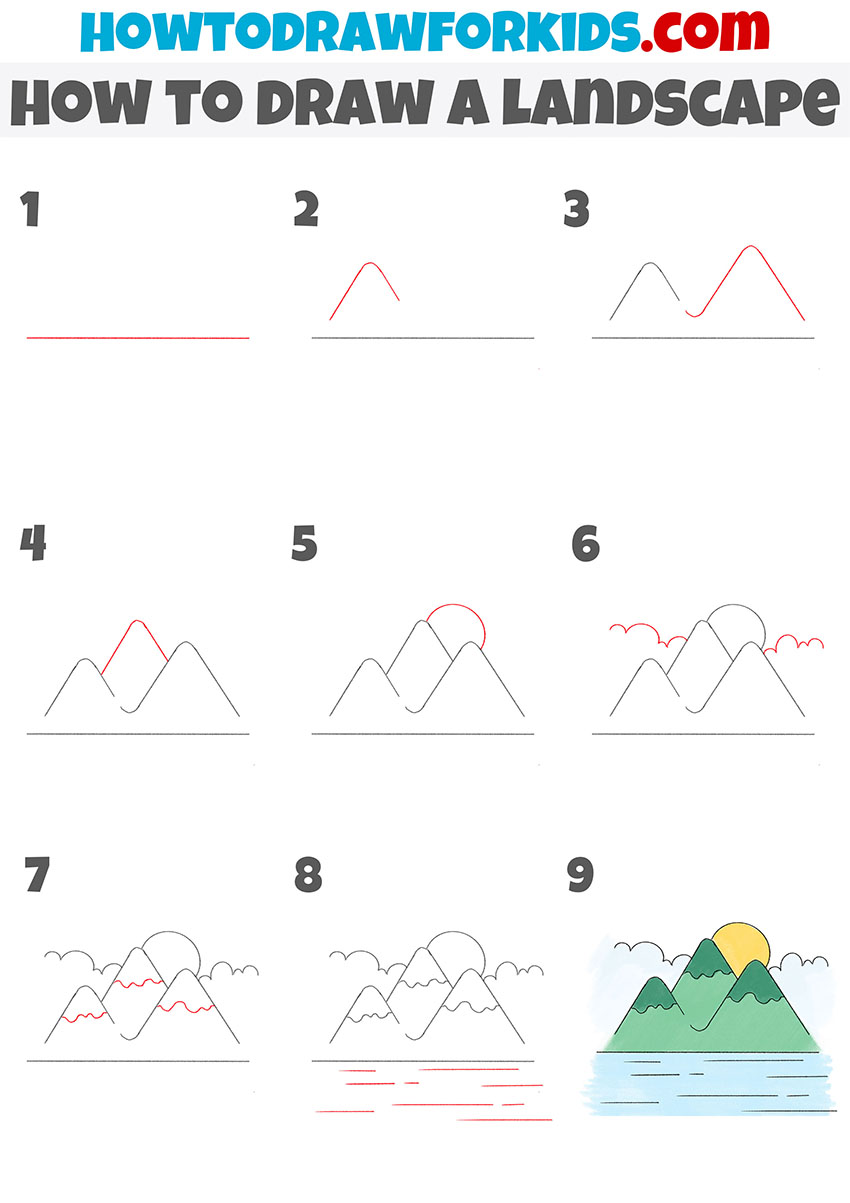 With this step-by-step guide, you will learn how to draw a landscape. A landscape is a picture that depicts nature. Natural objects can be very different. In this example, you see a mountainous landscape. It shows three mountain peaks. At the foot of the mountains is a body of water. It looks very beautiful.
You can easily draw such a mountain landscape with a step-by-step guide. Remember the drawing steps to draw such natural objects in the future. During this lesson, you are allowed to draw freeform lines. For example, you can draw clouds or freely shaped mountain peaks.
So, have all your drawing materials ready and you can get to work.
Materials
Pencil
Paper
Eraser
Coloring supplies
Time needed: 20 minutes
How to Draw a Landscape
Mark the location of the mountains.

This step will be simple, you just need to draw one straight horizontal line.

Draw the first mountain.

Depict the first mountain on the left, using a flowing curved line.

Add the next mountain.

Depict the second mountain on the right side, using a long curved line.

Draw the third mountain.

Between the two previously drawn mountains draw a curved line.

Depict the sun.

Between the two peaks of the mountains, draw a semicircle to represent the sun.

Paint the clouds.

Above the mountain peaks draw wavy lines of freeform shapes.

Picture the inner outline of the mountain peaks.

To complete this step, draw curved wavy lines at the top of each mountain.

Depict the surface of the water.

At the bottom of the drawing outline several straight horizontal lines of different lengths.

Color the drawing.

Use shades of green to color the mountains, color the sun yellow, water, and clouds blue.
The landscape is ready! I hope you did a good job at each step and that you like the result. You can practice extra and draw any mountain landscape, for example, try doing the lesson where I showed you how to draw mountains or how to draw a cave. Especially for your convenience, I have prepared a PDF file with a short version of the lesson. Download this file and use it whenever you want to come back to this lesson again, even if you don't have an Internet connection.