I am happy to offer you an interesting new drawing lesson in which you will learn how to draw a lamp. Follow these instructions to draw a great drawing!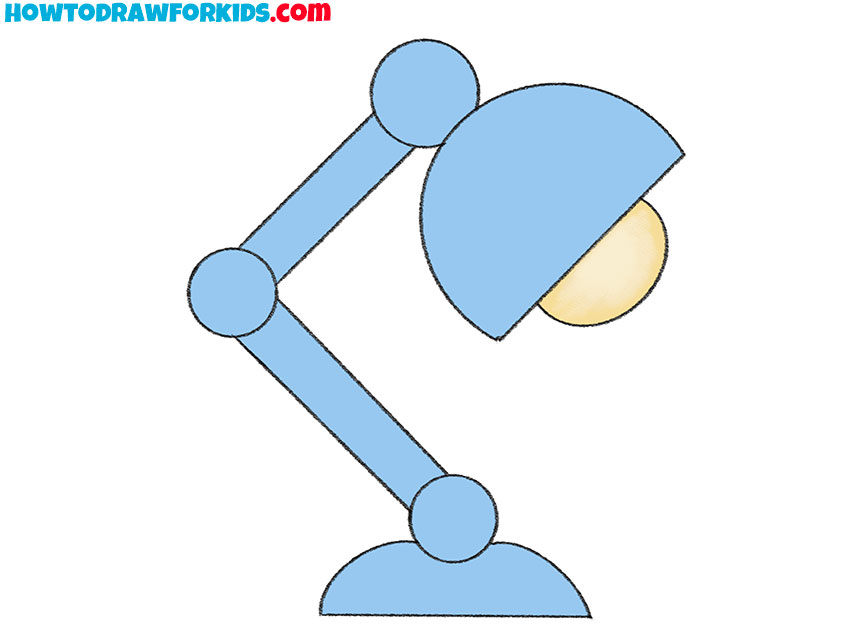 In this tutorial, I will tell and show you how to draw a lamp. The design of the lamp can be different. The picture shows a small table lamp. Such a lamp is installed on the table and illuminates the surrounding space while you read, write and do any other things. This lighting device is in almost every home. The lamp consists of several elements. Thanks to this convenient design, the lamp can be installed in any position and its height can be regulated. This model of the table lamp is very common, and many students and schoolchildren use this lighting device for any work on the desk.
This lesson is created for beginner artists, so it uses simple lines that can be easily repeated. If you follow each step of the drawing carefully, you will get a great result!
So, if you're ready, you can get to work.
Materials
Pencil
Paper
Eraser
Coloring supplies
Time needed: 20 minutes.
How to Draw a Lamp
Draw the top of the lamp.

Outline a semicircle and connect its ends with a straight line.

Depict the bulb.

To do this step, draw an arch below the previously drawn figure.

Add the outline of the lamp mount.

Draw an incomplete circle over the top part of the lamp.

Depict the top of the lampstand.

Outline two straight parallel lines near the previously drawn detail.

Draw the following mount.

To complete this step, draw a circle at the ends of the two previously drawn lines.

Add the bottom of the lampstand.

From the circle draw two straight lines parallel to each other.

Draw the last mount.

You should draw this part of the lamp as a circle at the ends of the two previously drawn lines.

Outline the lamp base.

At the bottom of the lamp add a semi-circular base, using curved lines and one straight line.

Color the drawing.

You will need yellow, light yellow, and blue to color this lamp.
This lesson is over! Now you know how to draw a table lamp quickly and easily. I hope you are happy with your drawing. I remind you that for your convenience I have prepared a short version of this tutorial in PDF format. Save this file so that you can use it whenever you want, even if you don't have an Internet connection.