I propose to complete this wonderful drawing lesson, in which I will tell you how to draw the sky step-by-step.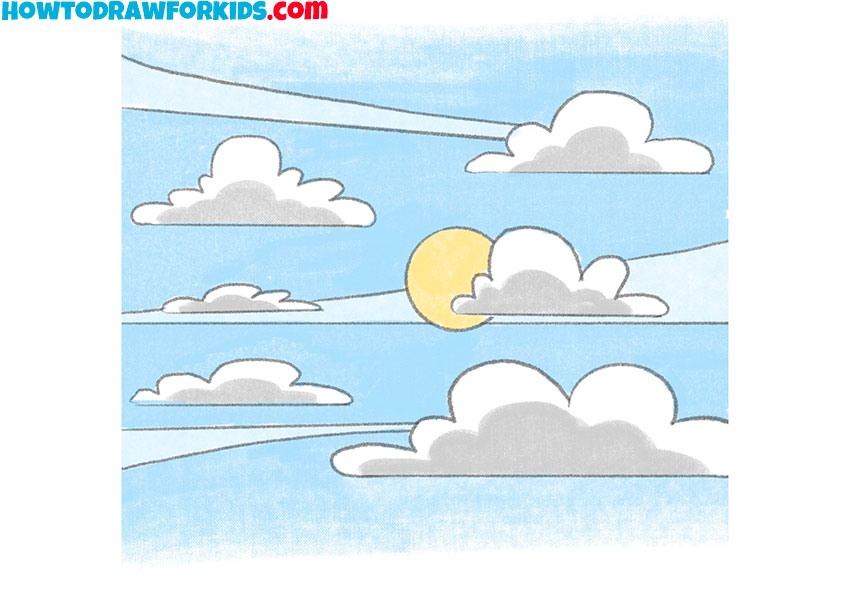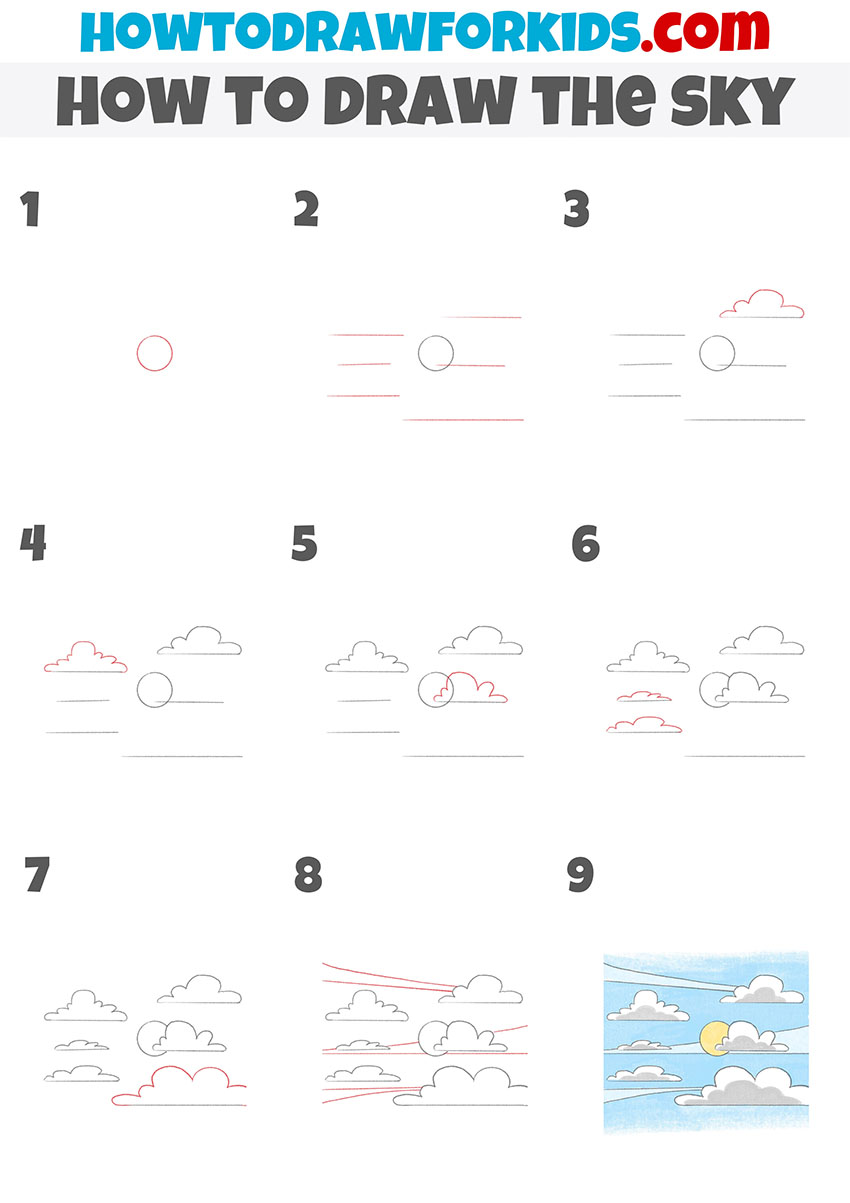 I have prepared for you an excellent and very exciting drawing lesson in which you will learn how to draw the sky step by step. This tutorial uses fairly simple elements, so any novice artist or child can easily handle it.
By learning how to draw the sky with this simple instruction, you can complement any of your drawings of a cityscape, a natural landscape, a forest, a sea, a beach, and many other paintings with it.
You know that it can be very different, and its appearance always changes depending on the time of day, weather conditions, the presence, or absence of clouds on it. In the sky you can see the sun, clouds, rainbows, thunderstorms, the moon, stars, and the sky can be clear and cloudless.
In this drawing lesson, you will draw the sky, which will depict clouds and the sun. In order to complete this drawing lesson correctly, you need to be able to draw circles, straight lines and rounded lines.
Materials
Pencil
Paper
Eraser
Coloring supplies
Time needed: 30 minutes
How to Draw the Sky
Draw the outline of the sun.

First, you need to draw the sun by drawing one circle.

Add the lower contours of the clouds.

Now you should draw many straight horizontal lines of different lengths.

Depict the top outline of one cloud.

Above one of the previously drawn straight lines, add some arcs of different sizes.

Add the outline of another cloud.

Now you should draw arcs of various sizes above another straight line.

Sketch out the outlines of the third cloud.

Depict the clouds near the sun, drawing several arcs of different sizes.

Depict the outlines of two more clouds.

Above the two straight lines, draw arcs and curved lines of varying lengths.

Draw the outlines of the last cloud.

Add large arcs of different sizes above the last straight line.

Add details.

Near the clouds, draw a few straight and curved lines, as shown in the figure.

Color the drawing.

To color the sky, use yellow, gray, and shades of blue.
For your convenience, I have prepared a PDF file in which you can find a short version of this tutorial and additional useful materials for completing it. Download this file to return to the lesson at any time.