Today in this lesson I will show you how to draw a doctor. Now you will once again practice drawing a human figure.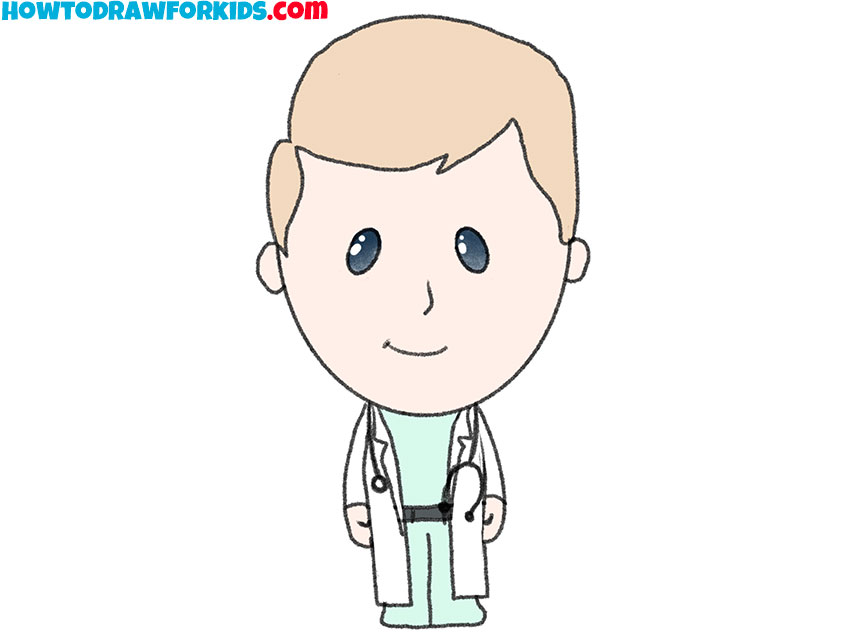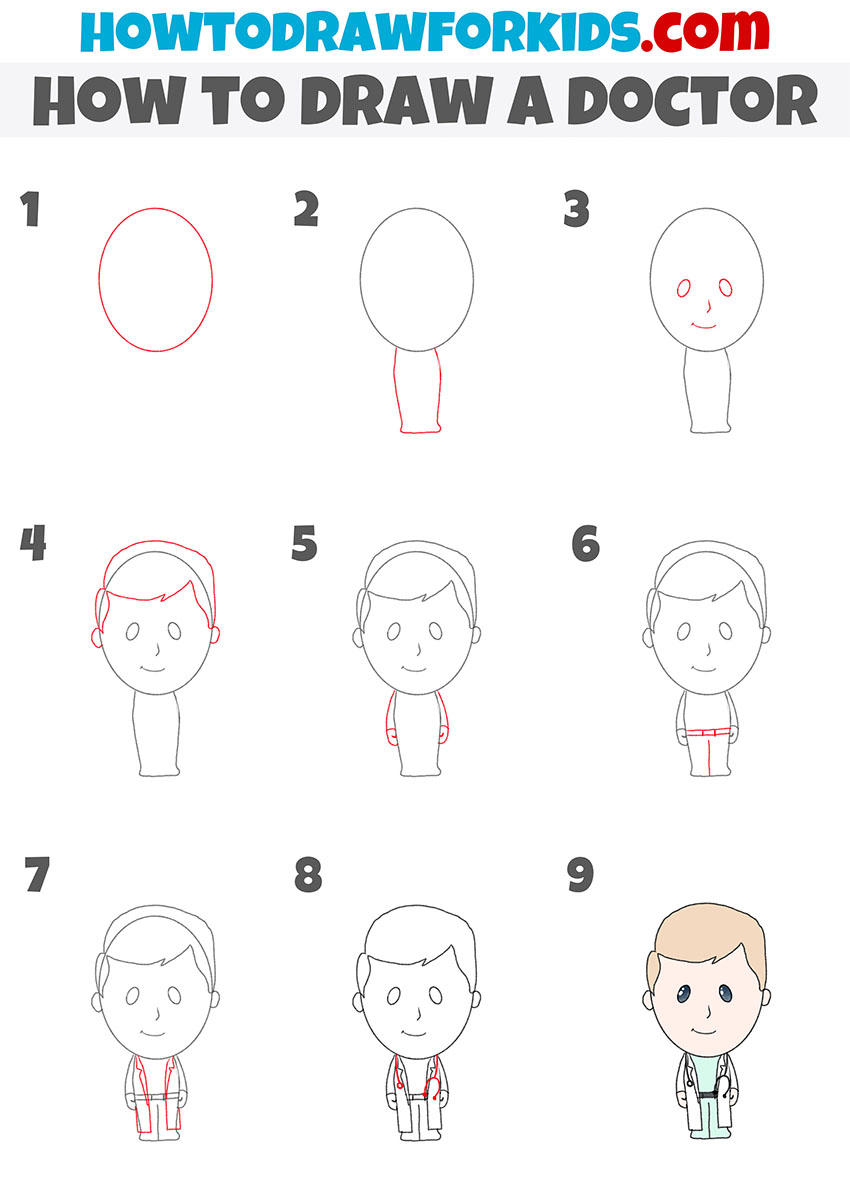 Thank you for being interested in the drawing lessons that are presented on this site, and I propose to complete an exciting lesson in which you will learn how to draw a doctor.
This is a very responsible profession, because a doctor helps to preserve health and life. Doctors provide the necessary medical care to all those in need at any time of the day. There are different types of medical professionals.
This picture shows a typical general practitioner doctor who receives patients in a clinic. The doctor is dressed in a white gown, you see a stethoscope around his neck. This is an important tool with which the doctor diagnoses the condition of human organs.
Pay attention to body proportions. The doctor is depicted symbolically, therefore, has the wrong proportions, when the head is much larger than the body. If you have all the art supplies at hand, then you can start the lesson.
Materials
Pencil
Paper
Eraser
Coloring supplies
Time needed: 30 minutes
How to Draw a Doctor
Draw the head.

This is a simple step in which you have to draw an even oval.

Depict the torso.

With the help of curved lines, draw the small torso.

Add elements of the face.

Sketch out the eyes, nose and mouth which are of a simple shape.

Draw the hair and ears.

With smooth lines, add the outline of the hair on the head and depict the small oval ears.

Sketch out the arms.

From the head, depict down smooth lines to depict arms that fit snugly against the torso.

Detail the lower torso.

Draw the belt in the middle of the torso and at the bottom, and add the outline of the legs.

Add the clothes.

On the doctor's body, add the medical gown.

Depict the stethoscope and correct inaccuracies.

Depict the stethoscope using smooth lines and small circles, and remove unnecessary lines.

Color the doctor.

Choose any color for the drawing.
Finally, I suggest you download the PDF file, which I have prepared specifically for your convenience. In this file you will find a brief instruction and additional materials that you can use at any time.
Alternative Way to Draw a Doctor
Now let's try to draw the doctor in a slightly different way. As you can see, the doctor looks different here, stands in a different pose, and has different details. In addition, the drawing method here is quite different from the lesson that you could see above.