This drawing lesson will be useful for you if you want to know how to draw a microphone. This tutorial consists of seven simple steps.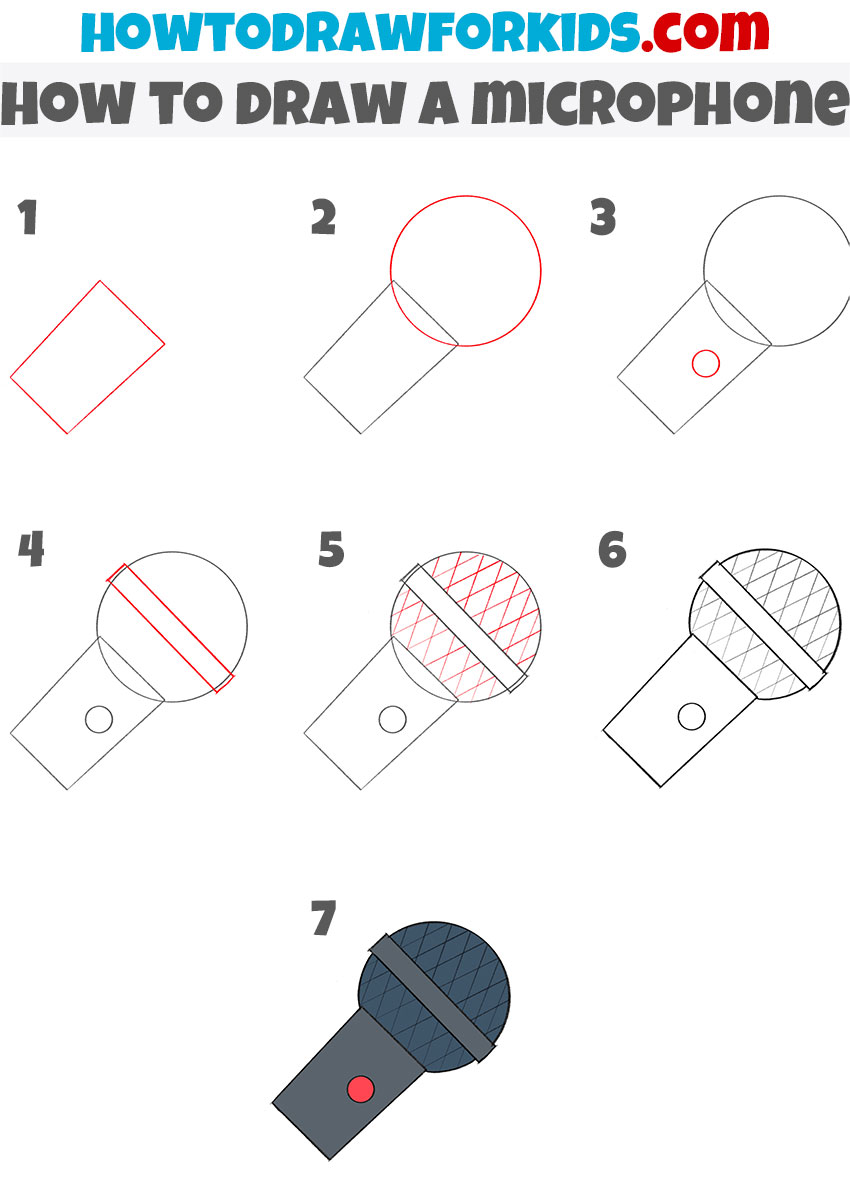 In this guide, I will tell you and show you how to draw a microphone step by step. To draw this picture well, you need to be able to draw circles and straight lines.
I'm sure you've ever seen a microphone. First, I'd like to tell you a little bit of information about the microphone. A microphone is a device that translates sound vibrations in the air into electronic signals or scribes them to a recording medium. Many years ago, people had a need to increase the volume of the human voice in order to speak to large groups of people. Microphones are now used by people very often and are considered to be a very useful device. Microphones are most often used by singers, TV presenters, actors, speakers, or event hosts.
Now you can prepare your drawing materials and start drawing!
Materials
Pencil
Paper
Eraser
Coloring supplies
Time needed: 20 minutes
How to Draw a Microphone
Draw the handle of the microphone.

To draw this detail, depict a trapezoid with long side edges. Use straight lines.

Add the upper part of the microphone.

Draw a circle at the top of the trapezoid. One figure should partially overlap the other.

Draw an element on the microphone handle.

Outline a small circle on the trapezoidal microphone handle.

Add detail on top of the microphone.

You can draw this detail as a rectangle using straight lines. Depict it in the middle of a circle.

Draw a grid on the microphone.

Hatch the upper round part of the microphone in straight lines.

Erase the auxiliary lines.

Take an eraser to remove unnecessary lines from the surface of the drawn microphone.

Color the drawing.

Use blue, grey grey-blue, and red to color this drawing.
I hope you have done a good job drawing the microphone step by step. You can tell us your impressions of this lesson in the comments. Subscribe to us on social networks. I have prepared a short version of this tutorial in PDF format, which you can download and use at any time convenient for you.