The lesson on how to draw a person step by step is ready for you. Learn useful skills with this simple guide.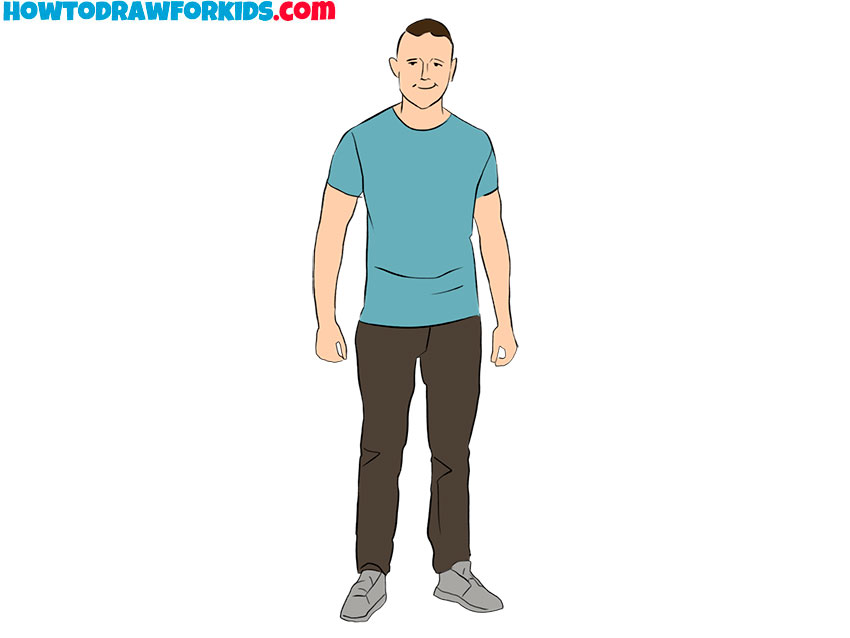 In this tutorial, you will learn how to draw a person step by step. If you often do the lessons on this site, then you already have some experience in drawing a human body. But if in the previous lessons cartoon characters were presented, then in this lesson I want to teach you how to draw a realistic person. The most important thing in this tutorial is to correctly portray the proportions. The success of the drawing as a whole will depend on this.
For your convenience, the tutorial is divided into several steps and each drawing step has a little hint for you. Be attentive and careful. Do not hurry. If something doesn't work out the first time, don't despair. Keep drawing and over time you will be great at drawing a human figure.
If you are ready, you can proceed with the lesson.
Materials
Pencil
Paper
Eraser
Coloring supplies
Time needed: 30 minutes
How to Draw a Person Step by Step
Draw the head.

Locate the person and sketch out an oval.

Depict the neck and shoulders.

Draw two smooth lines from the head.

Sketch out the torso.

Draw vertical lines down from the shoulders and depict the hem of the shirt.

Draw the legs.

Add four lines in the same shape as in the example.

Depict one arm.

Draw the forearm and hand with a smooth line.

Add the second hand.

Repeat the previous step, only draw the hand on the other side.

Depict the shoes.

Sketch out two sneakers.

Add details.

Draw the facial features, ears, hair outline, T-shirt outline, and folds on the clothes.

Color the drawing.

To color the drawing, choose any colors.
You can draw a person against the background of a beautiful area or in any other setting. Try different options, practice, develop your creativity. My drawing lessons will help you with this. Subscribe to social networks so as not to miss new exciting lessons. You can find a short version of this tutorial in a PDF file that I have prepared specifically for your convenience.