A super simple drawing lesson on how to draw a bike step by step is ready for you! It consists of only nine easy steps. There are also several more ways to draw a bicycle – a little more difficult but more beautiful and realistic.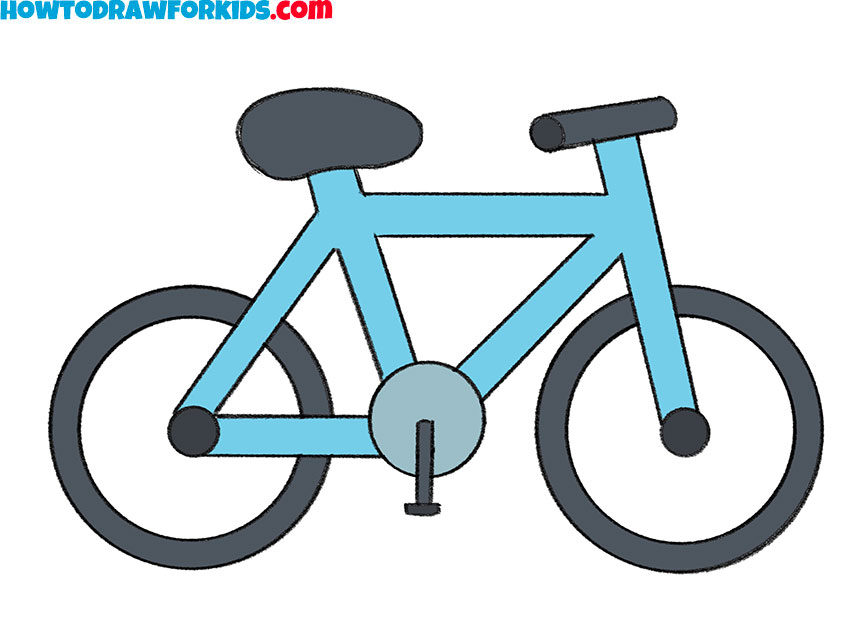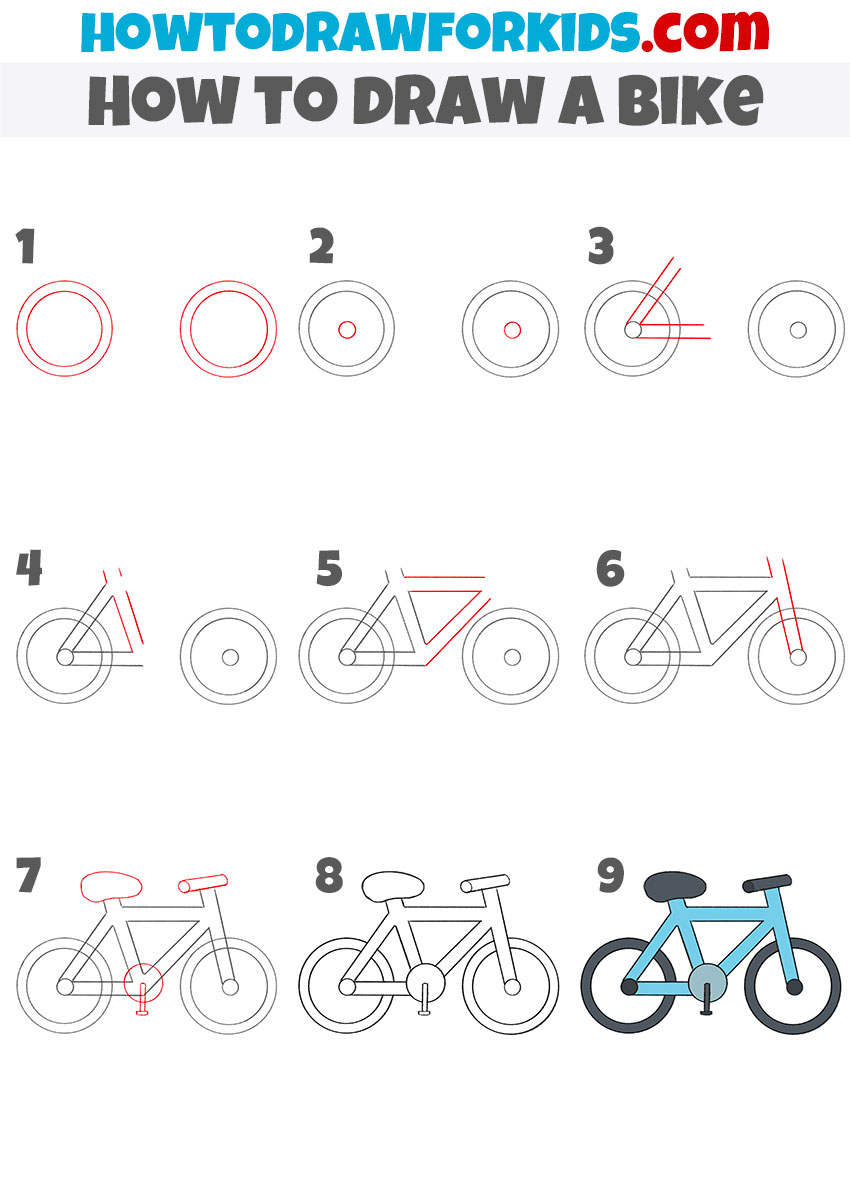 So in this tutorial, you will learn how to draw a bike step by step. This guide is created for kids and beginner artists, so I think you will have no difficulty completing it.
A bicycle is a vehicle that many children and adults love. I think you know how to ride a bike and you enjoy it.
To draw a bike step by step, you need to be able to draw straight and curved lines. Prepare the necessary drawing materials and start drawing a bike with these instructions!
Materials
Pencil
Paper
Eraser
Coloring supplies
Time needed: 20 minutes
How to Draw a Bike
Draw the wheels of the bike.

Depict two big circles and two slightly smaller circles inside them.

Outline the inside of the wheels.

Draw two identical small circles inside the previously drawn wheels.

Add an item on the left wheel.

Draw straight lines coming from a small circle inside the wheel.

Add one more detail.

Use straight lines to connect the previously drawn lines and draw a seat tube.

Outline the top tube and the down tube.

Draw some straight lines that continue the previously drawn lines.

Depict the front fork.

Add it at the front of the bike. It should connect the back of the bike to the front wheel.

Draw the saddle, steering wheel, and pedal.

You should use curved lines to depict these elements in the front and middle of the bike.

Erase the auxiliary lines.

Remove any unnecessary lines from the drawn bike with an eraser.

Color the drawing.

Use grey and shades of blue to color the bike you have drawn.
Great job! This lesson has come to an end and I hope you enjoyed it. Don't forget to comment and subscribe to us on social media. For your convenience, a PDF file containing a short description of this lesson has already been prepared.
How to Draw a Simple Bike
This drawing may seem difficult for you, but in fact you will quickly complete this task. If you follow the sequence of steps and carefully draw all the lines, as shown in the example, you will get a good result. For your convenience, in each step, there is a small hint that will help you correctly depict the next element. Pay special attention to drawing the wheels, because the circles must be even.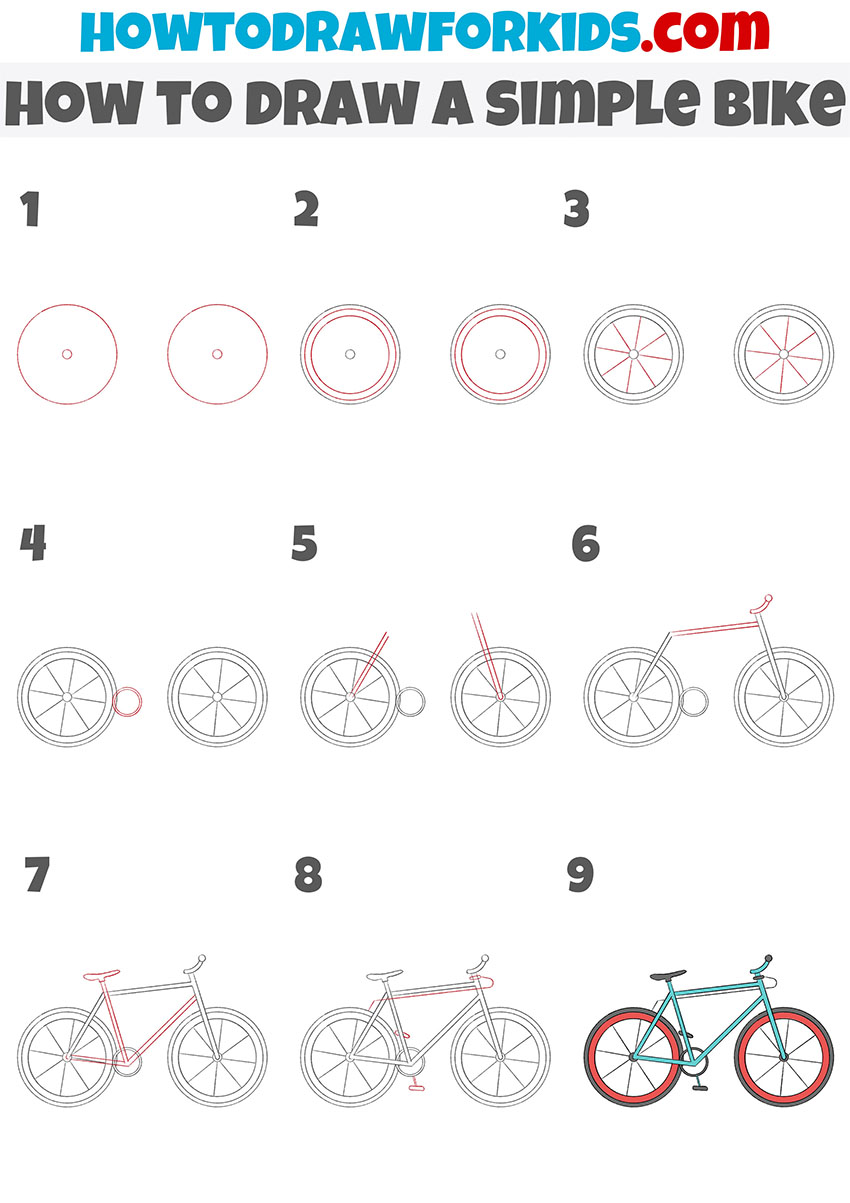 With the help of a simple instruction, you will learn how to draw this wonderful vehicle. Be patient and carefully follow all the drawing steps. Use small hints to correctly depict the next element in this instruction.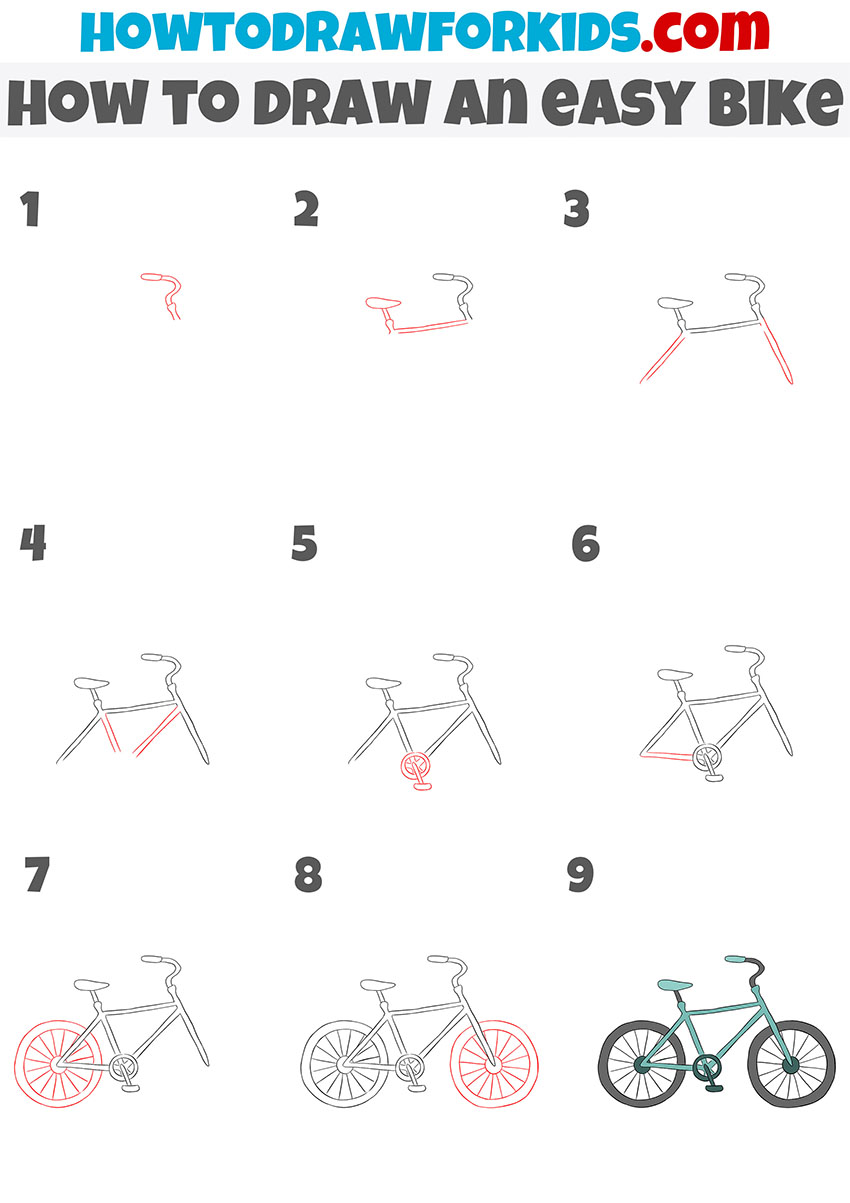 Now you have to learn how to draw a bicycle with the help of a simple instruction, which includes nine steps. Each step is one simple action that any novice artist can easily repeat.