How to Draw Tinker Bell Face
Tinker Bell is a symbol of Disney. She flies over Disneyland during a fireworks show. I would like to show you how to draw Tinker Bell face.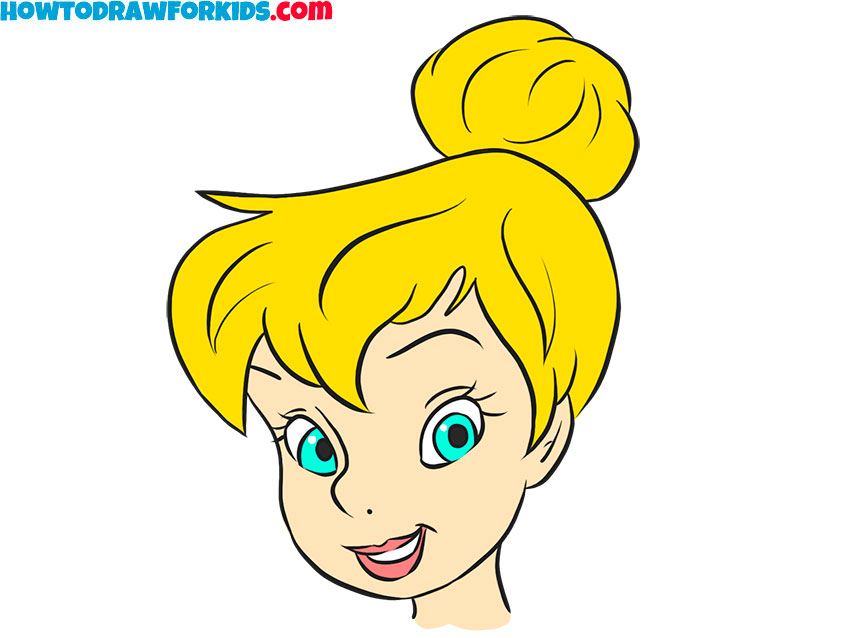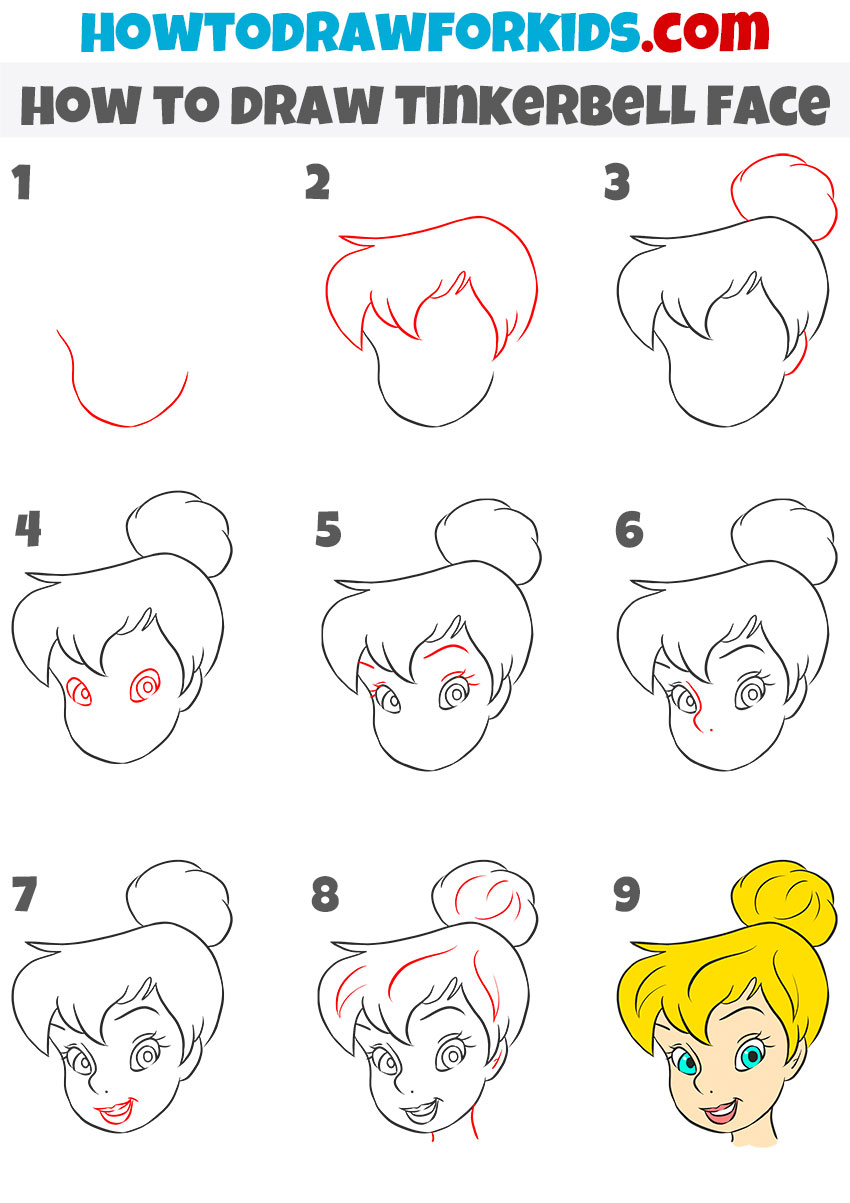 Now you will learn how to draw Tinker Bell face. This is a beautiful fairy from the Peter Pan cartoon, where she is presented as Peter's friend and assistant. This fairy is depicted as a pretty young and small girl. Tinker Bell is light like a butterfly and has wings on her back. The fairy has beautiful blonde hair and cute features. Her voice is like the ringing of a bell. Tinker Bell is very curious, but sometimes moody.
I think you will follow Tinker Bell face drawing tutorial with great interest. I will help you at every stage of drawing, and I will suggest how best to complete the next step. All that is required of you is patience and accuracy.
In this work, the most important thing is to maintain correct proportions to make Tinker Bell's face look more realistic. For coloring, choose the brightest and most saturated colors, because Tinker Bell is a very bright and attractive character.
Please get all your drawing supplies ready now and start this lesson.
Materials
Pencil
Paper
Eraser
Coloring supplies
Time needed: 26 minutes
How to Draw Tinker Bell Face
Draw the oval for the face.

Use a smooth, curved line to outline the face.

Portray the hair.

Sketch the outline of the hair using smooth lines, as shown in the example.

Depict the ear and the top of the hair.

The ear is small. The hair on the head is gathered in a bun in the shape of the ball.

Add the eyes.

Draw the contour, pupil, and highlights. Be careful at this stage, respect proportions.

Portray the eyebrows and eyelashes.

Add eyelashes using short lines and draw the upper eyelid and eyebrows.

Create the nose.

To do this, use a curved line, as shown in the example.

Depict the mouth.

Gently portray the upper and lower lip.

Sketch the neck and detail the hair.

Use a small line to outline the neck and draw lines on the hair to indicate individual strands.

Color the fairy.

Color the skin beige, hair yellow, eyes blue, and lips pink.
Now you have learned how to draw beautiful Tinker Bell fairy. I hope you enjoyed Tinker Bell face drawing tutorial and are happy with the result.
I recommend that you use a PDF version of this tutorial. I have prepared this file, especially for your convenience. Download the file and draw anytime, even when there is no Internet access.