In this tutorial I will show you how to draw Abraham Lincoln. This guide is useful and consists of only nine simple steps.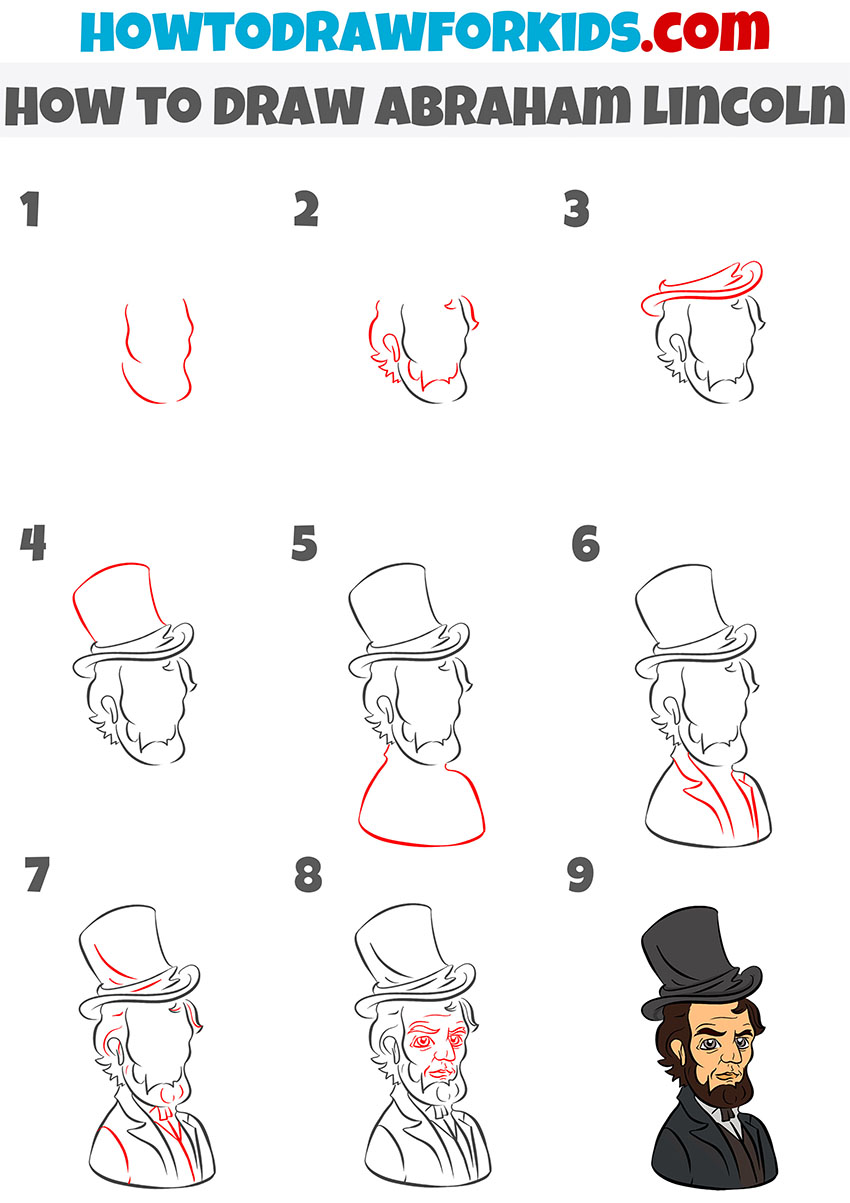 In this tutorial, I will show you how to draw Abraham Lincoln. This is the 16th President of the United States, statesman, and politician. Lincoln is considered one of the most worthy presidents.
I think it will be interesting for you to draw such an outstanding personality. In addition, you will acquire useful skills that will be useful to you in the future when you draw a portrait of another person.
In the picture, you can see that the president is dressed in a classic gray suit, with a tall hat of the same color on his head. Individual strands of hair are in the form of small curls. The president wore a short but wide beard. All these features you must depict in your drawing.
It may seem that drawing Lincoln is difficult, but in fact, all the steps in this lesson include simple actions. And if you are careful and careful, you can achieve a good result.
Materials
Pencil
Paper
Eraser
Coloring supplies
Time needed: 30 minutes.
How to Draw Abraham Lincoln
Draw the outline of the face.

Using a few smooth lines draw the outline of the face.

Depict the hair, beard, and ear.

Using short lines draw the outline of the hair and beard. Add an ear.

Add the brim of the hat.

To do this, sketch out a rounded line.

Depict the top of the hat.

Draw a few smooth lines to make a tall top hat.

Draw the shoulders.

Below the head, draw two smooth lines on the sides.

Add the collar of the jacket.

In straight lines depict the collar on the clothes.

Add details.

Detail the clothes, add folds on the hat, and separate strands on the beard.

Color the drawing.

You will need beige for the face, brown for the hair and beard, and gray for the clothes.
For your convenience, I have prepared a PDF file with a summary of the lesson. I suggest downloading this file now and doing the lesson at any convenient time.