In this drawing lesson, you will learn how to draw a zombie step by step. This lesson will be unusual and interesting for you.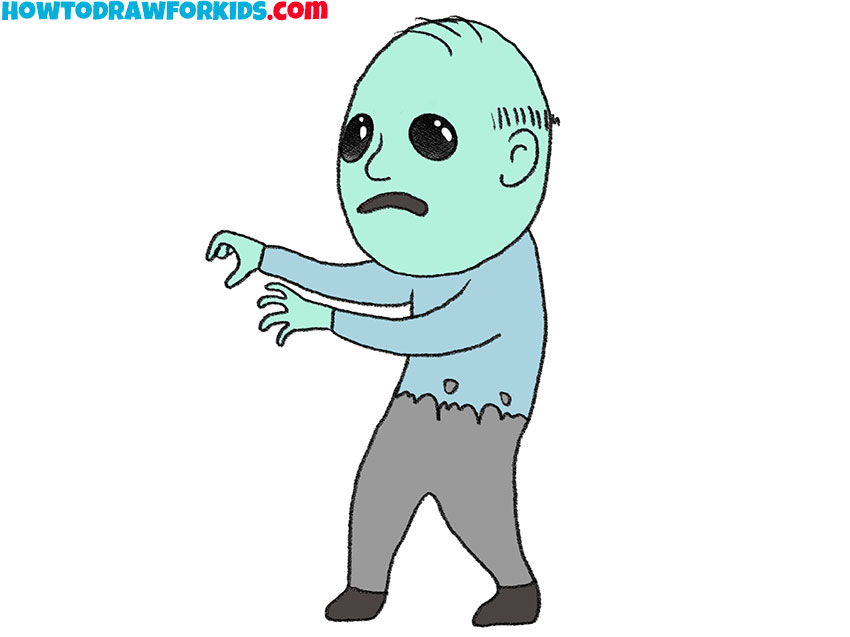 I have prepared for you a fascinating drawing lesson in which I would like to tell you and show you how to draw a zombie step by step. Zombie is a mystical character.
Usually a zombie is called a zombified person who has completely lost control of himself and his body or obeys someone's orders. Also, a zombie is called a dead person who came to life in a fantastic way and is possessed.
Zombies often become heroes of various science fiction films, cartoons, and books. In this lesson, the zombie is depicted in a cartoon style. Zombies often have pale skin, dilated pupils, and their clothes are torn or tattered.
Materials
Pencil
Paper
Eraser
Coloring supplies
Time needed: 30 minutes
How to Draw a Zombie
Draw the outline of the zombie's head.

To depict this element, draw one shape that looks like an oval.

Add the torso of the zombie.

Below the previously drawn head, depict the torso using a long, curved line.

Sketch out the arms.

With the help of two curved lines depict two arms laid aside.

Depict the hands.

Next to the previously drawn elements, add the hands using curved lines.

Start drawing the facial features.

Outline the two eyes as ovals, as well as the nose using a curved line.

Draw the mouth, ear, and hair.

Use semi-ovals as well as curved lines of various lengths to depict these elements.

Add details.

At the waist and bottom of the legs, add curved lines, as well as two circles.

Correct inaccuracies.

Use the eraser to remove any unnecessary guidelines.

Color the drawing.

To color the zombie, use blue, green, black, and shades of gray.
Don't forget to download the PDF file, which contains a short version of this lesson, as well as additional practice materials to help you complete it.
How to Draw a Zombie Step by Step
So, you see that the zombies have large expressive features, a large head, a small torso, and short limbs. Try to keep these proportions in your drawing. So grab your art supplies and let's get started.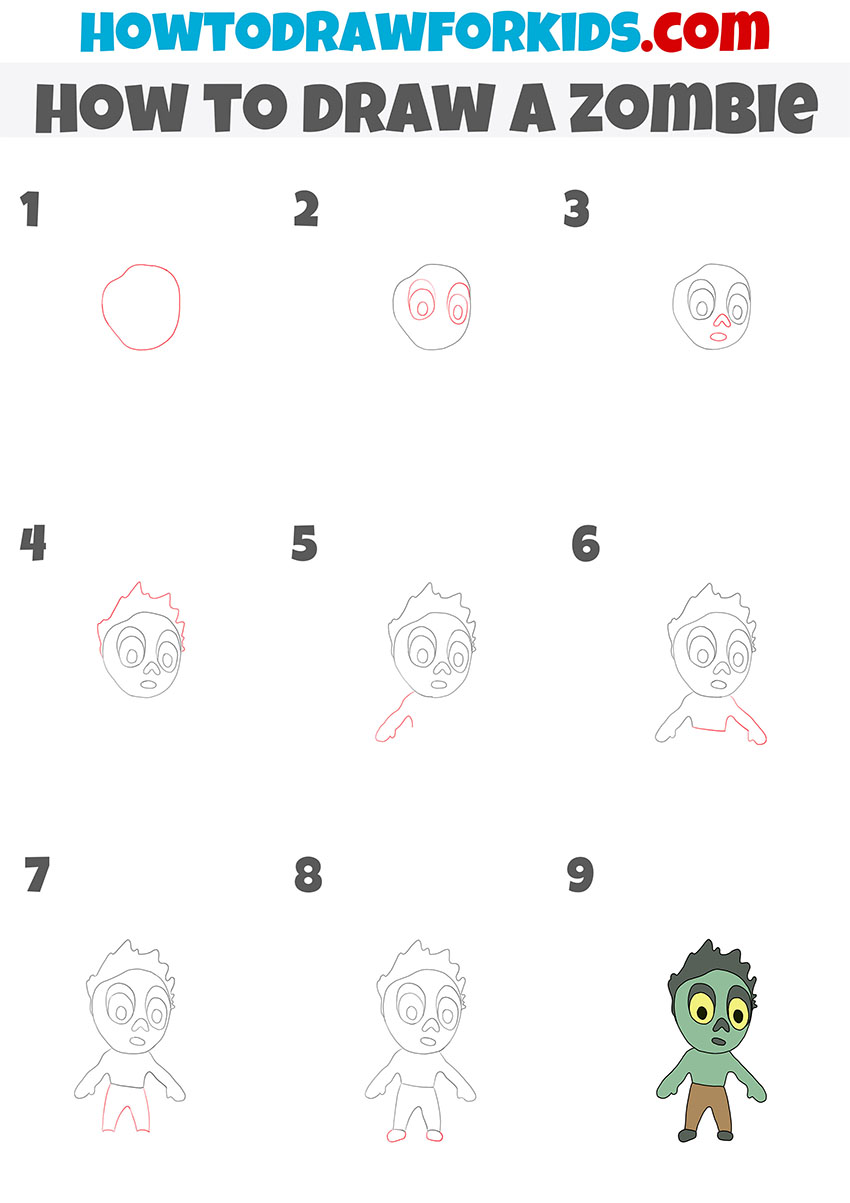 How to Draw a Zombie for Kids
This is probably the most interesting lesson in drawing zombies that you can see in this collection. The zombie here has a more expressive face and a rather realistic pose. If you can talk about zombies like that.