Today you will learn how to draw scenery. This tutorial is very interesting, useful, and also very simple.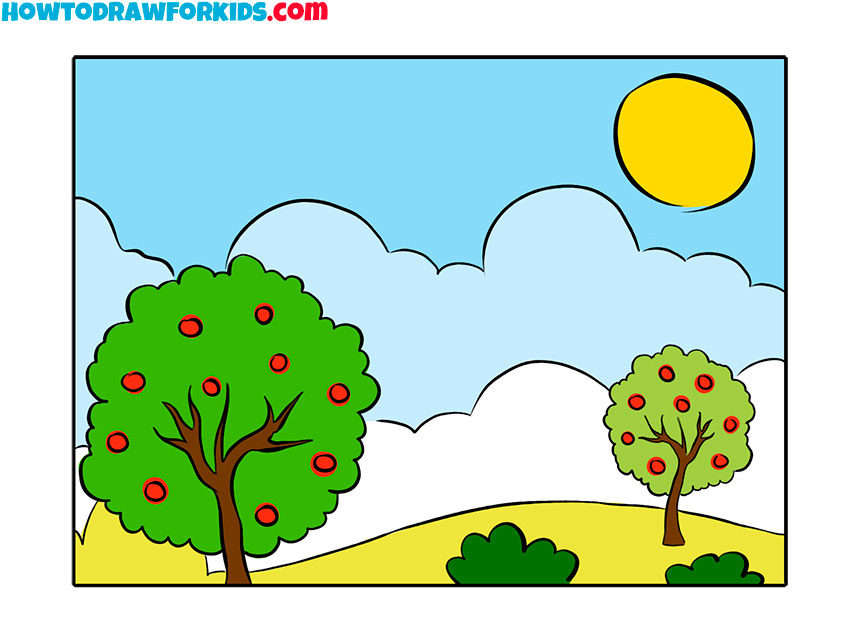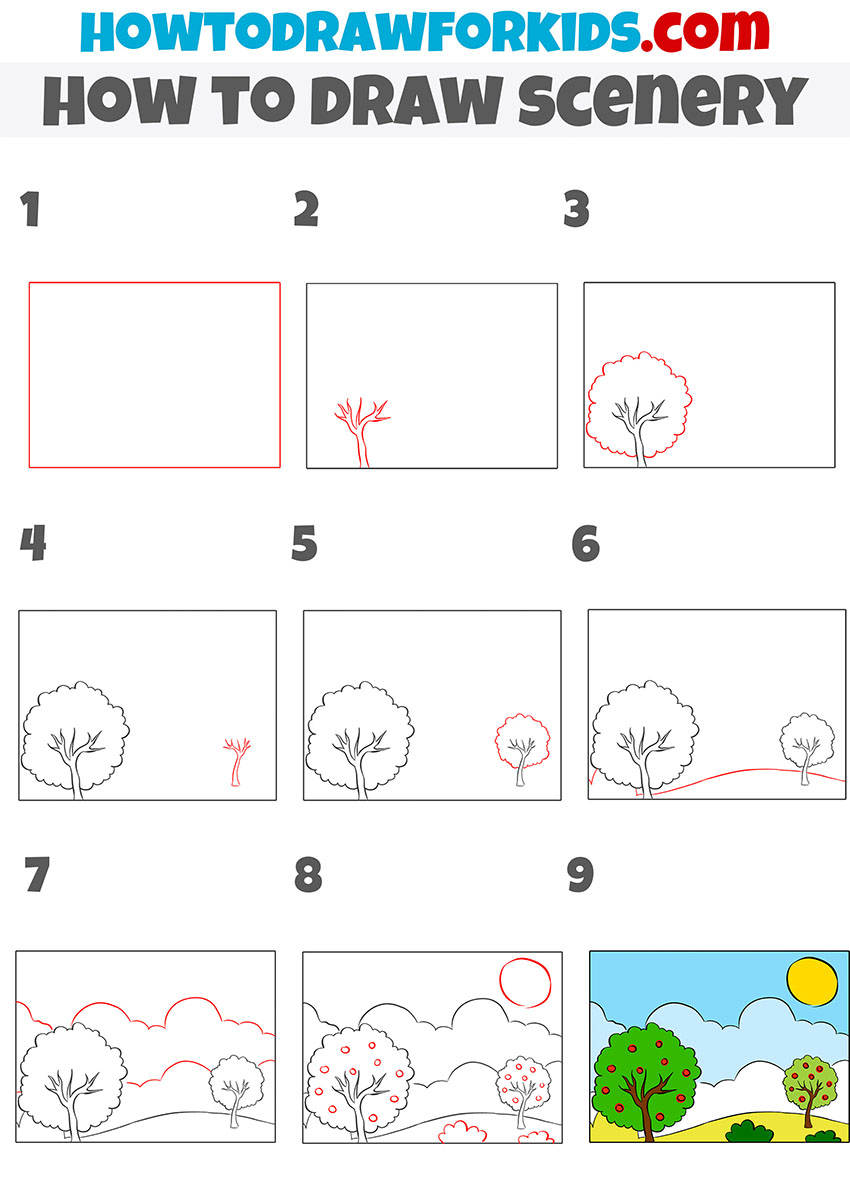 In this tutorial, I will show how to draw scenery. I am sure that you will follow this lesson with great interest and will gain useful skills that you can apply in the future.
The scenery is a drawing that depicts nature. The scenery can be very different. It can be a forest, a meadow, a river or lake bank, mountains, and so on. Any beginner and experienced artist can paint scenery. This tutorial shows the easiest way to draw scenery because this tutorial is intended for children and aspiring artists. The lesson consists of several steps that you can easily repeat.
In the picture, you can see some simple objects – meadow, bushes, fruit trees, clouds, sun. Everything is very simple, at the same time very beautiful. Such a drawing may well decorate the interior of your room.
Materials
Pencil
Paper
Eraser
Coloring supplies
Time needed: 35 minutes
How to Draw Scenery
Draw the frame.

Use straight lines to draw a rectangle.

Depict the trunk of the tree.

At the bottom left, draw the freeform tree trunk.

Depict the crown of the tree.

Use a jagged, wavy line to draw the crown of the tree, which is shaped like a ball.

Add the trunk of the second tree.

In the other part of the picture, draw another small trunk.

Add the crown for the second tree.

Use a wavy line to depict the crown in the form of a ball.

Depict the outline of the meadow.

Draw a smooth, curved line to outline the outline of the meadow. This will be the horizon line.

Sketch out the clouds.

Use a few rounded lines to depict the outline of the clouds.

Add details.

Draw the sun, bushes, and fruits on the trees in the form of small circles.

Color the drawing.

Use several bright shades of blues and greens, as well as reds, light browns, and yellows.
Traditionally, I have prepared a short PDF version of this guide for you. Download the file and take drawing lessons at any convenient time.