Thanos is a hero who was born on Titan. His goal is to destroy all life in the universe. I would like to show you how to draw Thanos face.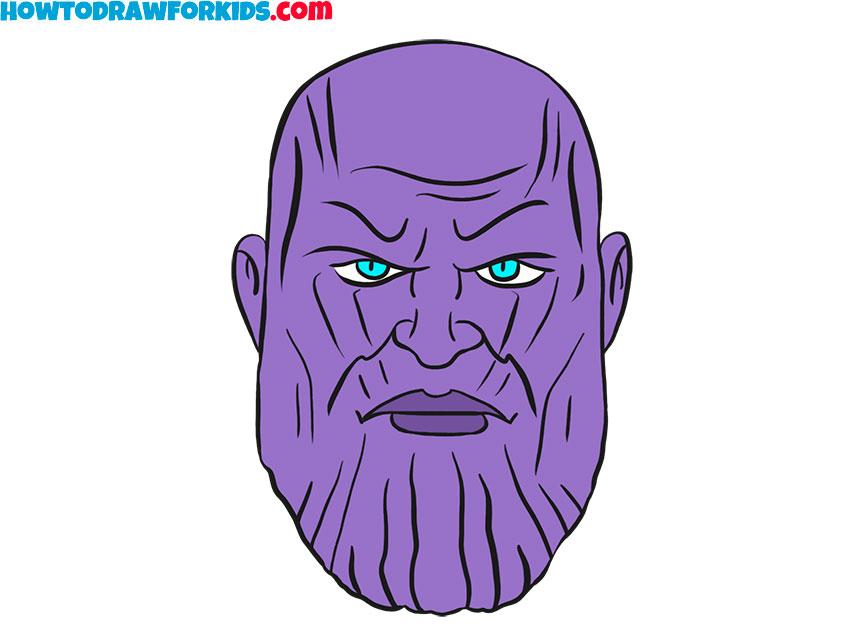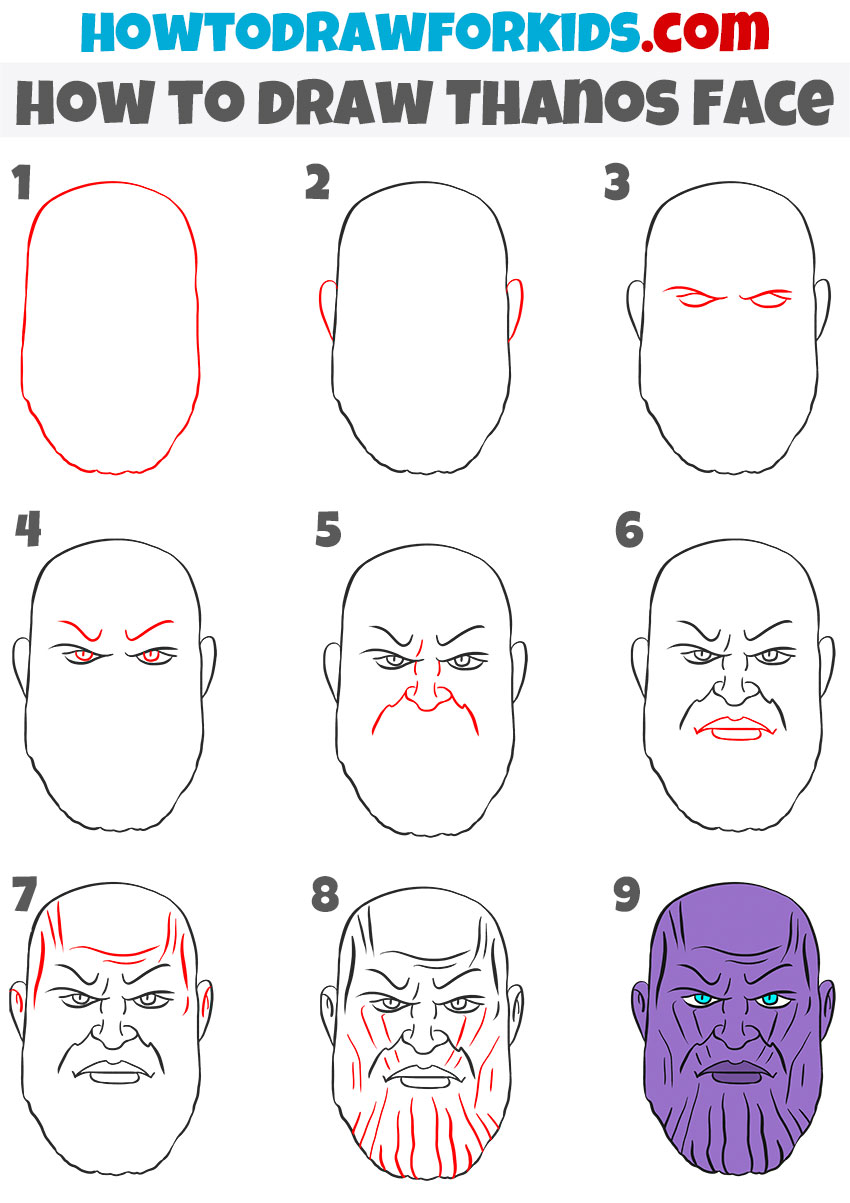 In this tutorial, I propose to return to the comic book characters and show you how to draw Thanos face. This is one of the most famous comic book characters from the Marvel Universe. Thanos also became one of the main characters in science fiction films. This is a huge mutant, a bright representative of the superhuman race.
Thanos has some amazing abilities, such as immense strength, stamina, and agility. This hero is practically invulnerable. The main goal of Thanos was to balance the universe. This hero aimed to destroy half of the population of the universe so that the survivors could prosper. This makes Thanos the main villain of the universe.
Since Thanos is a mutant, the appearance of this character is very unusual. His complexion is dark gray with a purple tint, a huge chin, angry eyes. You must show all these signs in your drawing.
If you are ready, you can begin Thanos face drawing tutorial.
Materials
Pencil
Paper
Eraser
Coloring supplies
Time needed: 19 minutes
How to Draw Thanos Face
Draw the outline of the head.

Sketch the head in the same shape as shown in the example.

Portray the ears.

Draw the drop-shaped ears on the sides of the head.

Add the eyes.

Depict the outline of the eyes and the upper eyelid.

Draw the eyebrows and the inside of the eyes.

Sketch the iris and pupil. The shape of the eyebrows should convey the emotion of Thanos.

Portray the nose and nasolabial folds.

Draw a few short lines for the top of the nose, and for the bottom, draw a smooth line. Add folds.

Depict the mouth.

Gently draw the upper and lower lip. Lower the corners of the lips down.

Sketch the folds on the upper part of the face.

Use short lines to draw the folds at the top of the face.

Add the folds at the bottom.

Repeat the same short lines, only on the lower part of the face.

Color the face.

Use purple for this. Color the eyes green.
Thanos face drawing tutorial is completed and now you can evaluate the result of the work. Did you succeed? Were you able to convey the emotion on Thanos's face correctly? You can share your impressions in the comments.
I hasten to remind you that especially for your convenience, I have prepared the PDF file that will help you return to the drawing lesson at any convenient time.