All my childhood I wanted the same costume as Iron Man, as he was one of my favorite characters. I will show you how to draw Iron Man.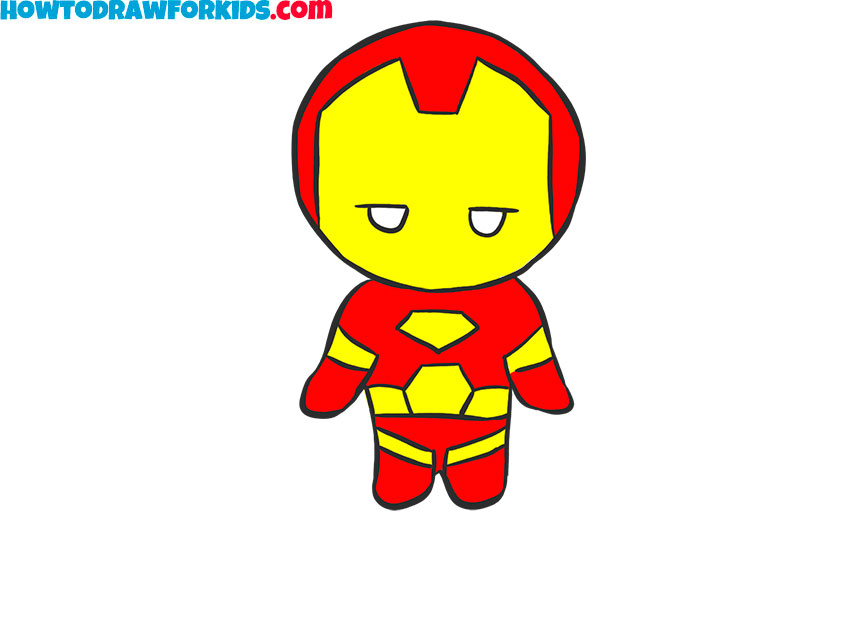 In this tutorial, you will learn how to draw another popular character. I will show you how to draw Iron Man. This is a famous superhero of Marvel comics. Iron Man has many fans because this hero has such qualities as courage, strength, endurance, and high intelligence. Iron Man accomplishes numerous feats thanks to his superpowers. The armored suit makes this hero invulnerable. Gloves and boots are equipped with a jet engine, so Iron Man can fly. The helmet has a communication and recording device. Thus, the equipment helps Iron Man to carry out important tasks and save the world.
You will draw this character in a cartoon style. This style of drawing is already well known to you if you regularly complete the lessons presented on the pages of the site. As you remember, this style is characterized by certain proportions. The character's head is larger than the torso, the facial features are not detailed, but overall the character is easily recognizable. Simple lines are used at each stage of the drawing. This Iron Man drawing tutorial is great for aspiring artists who are just getting started with drawing techniques.
Do your best at every stage, follow my tips, and the result of the work will delight you. So, prepare all the necessary supplies and get to work.
Materials
Pencil
Paper
Eraser
Coloring supplies
Time needed: 16 minutes
How to Draw Iron Man
Draw the head.

Determine the location and size of the hero and draw an even circle.

Portray the torso.

Draw a torso with smooth lines, the same shape as in the example.

Add the outlines of the helmet and the eye.

Use a few simple lines to detail the helmet and draw small eyes.

Detail the costume.

Add the desired elements to the suit with a few simple lines.

Color Iron Man.

Use two colors for coloring – yellow and red. Leave the eyes white.
So the next hero is ready. I hope you did your best and the drawing is bright and colorful. If something didn't work out the first time, then don't despair. Practice, devote enough time to draw, try and over time your drawings will get better. You can do drawing lessons together with your friends. Share information about these lessons and get creative together.
To conclude the tutorial, I suggest you download the PDF version of this Iron Man drawing tutorial. In this file, you will find a simple guide and other useful tools.