Lesson on How to Draw Thor From the Marvel Universe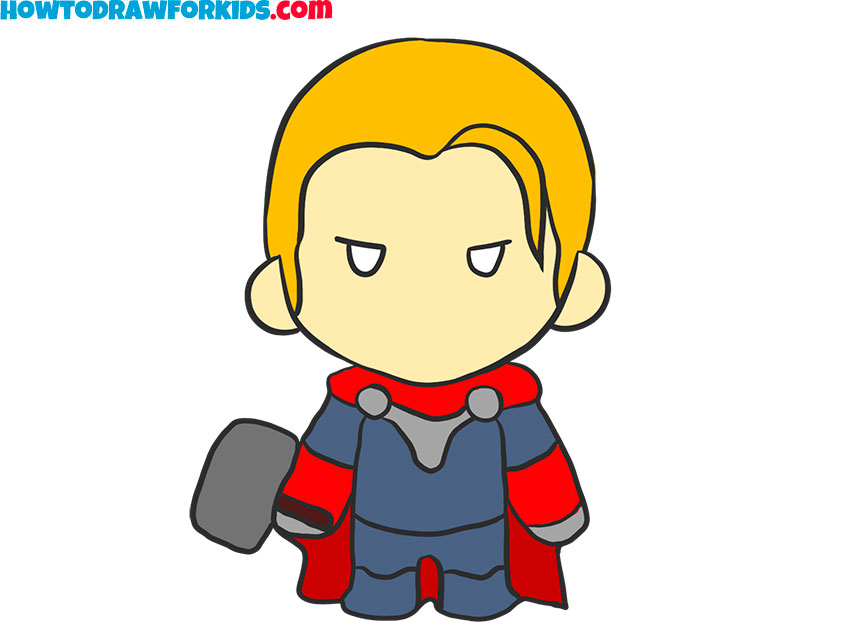 Greetings, dear young artists, and I suggest you complete another exciting lesson. In this tutorial, I will show you how to draw Thor. He is a famous superhero character in the Marvel Comics universe. Thor has amazing abilities, he is very hardy and strong. Thor is also able to command lightning. Thor is dressed in a dark, form-fitting suit with a wide red cape over his shoulders. Thor holds his weapon in his hands.
In this tutorial, you will draw a cartoon-style Thor. If you regularly follow my lessons, then you already know that any character can be easily drawn in a cartoon style. To do this, you need to correctly portray the main characteristics and the character will be easily recognizable. In this style, all heroes have certain proportions. As you can see from this picture, Thor has a large head and a small torso. Facial features lack detail. All lines are very simple.
You can easily complete this Thor drawing tutorial because the guide is designed specifically for the beginner level of drawing. Try to follow all the steps correctly and you will have a good result.
Materials
Pencil
Paper
Eraser
Coloring supplies
Time needed: 22 minutes
How to Draw Thor
Draw the oval for the face.

Determine the location of the hero and draw a smooth semicircular line.

Draw the outline of the hair and ears.

Use a few smooth lines to draw the hair. Select a section of hair on the forehead.

Depict the outline of the clothes.

The contour is uneven. Try to repeat this as an example.

Draw the costume.

Portray the outline of the suit with a few simple lines.

Add items of clothing and the hammer.

Draw the hammer in Thor's hand and detail the clothes with a few simple lines.

Depict the eyes.

The eyes are small and far apart.

Color the Thor.

Paint the face with beige. Yellow for the hair. Use red and blue for clothing, gray for the hammer.
That's all! Another character is ready. I hope that you did your best and that you like the result of the work. Write in the comments which characters you would like to draw in the next lessons.
Finally, I want to offer you a PDF file that contains a short version of the Thor drawing tutorial. Download the file and complete drawing lessons at any convenient time.