How to Draw an Anime Character
Anime Character Drawing Guide For Kids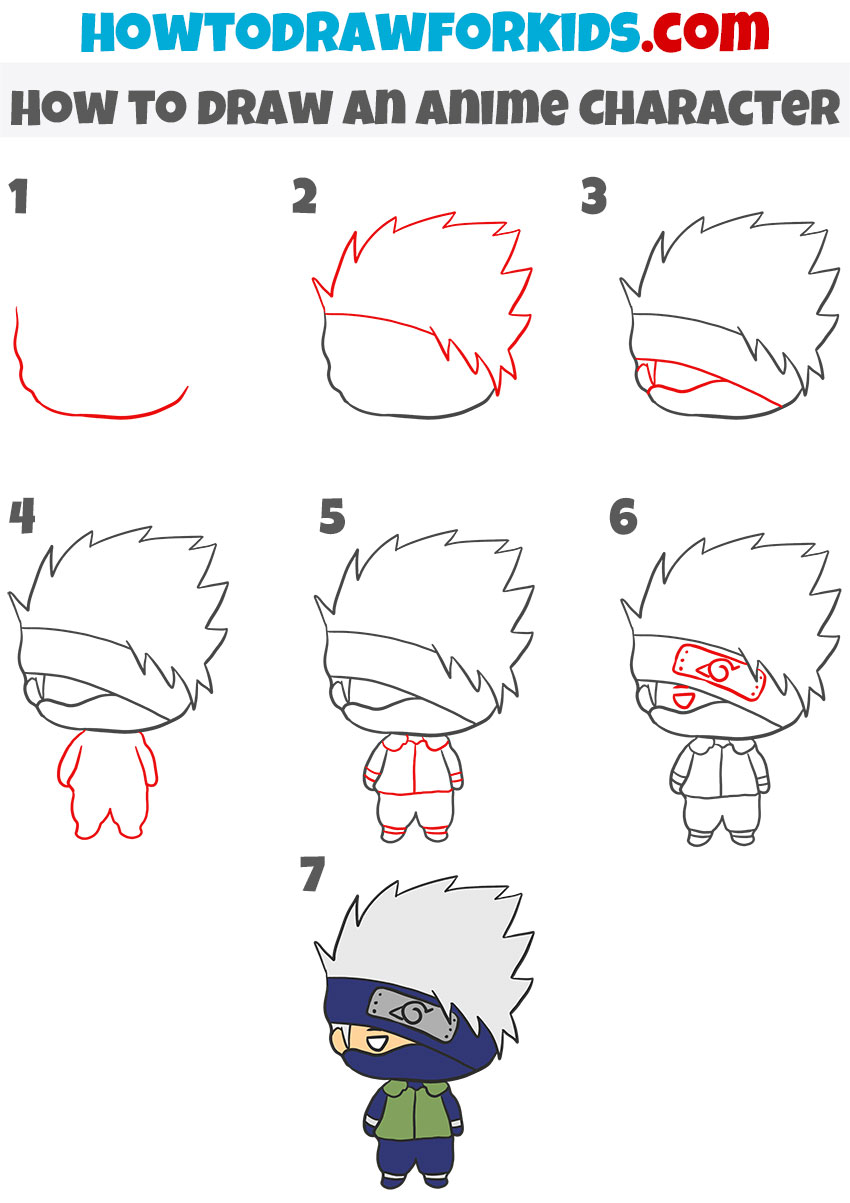 In today's lesson, I want to show you how to draw an anime character. I must say that all the characters from there are distinguished by bright, unusual costumes that definitely deserve your attention.
Today, to please you, I created a short anime character drawing tutorial. I must say that the appearance of anime boys is much more interesting than that of girls. Those who have watched these bright Japanese cartoons at least once should remember the squeaky voices and huge eyes of cute drawn girls.
In order for you to take your first steps into the world of anime, let's draw this bright guy. I am sure you will enjoy the process a lot! Want to draw your character later? Not a problem, because you can always download the lesson from the link below, in a convenient PDF format. Let's start drawing soon.
Materials
Pencil
Paper
Eraser
Coloring supplies
Time needed: 18 minutes
How to Draw an Anime Character
Draw the half-oval of the face.

Let's draw the big face with soft lines.

Let's add the hairstyle.

Draw the hairstyle with sharp corners in random order.

Add the mask.

Repeat the lines as in the picture below.

Draw the body.

It should be smaller than the head and have soft lines. No sharp corners.

Clothing details.

Draw the collar, sleeves, and decorative elements on the garment.

Add a decorative eye patch.

Anime guys don't have big eyes like anime girls. Therefore, we will draw a rounded triangle.

Color the character.

Here you can give the full flight of your imagination. Blue, olive, or maybe silver? Imagine.
Follow the algorithm – disproportions, bright colors, unusual hairstyles, simplicity. Here's what it takes for a successful anime drawing. And if you want to draw the anime character later, the lesson below will be available for download in PDF format. It is very convenient.
You can, if you wish, come up with a whole story with the character that you drew. Add the background you want, those anime girls with squeaky voices and the drawing will sparkle with new colors. Drawing anime, you can even forget for a while about some rules of drawing. Just have fun mixing the incongruous.