Learn how to draw Jasmine with this tutorial. In nine easy steps you will quickly and easily draw this beautiful princess!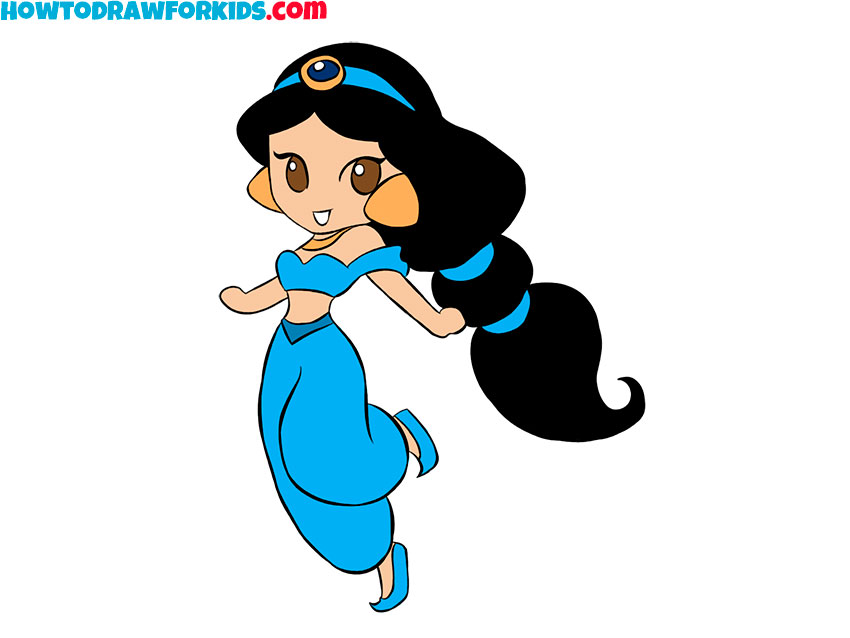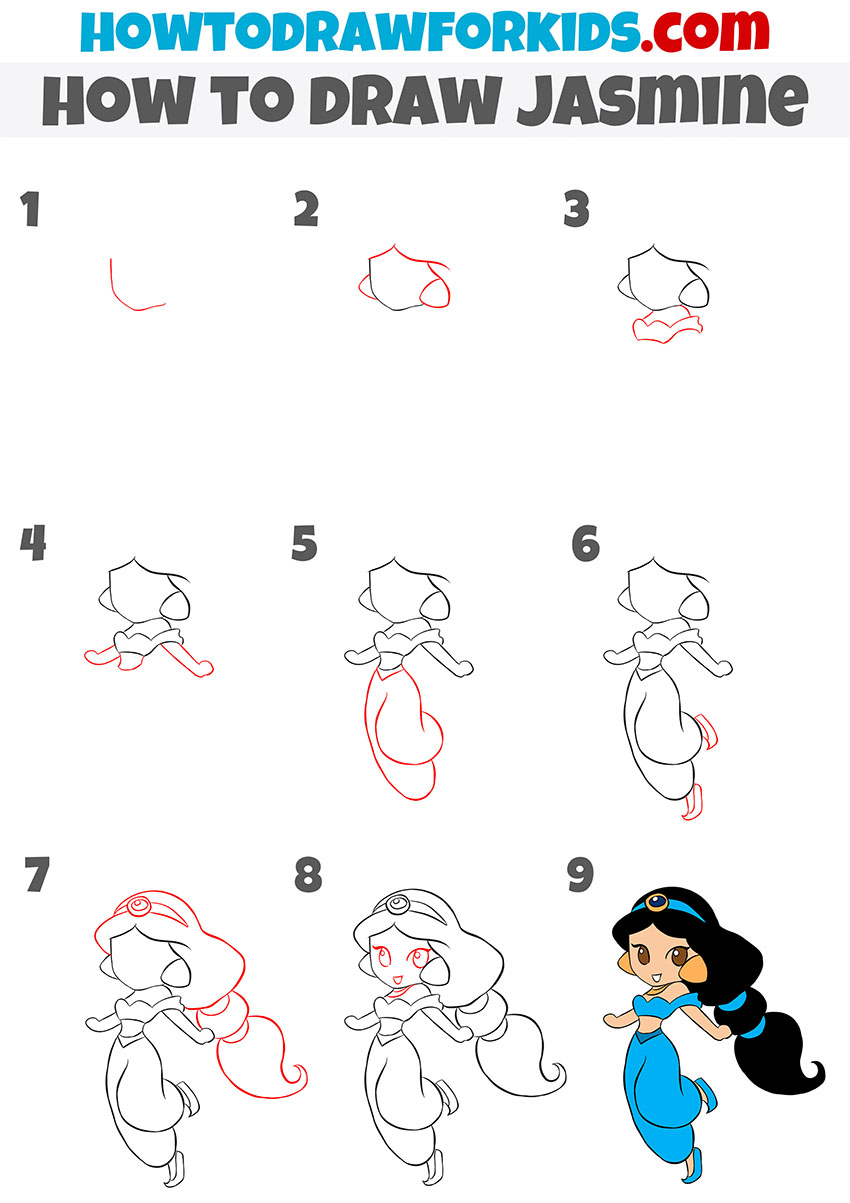 Now I will show you how to draw Jasmine. This will be another exciting lesson that will help you improve your artistic skills.
Jasmine is the heroine of the popular cartoon and movie Aladdin. If you watched the cartoon, then you probably liked this beautiful princess who lives in a state in the Middle East. Jasmine is very beautiful, she has long hair, expressive eyes, and a thin waist.
In this lesson, you will learn how to draw Jasmine step by step. The lesson is designed in such a way that any novice artist will quickly and easily complete all the stages of drawing.
Here the princess is depicted in chibi style and has all the features characteristic of this style. The princess has a large head, a small torso, and expressive features.
Materials
Pencil
Paper
Eraser
Coloring supplies
Time needed: 30 minutes
How to Draw Jasmine
Draw an oval for the face.

Depict a smooth line of the same shape as in the example.

Add the outline of the hair and earrings.

With smooth lines draw the outline of the hair on the forehead and add large earrings.

Sketch out the upper body.

Draw the neck and upper part of the clothes.

Depict the arms and belly.

The arms are short and spread out to the sides. The waist is very narrow.

Add the lower part of the torso.

Depict the legs on which wide trousers are worn.

Sketch out the shoes.

At this stage, add small curly shoes.

Draw the hair.

The hair is lush and braided with ribbons, draw an ornament on the head.

Add details.

Draw the small curly necklace around the neck. Sketch out big eyes and the mouth.

Color the Jasmine.

You will need black, beige, blue, yellow and brown.
Beautiful Princess Jasmine is ready! Share your impressions about the lesson, I will be glad to receive feedback from you.
I've prepared a PDF file that contains a short version of the tutorial and additional helpful resources. Download the file and complete the lesson at any time.