Learn how to draw a zebra face in just nine easy steps quickly and easily. I'm sure this guide will be very helpful for you.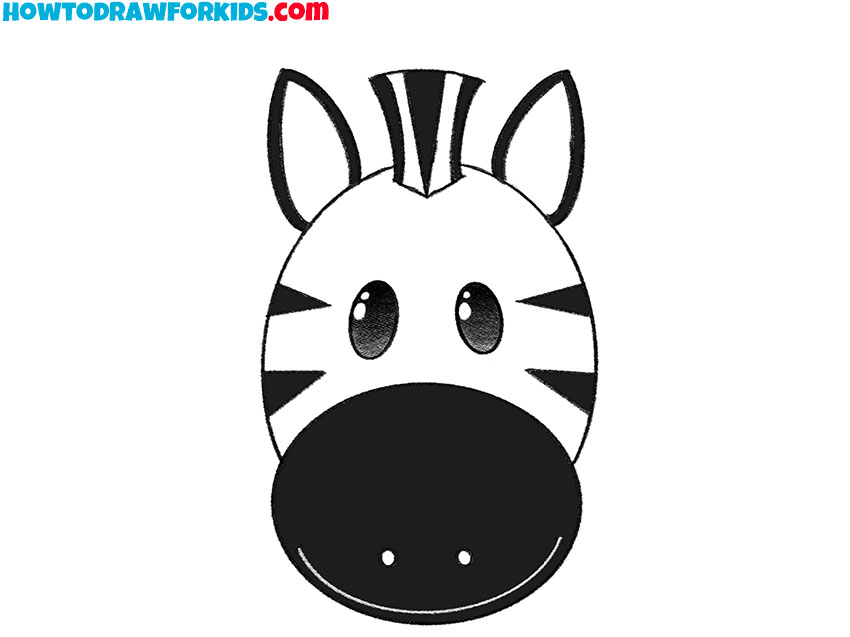 In this tutorial, I want to show you how to draw a zebra face. This instruction is very simple and consists of nine clear and accessible steps.
Zebra is a very beautiful animal that lives in Africa. This lesson is designed specifically for children and beginners, so simple lines and a minimum of elements are used here.
You can easily draw a zebra face if you carefully and accurately follow each step of the lesson. Make sure to correctly draw facial features and maintain all proportions.
Materials
Pencil
Paper
Eraser
Coloring supplies
Time needed: 25 minutes
How to Draw a Zebra Face
Draw the front of the face.

Determine what the size of the face will be and draw an even oval.

Add the rest of the face.

With the help of a smooth rounded line draw the upper part of the zebra face.

Sketch out the eyes.

To do this, draw two small ovals.

Add the ears.

Smooth lines depict two pointed ears.

Depict the mane.

On the crown, draw a small shape of the same shape as shown in the example.

Sketch out the nose and mouth.

Draw the nostrils with two small circles. Add a smooth line to depict the wide mouth.

Depict stripes.

With the help of several straight lines, depict the stripes on the mane and on the sides.

Color the drawing.

You will need black for the stripes. Also, color the eyes black and add highlights.
For your convenience, I have prepared a PDF file that contains a short version of the lesson and additional useful tools. Download the file and use it any time you want to be creative.