If you want to learn how to draw a wolf puppy, then this tutorial is for you. This guide is very simple and consists of only nine easy steps.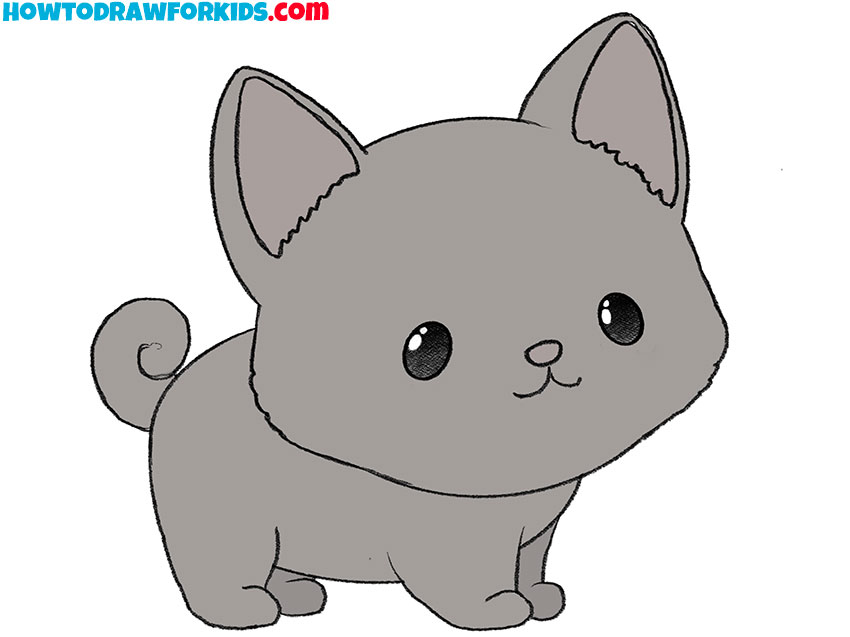 Now I will show you how to draw a wolf puppy. I hope that you will have a good time and get useful skills that will be useful to you in the future.
If you are an aspiring artist, then this is a great opportunity for you to improve your skills. Here is another fascinating lesson in which you will draw a cute animal and learn how to draw a wolf puppy.
The wolf is a dangerous predatory animal, but small puppies look quite harmless. In the figure, the wolf puppy is depicted in cartoon form. I want to draw your attention to the proportions of the body. The head is very large and the legs are short.
Try to correctly depict all parts of the body. Be careful during each step of the drawing and use small hints to help you draw all the elements correctly.
Materials
Pencil
Paper
Eraser
Coloring supplies
Time needed: 20 minutes
How to Draw a Wolf Puppy
Draw the outline of the head and torso.

Depict an oval and draw a smooth rounded line on the side.

Sketch out the eyes.

Approximately in the middle of the head, draw two small ovals.

Depict the nose and mouth.

Draw the small nose and draw two short rounded lines from the bottom to depict the mouth.

Add the ears.

With smooth lines draw the ears, which are large in size and pointed in shape.

Add details.

Draw the inside of the ear and give the head the right shape.

Depict the front paws.

The front legs are very short and placed side by side.

Sketch out the hind legs and tail.

With smooth lines draw the hind legs and add the tail, which has the shape of a spiral.

Correct inaccuracies.

Erase all extra lines and carefully trace the drawing along the outline.

Color the wolf puppy.

You will need gray for the fur and black for the eyes.
Now you have the opportunity to download a PDF file with a short version of the lesson. It will help you to draw a wolf puppy even without internet access.