I am pleased to offer you a new drawing lesson on how to draw a shoe. I think you will really enjoy this fun and engaging lesson.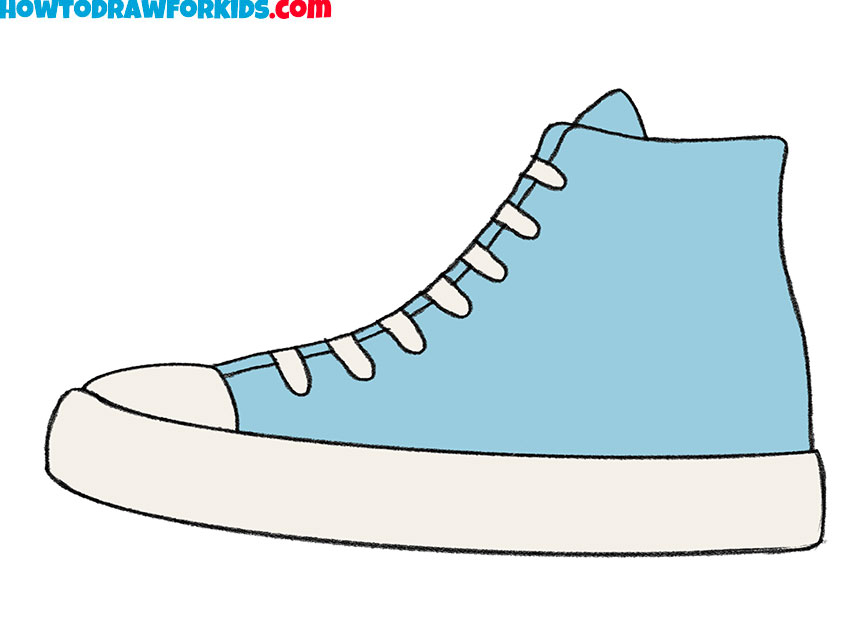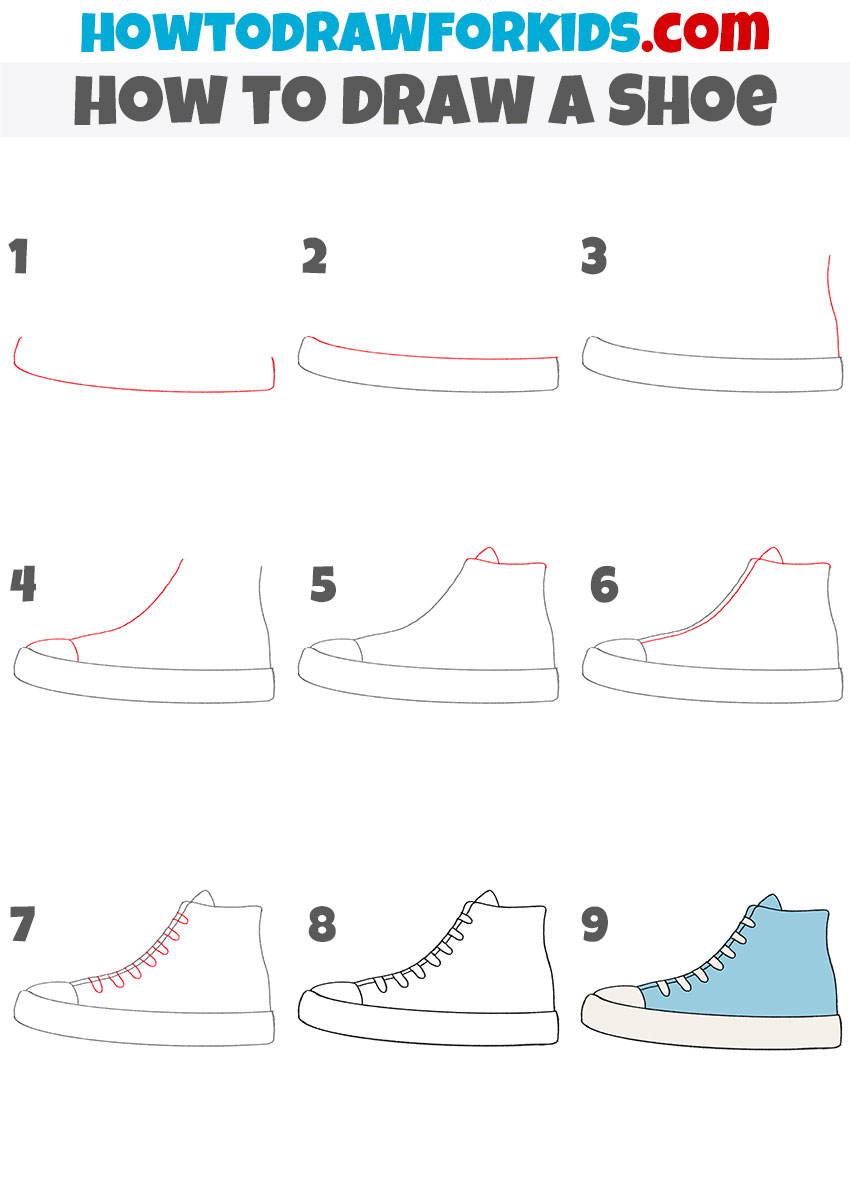 This time I would like to tell you and show you how to draw a shoe step by step. This tutorial is very simple and consists of just nine steps. Each step is very simple and specifically developed to be handled by any beginner artist or child.
So I think you will enjoy drawing this shoe which I suggest in these instructions. In this lesson you will first draw the sole of the shoe, then add its top, and after that, you will draw the lacing.
It will be very useful for you to learn how to draw shoes as you will be able to use this skill in drawing any people or characters. I think it's high time to start painting!
Materials
Pencil
Paper
Eraser
Coloring supplies
Time needed: 20 minutes
How to Draw a Shoe
Draw the bottom of the shoe.

To do this, draw a curved line that is rounded on the sides.

Complete the drawing of the sole.

Draw a curved line that connects the two ends of the previously drawn curved line.

Outline the back of the shoe.

To complete this step, add a curved line on the right side.

Draw the front of the shoe.

Use two curved lines. First, draw the shoe toe and then its instep.

Add the top of the shoe.

This step will be very easy for you, just draw two curved lines of different sizes.

Add one more element.

Draw a curved line along the instep of the shoe.

Picture the lacing.

To complete this step, draw many identical curved lines.

Erase the auxiliary lines.

Use an eraser to remove unnecessary lines from the drawing.

Color in the drawing.

To color this drawing you should use blue and grey.
Well done! I hope you have been able to do it and that you have enjoyed this lesson. You can now share it with your friends and also leave your feedback on it. I would be happy to see you among our subscribers. Now it's time for you to download the PDF containing the short version of this lesson and some useful additions.
Alternative Drawing Methods
There are a lot of different shoes. Therefore, we decided to make several drawing lessons so that you can choose the shoe drawing that you would like to draw. In addition to appearance, there are also slight differences in the difficulty of drawing.
How to Draw an Easy Shoe
These are also quite comfortable shoes, but in this case we drew a more rounded outline of the front part. That being said, the color, sole shape, and lace placement are indeed similar to our first drawing guide.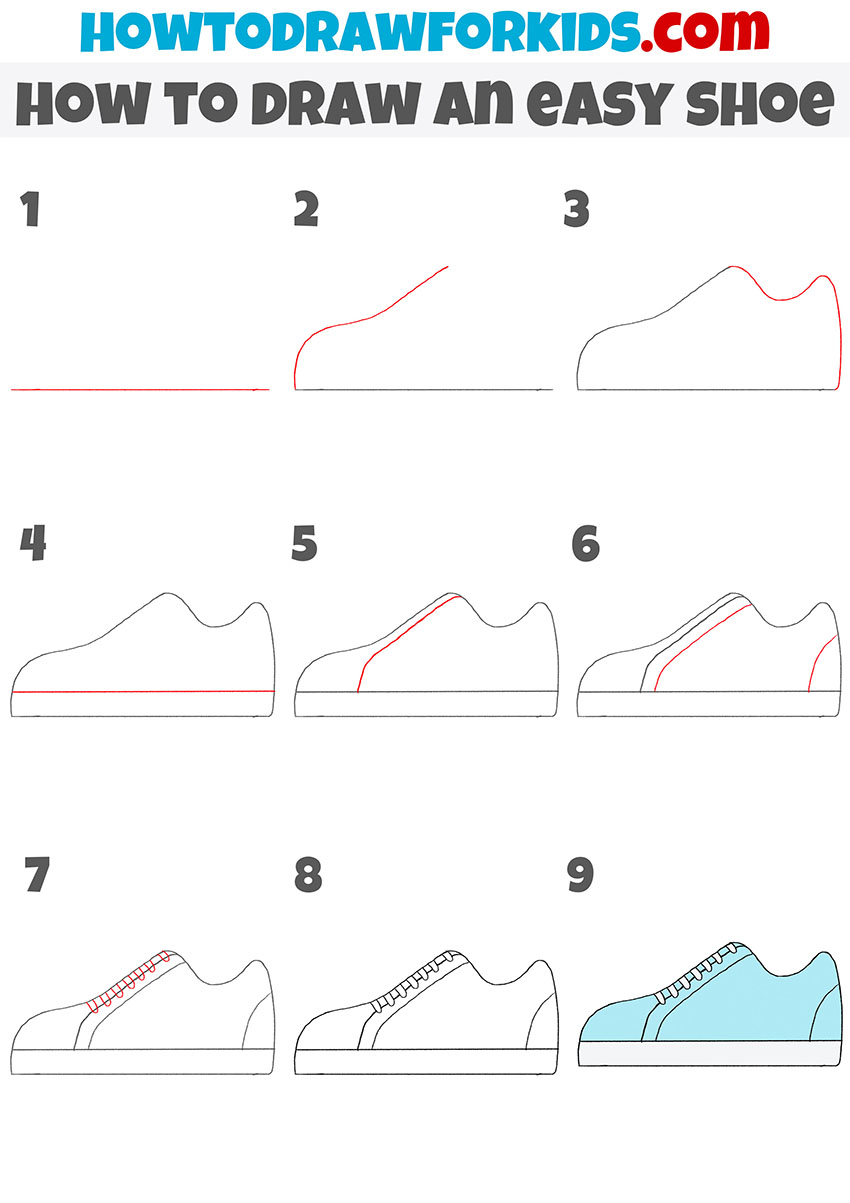 How to Draw a Shoe Step by Step
The design of this sneaker is quite different from our previous sketches. In the picture you can see that the sneaker has a high platform, lacing at the front and two decorative stripes on the side. During the lesson, try to correctly depict the outer contour of the shoe, and you will draw the rest of the elements without difficulty.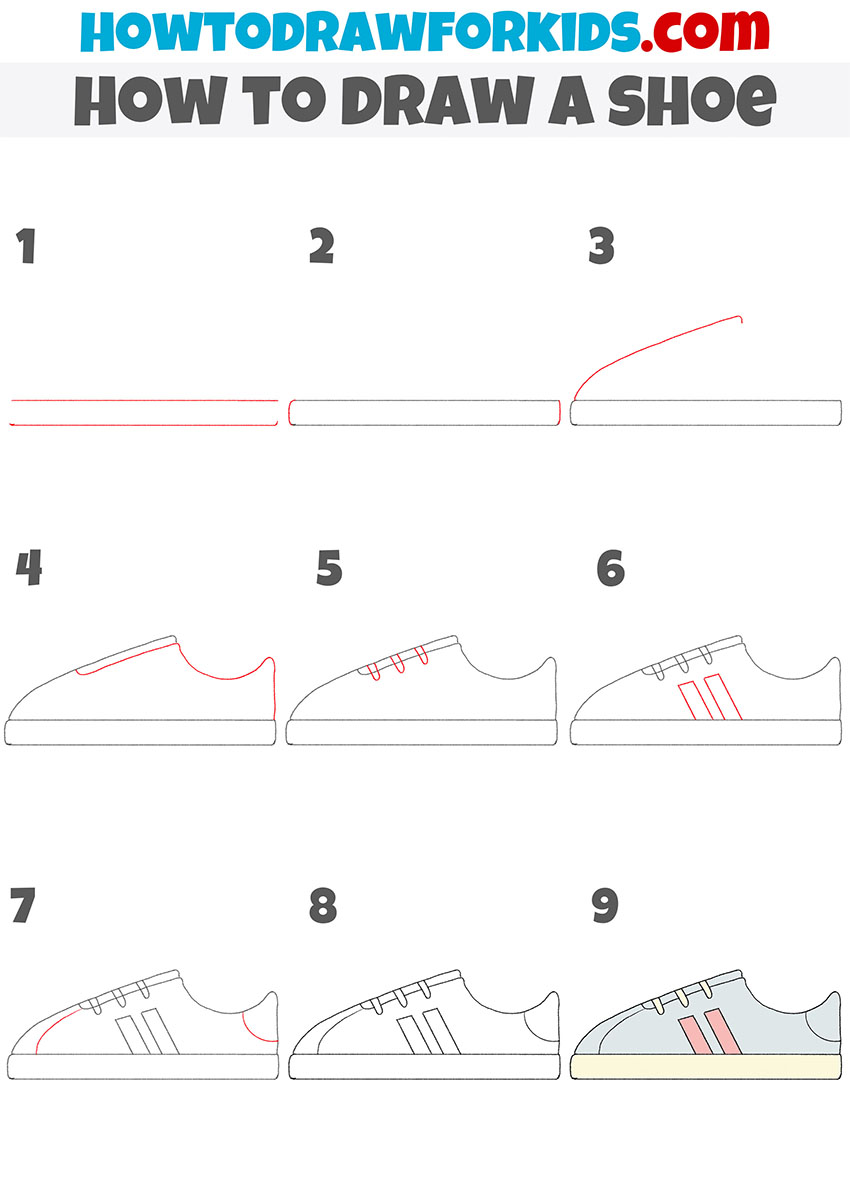 Simple Shoe Drawing Tutorial
I hope you enjoy the simple instruction on how to draw a simple shoe step by step. This lesson is designed specifically for beginners, so simple lines will be used here.
As an example, I decided to use sports shoes. The image shows a sports shoe with a high sole, reinforced toe and lacing on the upper.