In this drawing lesson, you will be able to learn how to draw a sneaker. This lesson will be very useful for each of you!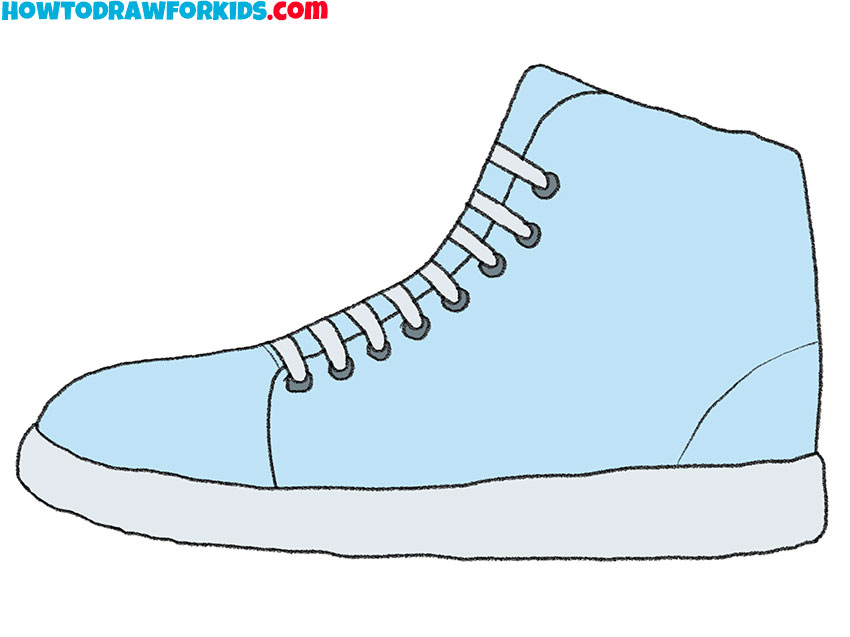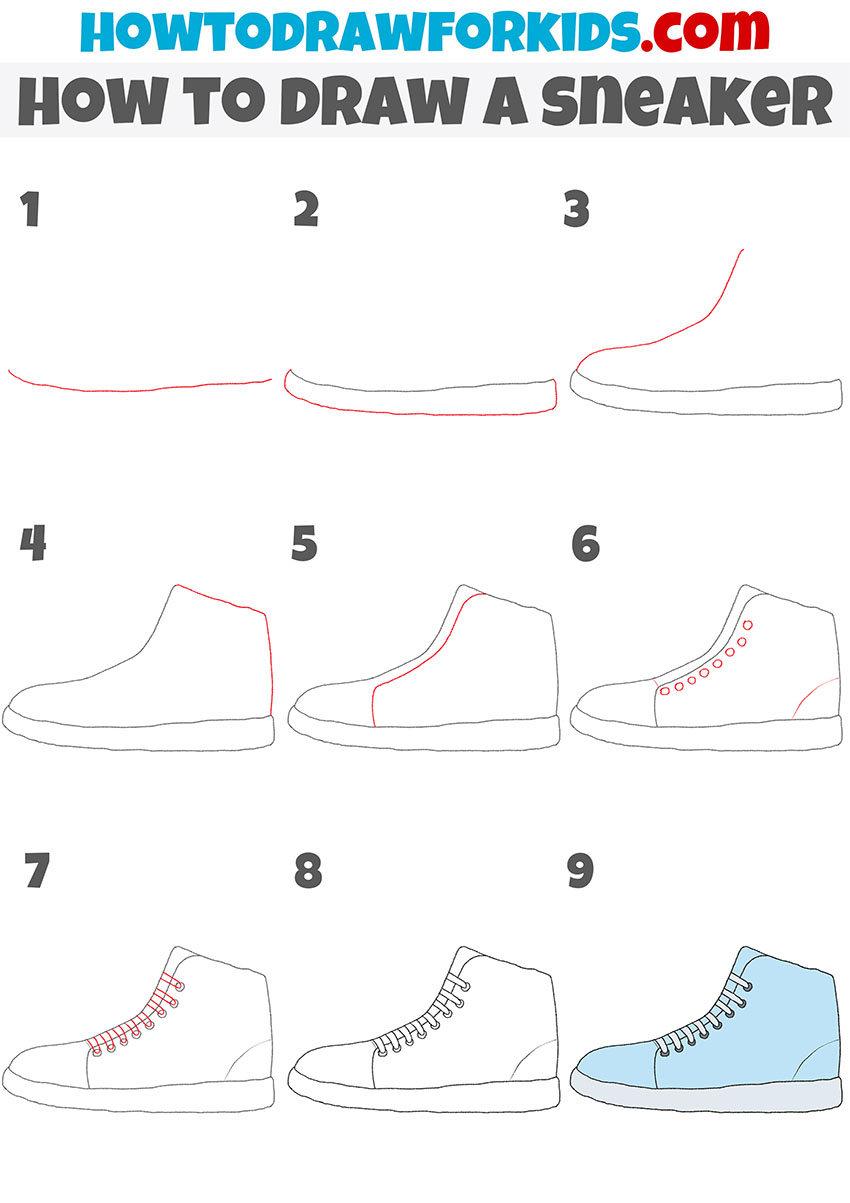 I am glad to offer you this fascinating and useful drawing lesson for you, in which I will be able to tell and show you how to draw a sneaker step by step.
Any novice artist and child who does not have much artistic experience can easily cope with this drawing lesson.
The sneaker is an item that each of you has seen many times. Sneakers are known to be a type of sports shoe that got its name because of the possibility of silent movement in these shoes with rubber soles.
In this tutorial, you will draw a sneaker with a thick sole and a high top. Also, sneakers of this type are laced with laces.
This drawing lesson will help you learn very useful skills, because in the future you will be able to draw any person, character, athlete, or child wearing this kind of sneakers.
Materials
Pencil
Paper
Eraser
Coloring supplies
Time needed: 30 minutes.
How to Draw a Sneaker
Start drawing the sole.

This step will be easy for you, you only need to draw one curved line to complete it.

Finish drawing the sole of the sneaker.

Now draw another curved line below the previously drawn line.

Start drawing the top of the shoe.

To draw the toe of the sneaker, draw one long, curved line as shown.

Add the back of the sneaker.

Connect the previously drawn line to the back of the sole of the sneaker using a curved line.

Add details.

Sketch out one curved line along the shoe as shown.

Depict the lace holes and extra lines.

You can draw the holes for the laces in the form of circles. Add two lines of different lengths.

Draw the lacing.

Beside each of the previously drawn circles, add a curved line as shown.

Correct inaccuracies.

Use the eraser to remove all unnecessary lines.

Color the drawing.

To color the sneaker, use shades of blue and gray.
For your convenience, I have prepared a PDF file in which you can find a short version of this tutorial and additional useful materials for completing it. Download this file to return to the lesson at any time.