I suggest you learn a new drawing lesson on how to draw a chest. This lesson is sure to help you improve your artistic skills, so that it will be useful to you.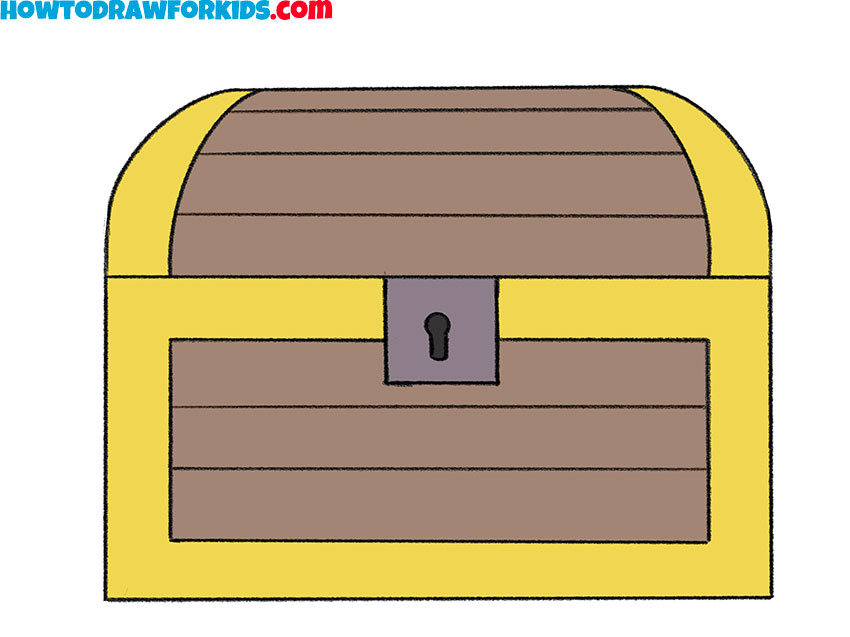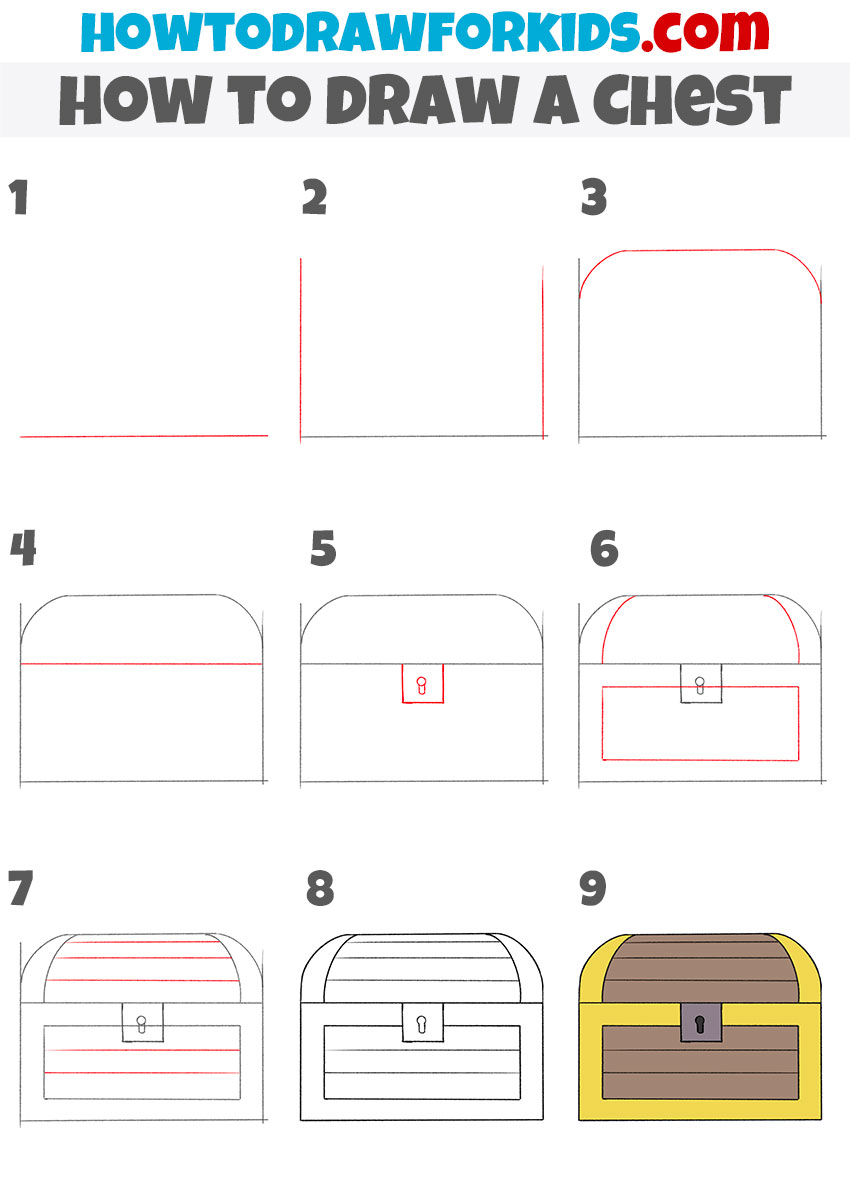 In this drawing lesson, you will find instructions on how to draw a chest step by step. This tutorial consists of nine steps that you can easily do. As you practice more, your drawings will get better and better, so we encourage you to use our step-by-step drawing lessons.
A chest is a large box with a hinged lid and a lock for storing things. Chests are usually made of wood, because it is the most common material, and also people in ancient times began to produce wood first. You have probably seen treasure chests in films or cartoons.
To draw this object, you need to be able to draw straight lines. Prepare materials for drawing, so that you can get to work.
Materials
Pencil
Paper
Eraser
Coloring supplies
Time needed: 20 minutes
How to Draw a Chest
Draw the bottom of the chest.

Depict a straight horizontal line to draw the bottom of the chest.

Depict the sides.

Add two same vertical straight lines on the sides of the previously drawn line.

Draw the top of the chest.

Outline a curved line that connects the two previously drawn lines.

Add the line of the lid.

Draw a straight horizontal line slightly below the top outline of the chest.

Depict the lock.

Place it below the line of the chest lid. Use straight and curved lines.

Add the decorative elements.

Draw a rectangle on the chest and add two curved lines on its lid.

Draw the outline of the wooden boards.

Depict many straight horizontal lines on the chest and lid of the chest.

Erase the auxiliary lines.

Use an eraser to remove unnecessary lines from the drawing.

Color the drawing.

Use brown, grey, yellow, and black to color this drawing.
This drawing lesson has come to an end. I hope you have done a great job. Subscribe to us on social media and share your comments. I have prepared a short PDF version of this tutorial for your convenience.
How to Draw a Chest From a Different Angle
Above you saw a lesson in which I showed how to sketch a chest from the front. Now let's depict this object in 3/4.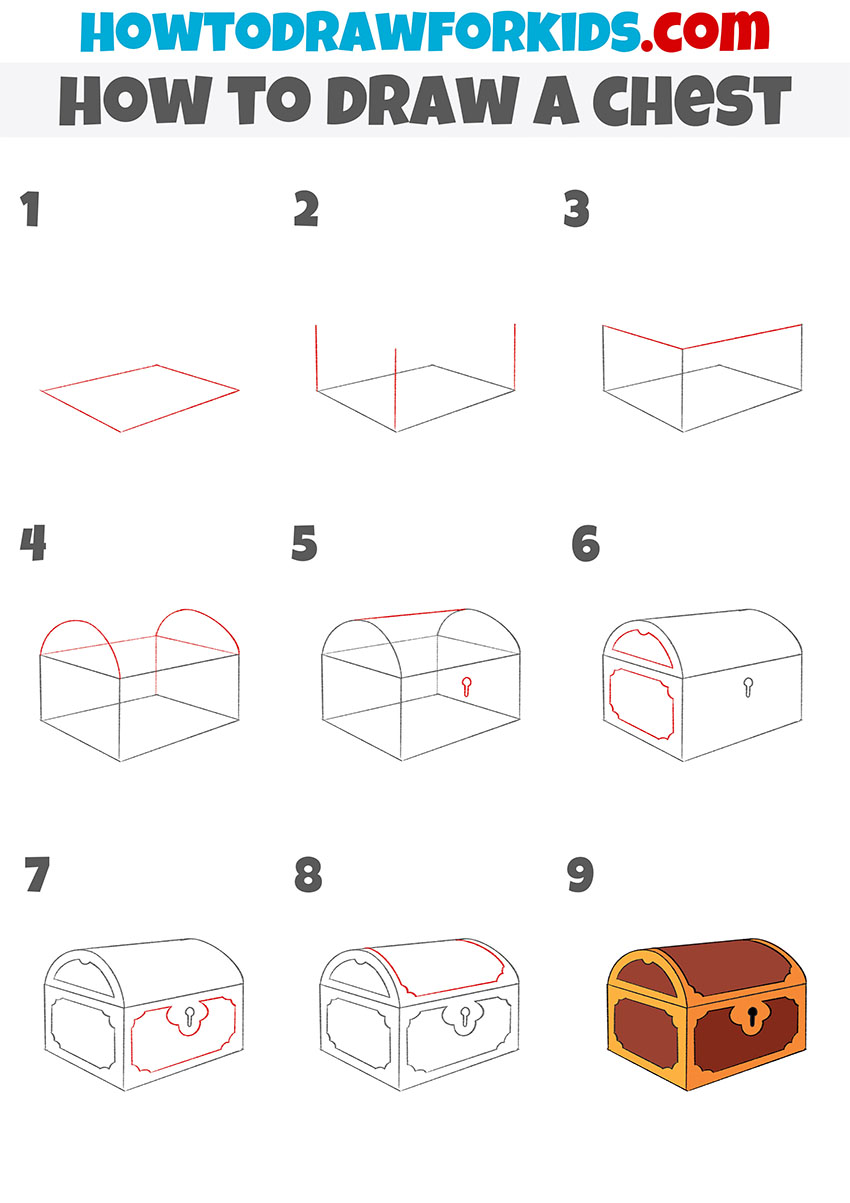 Modern Chest Drawing Instruction
This modern chest is a furniture item that looks like a small cabinet that is usually placed near the bed, near the door, or in other places of the apartment. This furniture item is very convenient for keeping some things in it.