In this lesson, you will learn how to draw a baby horse. This tutorial is designed for beginners, so all the steps are very simple.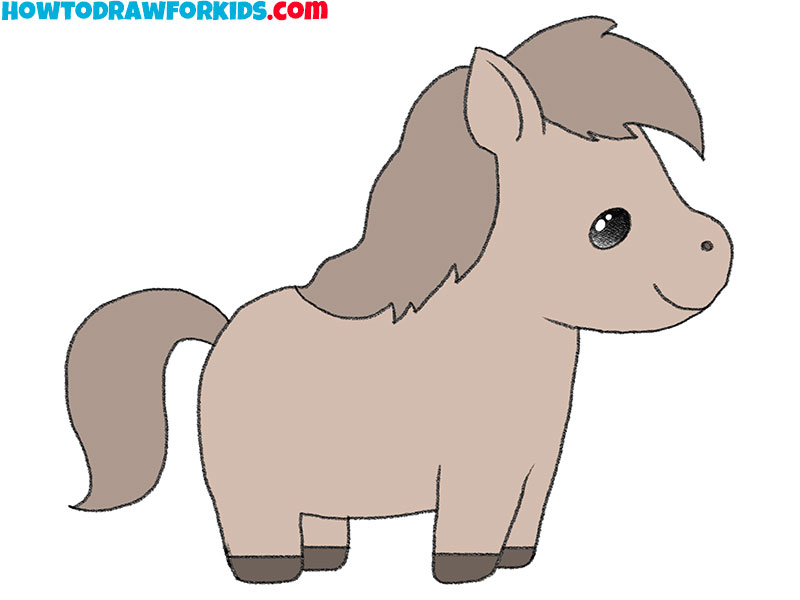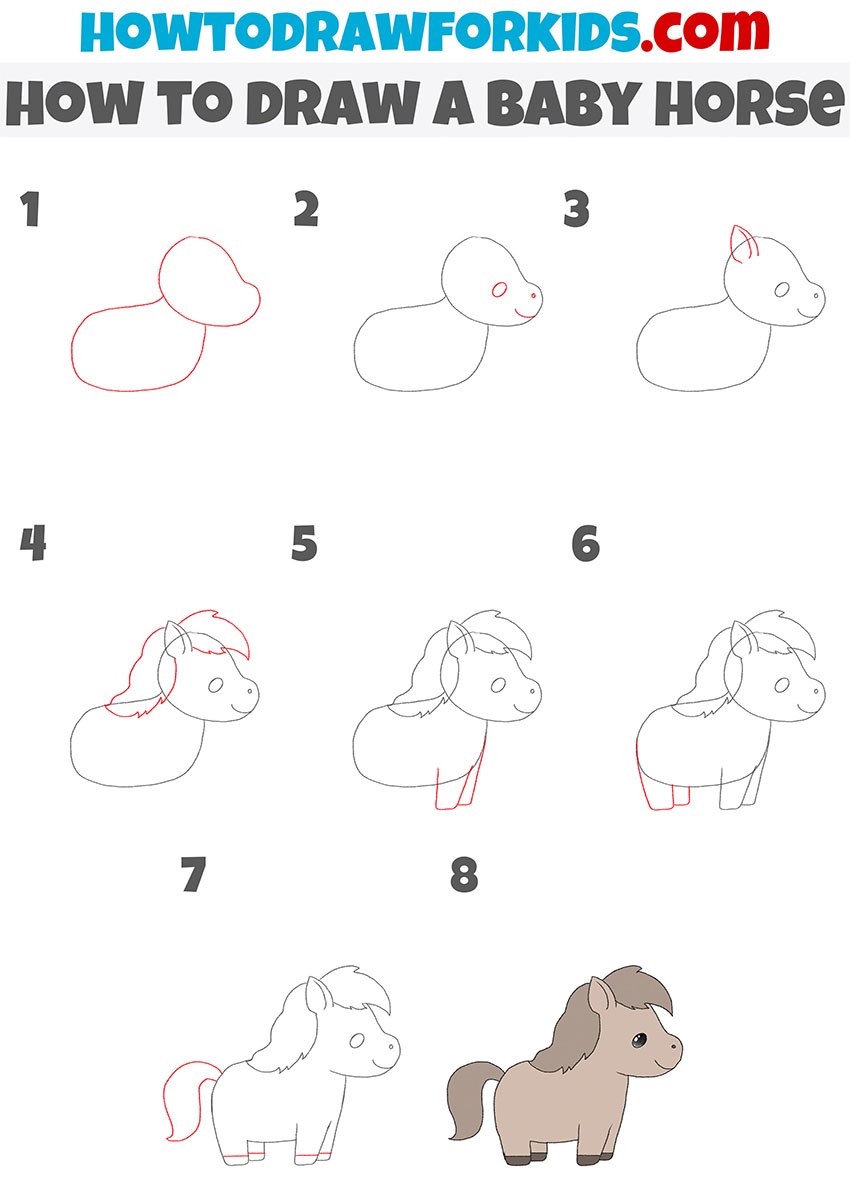 Now I will tell you and show you in detail how to draw a baby horse step by step. I hope you love these beautiful animals and want to learn how to draw. In this tutorial, the baby horse is presented in a cartoon form, so it does not look realistic, but it is very funny.
Pay attention to the proportions of the body, the horse has a relatively large head, a short body and very short legs. It is these proportions that give the horse a very cute look, and this drawing is admirable and tender.
As usual, you will draw large elements first and gradually add smaller details. Carefully follow all the drawing steps and carefully follow my instructions. If you have all the art supplies at hand, then you can start the lesson.
Materials
Pencil
Paper
Eraser
Coloring supplies
Time needed: 30 minutes
How to Draw a Baby Horse
Draw the head and torso.

The head is oval with the bulge in the nose. Draw the torso below the head.

Add elements of the muzzle.

Draw an oval-shaped eye, add a small circle to represent the nostrils and draw the mouth.

Sketch out the ear.

The ear is located vertically and has a pointed shape.

Depict the mane.

Use jagged lines to depict the lush mane at the crown and at the back of the head.

Draw the front legs.

Depict the front legs, which have a wide base and taper at the bottom.

Depict the hind legs.

The hind legs have the same shape and are located side by side.

Sketch out the tail and hooves.

With smooth curved lines draw the tail. Depict transverse lines at the bottom of the legs.

Color the drawing.

To color the baby horse, you will need several shades of brown.
If you want the lesson to be available at any time, then save the PDF file that I prepared in advance for your convenience. The file contains a brief instruction and additional training materials. Download the file and enjoy drawing at any time.