Now I will tell you and show you in detail how to draw Dobby. I am sure that this lesson will be interesting and useful for each of you.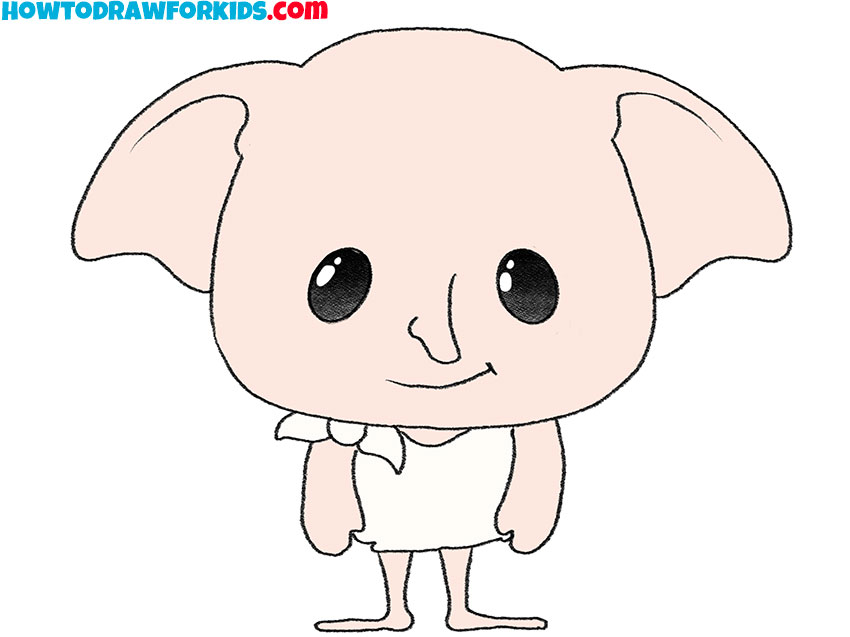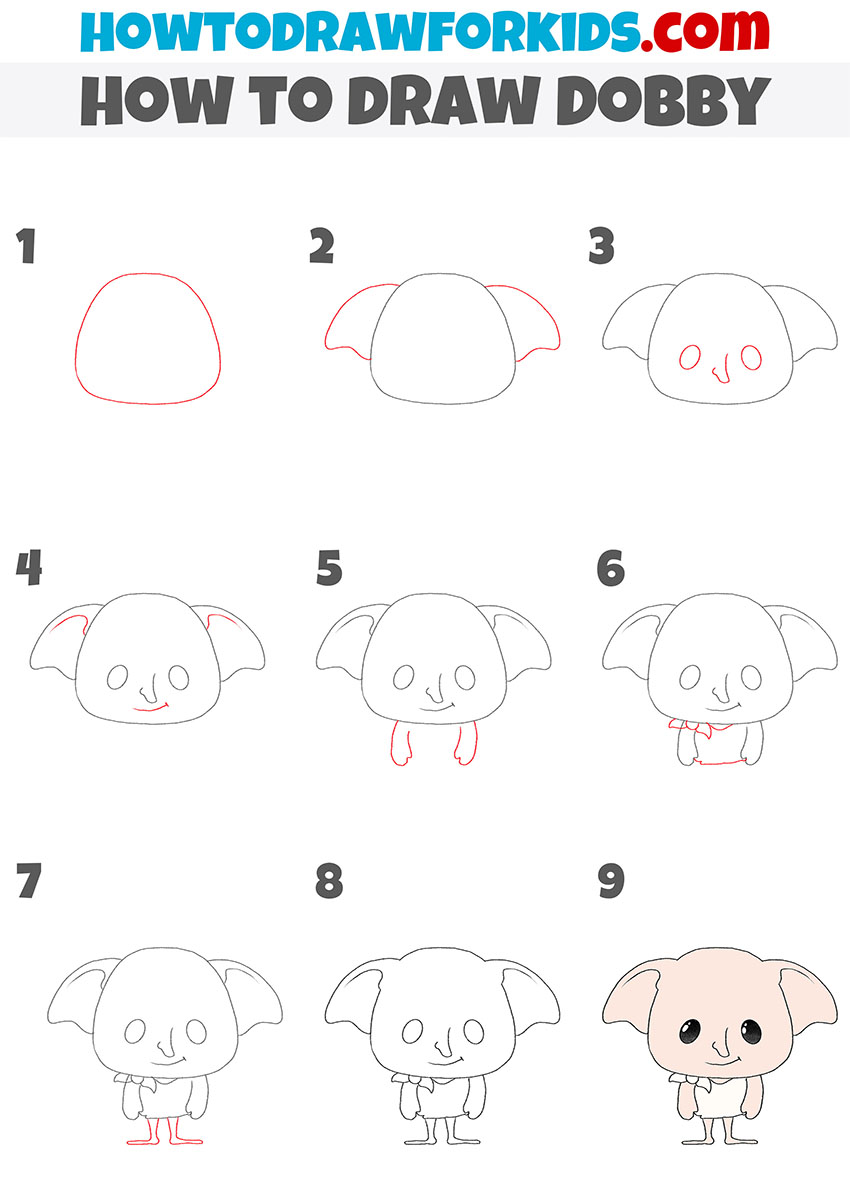 I suggest you draw an unusual creature, and now you will learn how to draw Dobby. He is a fictional character from the Harry Potter series of novels. Dobby is a house elf who has an unusual appearance. Dobby is a small creature with huge eyes and protruding ears.
Thanks to these features, the elf has a funny look. By nature, Dobby is hardworking, loyal, and brave. If you remember, Dobby did a heroic deed and saved the boy at the cost of his own life.
Pay attention to the proportions of the character's body. Dobby has a huge head, pronounced facial features, a small torso and short limbs. Try to depict all these features in your drawing. Carefully draw all the lines that are marked in red.
Materials
Pencil
Paper
Eraser
Coloring supplies
Time needed: 30 minutes
How to Draw Dobby
Draw the head.

The head is trapezoid-shaped with rounded corners.

Depict the ears.

Add two ears on the sides of the head with smooth lines, while maintaining symmetry.

Add facial features.

Draw the eyes in the shape of ovals and use a curved line to draw the nose.

Add the rest of the head elements.

Sketch out the mouth and the inside of the ears.

Draw the hands.

Below the head draw two arms in the same position as in the example.

Depict the elements of the clothing.

Draw the bow on the neck and draw the bottom outline of the clothes.

Sketch out the legs.

Depict two thin short legs, in which the feet are turned in opposite directions.

Correct inaccuracies.

Take the eraser and remove all extra lines on the drawing.

Color the drawing.

You will need light beige, light pink and black.
I recommend that you download the PDF file that I have prepared specifically for your convenience. In this file you will find a brief instruction and additional training materials necessary for the qualitative implementation of this lesson.
Surely you like to draw popular characters, and I am glad to present you a new lesson on how to draw Dobby. You know this character from the Harry Potter series of novels. This is a house elf that has an unusual appearance. Dobby has small stature, huge eyes and big ears. Pay attention to body proportions. Dobby has a large head and a relatively small torso. Try to keep the same proportions in your drawing.