I have prepared for you a lesson on how to draw Hermione Granger. This guide is very simple and consists of only nine easy steps.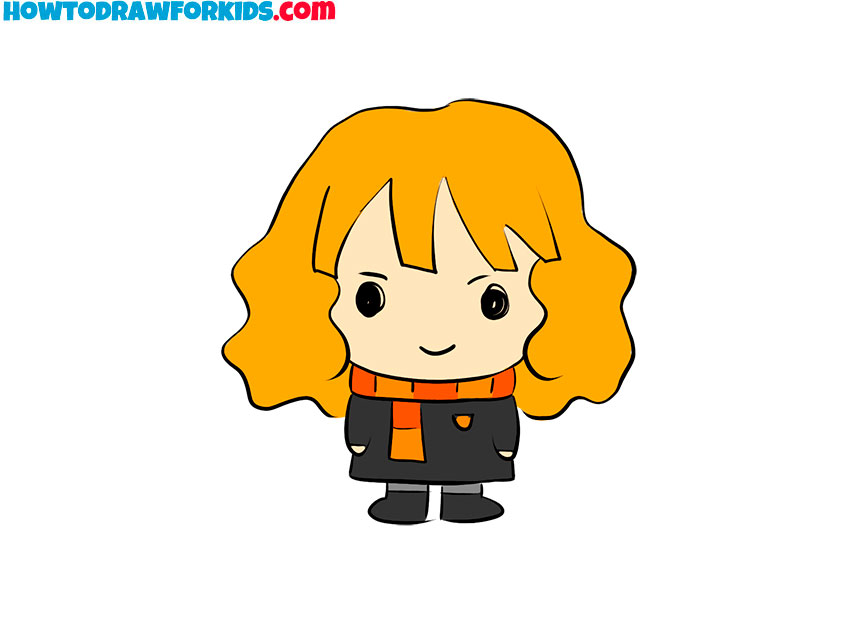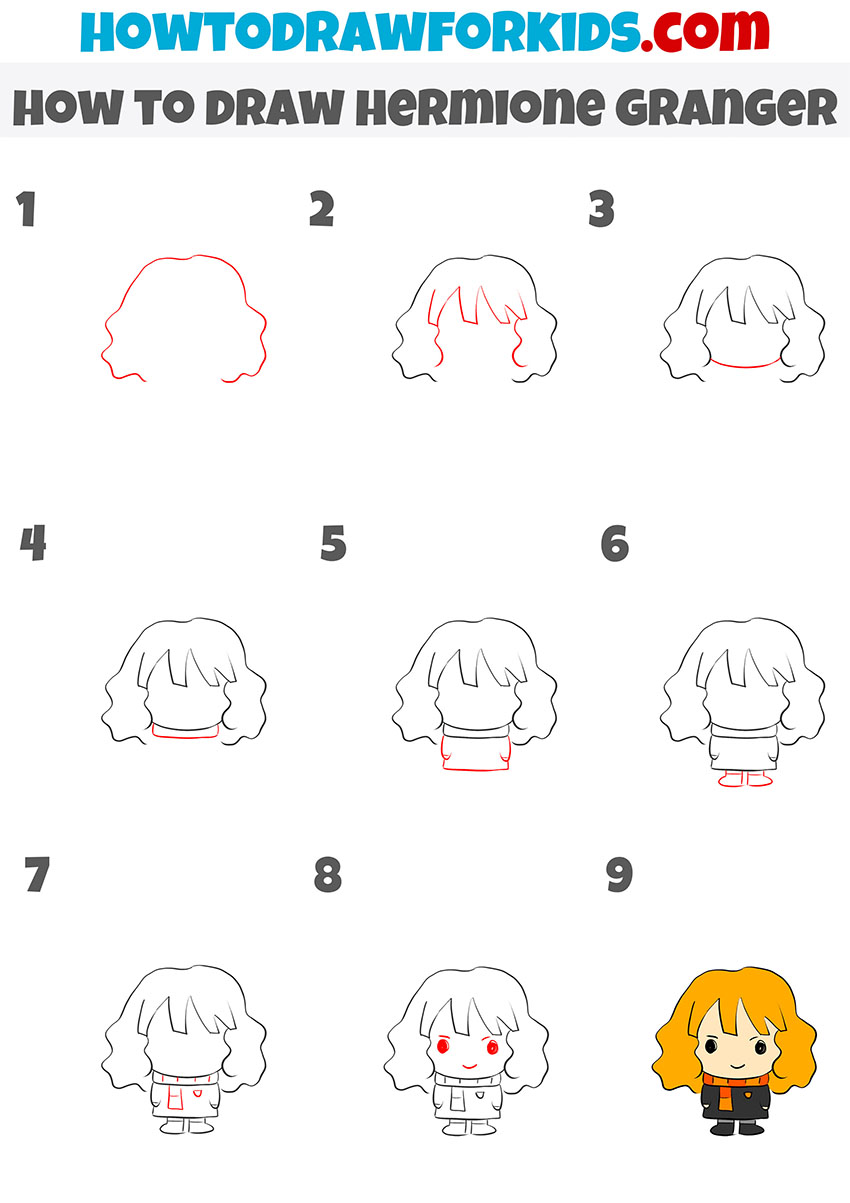 I have prepared a new lesson for you, in which I will show you how to draw Hermione Granger. This is one of the heroines of the Harry Potter novel, or rather, a close friend of the protagonist. Hermione is a Hogwarts school student, a talented sorceress. She is a fair and courageous girl who is always ready to help her friends.
Hermione has good looks. She has long blonde hair and cute features. In this tutorial, Hermione has a cartoonish look. In the picture you can see that Hermione's head is larger than her torso, her arms and legs are small, her hair is lush and curly, her facial features are minimally expressed, however, Hermione is easily recognizable.
Here is the easiest way to draw this character. You can easily draw Hermione, even if you have not had to do it before. Be careful at every stage of your drawing and use my tips.
Materials
Pencil
Paper
Eraser
Coloring supplies
Time needed: 20 minutes
How to Draw Hermione Granger
Draw the outline of the hair.

Use a wavy line to depict the outer outline of the hair.

Depict the bangs and side strands.

Draw wavy lines on the sides and use a few straight short lines to draw bangs.

Add an oval for the face.

Draw a smooth semicircular line.

Draw the scarf.

Depict an even horizontal line around the neck.

Sketch out the torso.

The body is smaller than the head and has a square shape.

Draw the legs.

Depict short legs. The feet are turned in different directions.

Draw the scarf and add the button.

Depict the end of the scarf and the stripes on the scarf. Add the small button to the clothes.

Draw the facial features.

Sketch out round eyes, eyebrows, and the small mouth.

Color the drawing.

Color Hermione like in my example.
In this tutorial, you learned how to draw another popular character. I hope Hermione Granger looks very cute and you are happy with the result. You can share your impressions in the comments. I would be interested to know your opinion about this tutorial.
Now I invite you to download the PDF file that I have prepared for your convenience. In this file, you will find a short version of the tutorial and additional helpful tools. This will help you return to the lesson at any time.