With the help of the lesson on how to draw Boba Fett, you will learn how to draw a popular character from the Star Wars movie.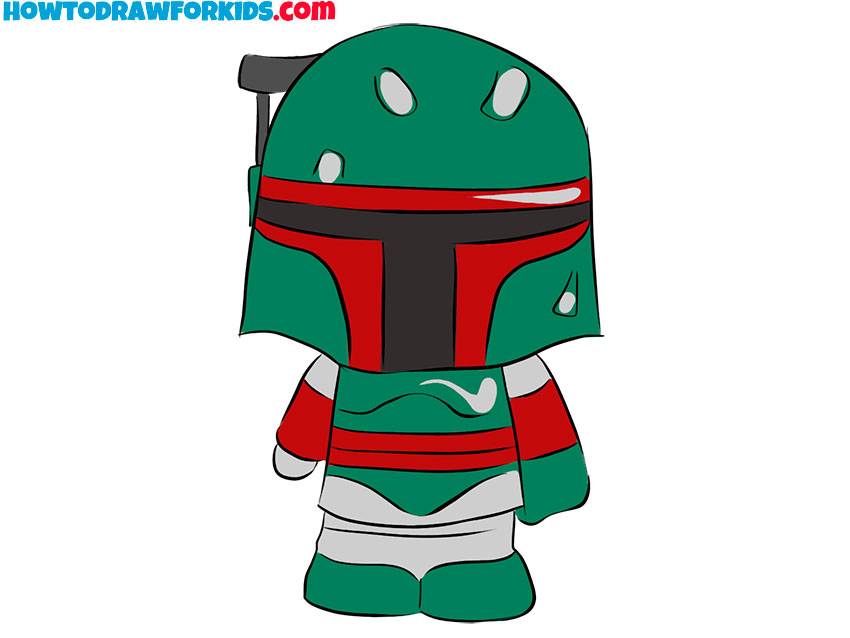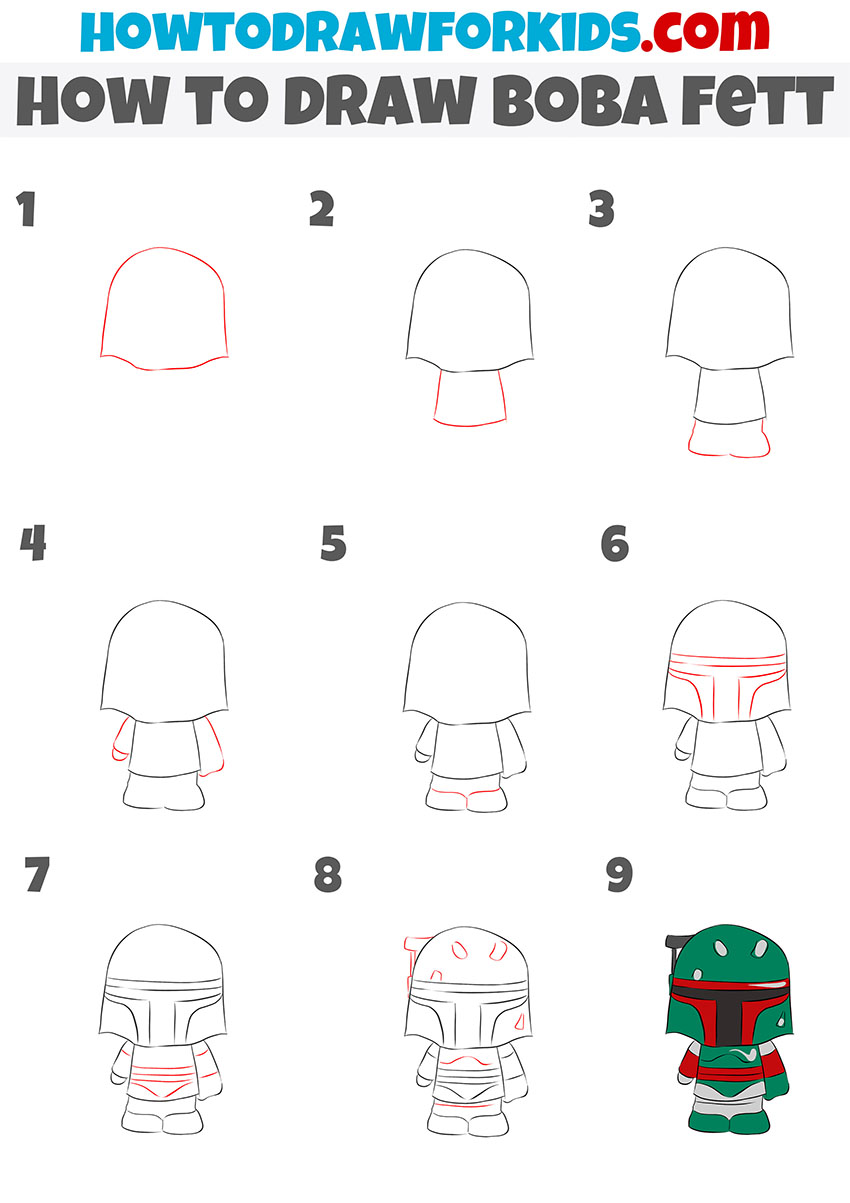 In this tutorial, I will show you how to draw Boba Fett. This is one of the characters in the science fiction film "Star Wars". Boba Fett is dressed in a special costume; this hero has a metal helmet on his head.
This is a minor character and he occupied a small place in the plot of the film, nevertheless, Boba Fett was well remembered by the audience. Soon after watching the film, collectible figurines depicting this hero appeared, novels and comics were written.
In the picture, Boba Fett is shown in cartoon form. Pay attention to the proportions of the body – the head is larger than the torso, the arms and legs are small. These features give the character a funny look. You can easily draw Boba Fett because the lesson is adapted for beginner artists. Simple lines and minimal elements are used here.
Materials
Pencil
Paper
Eraser
Coloring supplies
How to Draw Boba Fett
Draw the helmet.

Depict a rounded line for the top of the helmet and add a horizontal curly line at the bottom.

Add the torso.

Below the head, draw the small torso with the same shape as in the example.

Depict the legs.

Draw the legs with one smooth line.

Add the arm and part of the cape.

Draw the small arm on the left, and depict a part of the cape on the right using a smooth line.

Depict the lower legs.

Sketch out two rounded lines on each leg.

Detail the helmet.

Add some stripes to the helmet to create curly elements.

Add details.

Draw curly elements on the costume.

Add more details.

Depict round spots on the helmet and the rest of the clothing. Add the weapon behind the back.

Color Boba Fett.

Use a bright green for the costume, paint the curly elements in red and gray.
The drawing lesson has come to an end, and now you have learned how to draw another popular character. I suggest you download a PDF file that contains a simplified version of the tutorial and additional helpful tools. Thus, you can return to the lesson at any time, even if there is no Internet access.