The lesson on how to draw a playground is ready for you. Start this tutorial and enjoy the drawing process!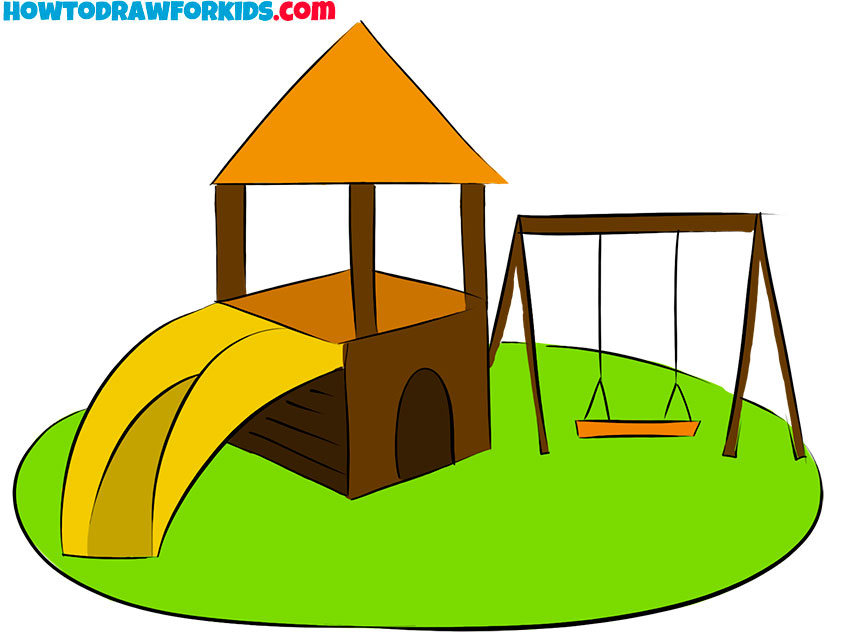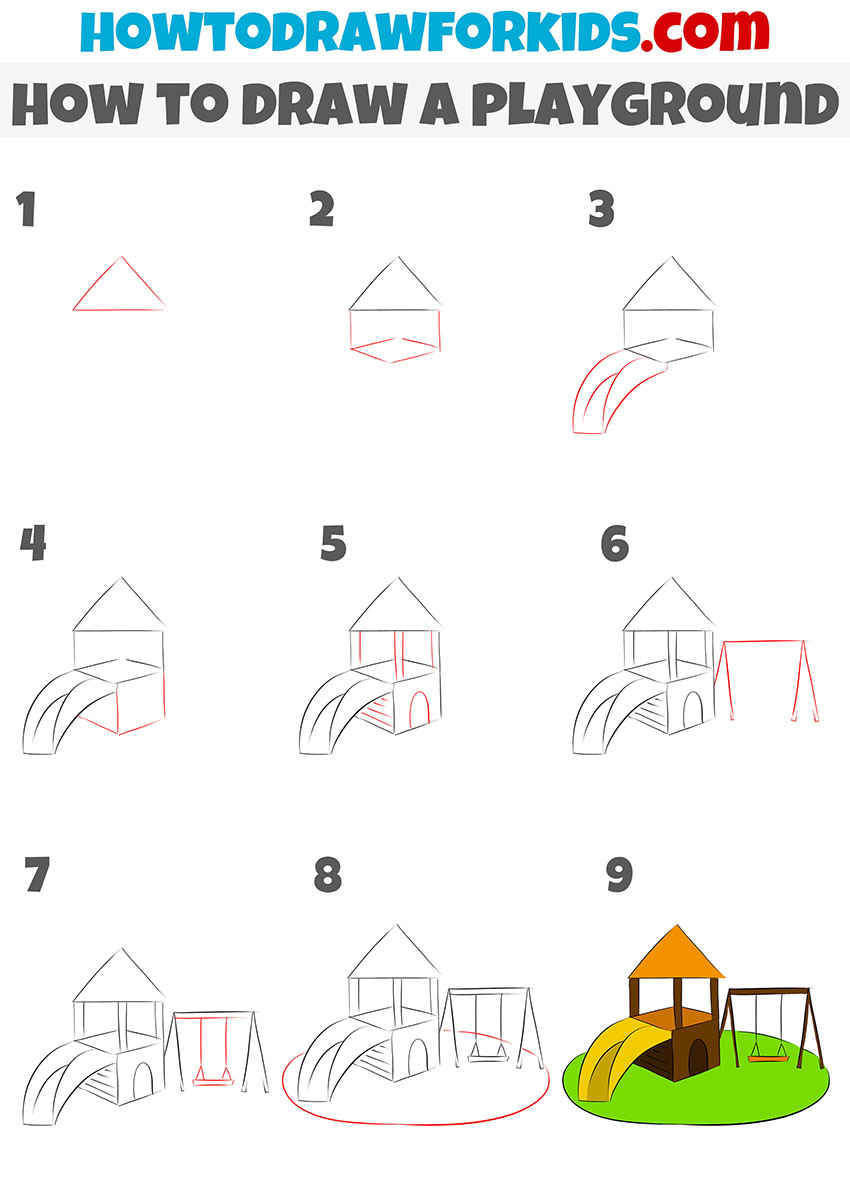 In this tutorial, I will show you how to draw a playground. Young children enjoy spending time on the playground; this is a favorite place for entertainment and recreation. Playgrounds can vary in size and can contain different game objects. Usually, the playground has a swing and a slide. In this picture, you can also see these objects. You can easily and quickly draw a playground, even if you have no experience in drawing.
The walkthrough is designed in such a way that any aspiring artist can quickly get through this task. There are some simple elements here that you will draw in sequence. Use my tips when doing this.
The playground looks very attractive. The slide is made in the form of a small house with a roof. As you can see, bright colors are used here. You can paint the site with the same colors as in the example, or you can get creative and use different colors. In any case, I recommend choosing the brightest shades.
Materials
Pencil
Paper
Eraser
Coloring supplies
Time needed: 30 minutes
How to Draw a Playground
Draw the roof of the slide.

Using straight lines, sketch out a triangle.

Depict the base of the slide.

Add vertical lines along the sides and draw the base of the slide using straight lines.

Draw the surface of the slide.

Add smooth, rounded lines from the base of the slide down to the ground.

Draw the bottom of the slide.

Sketch out two vertical lines and connect the lines together.

Add details.

Draw the thickness of the uprights, add an arch at the bottom, and depict some lines to the side.

Draw the frame for the swing.

Depict straight lines for the side frames and the crossbar between them.

Sketch out the swing.

Draw the top plank, draw two vertical lines, and draw the seat.

Add a line for the playground.

Sketch out a circle around the site.

Color the playground.

Use green, yellow, and several shades of brown, or choose any other colors.
The playground is ready! Do not forget to subscribe to us on social networks and leave your comment on the lesson. For your convenience, I have prepared a short PDF version of the manual. Hurry to download the file and complete the lesson at any convenient time.