In this lesson I want to show you how to draw a Viking. I promise that an interesting and useful pastime awaits you ahead.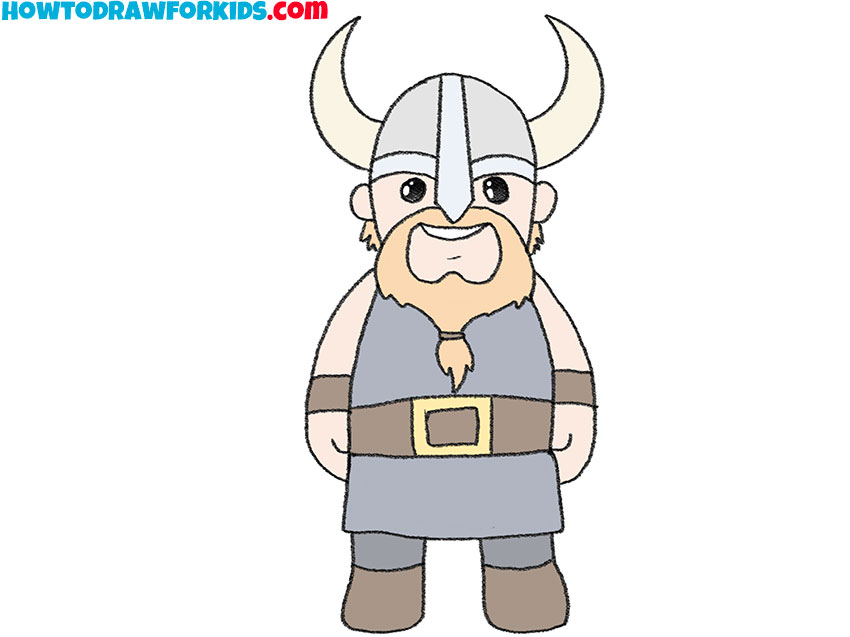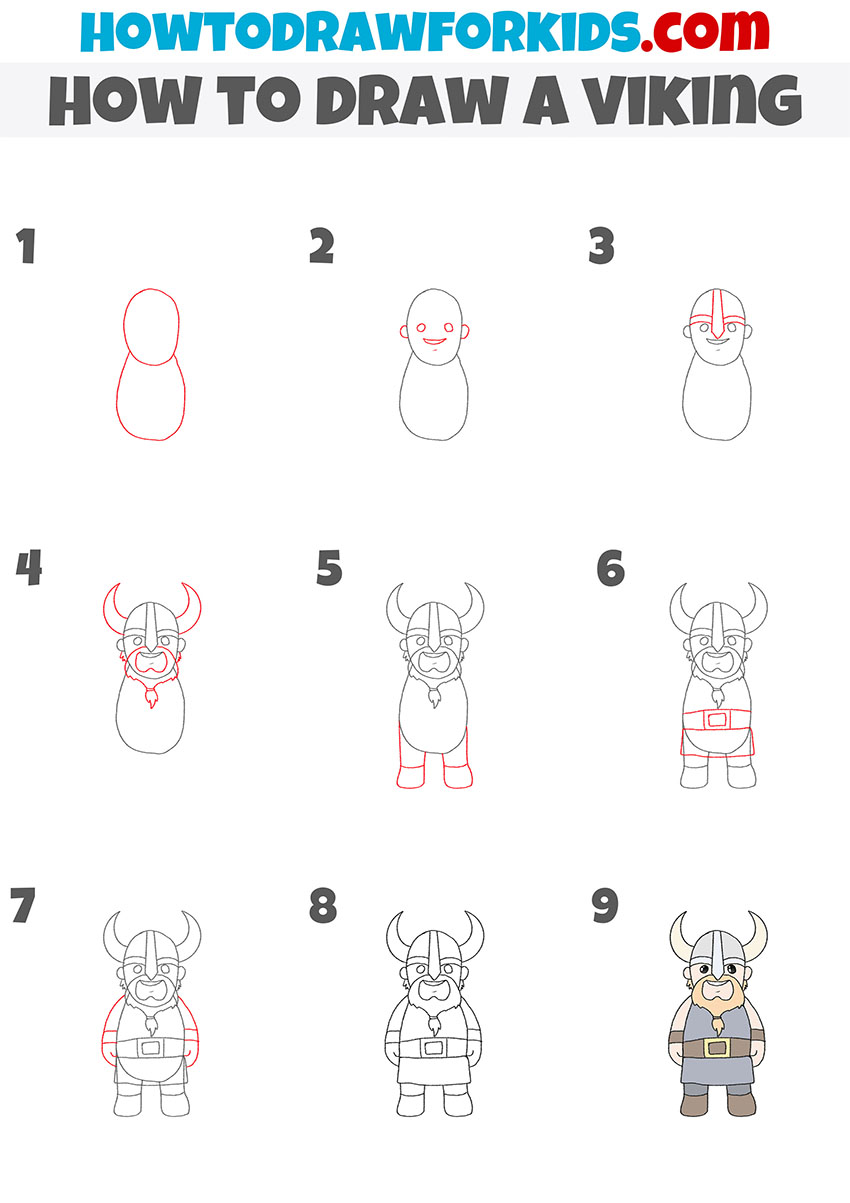 With this lesson you will learn how to draw a viking step by step. I tried to make this lesson as simple and understandable as possible so that you do not have any difficulties in the process.
The picture shows an ancient Scandinavian warrior, who is dressed in combat clothes and has a helmet with horns on her head. The Viking has a long beard, the end of which is tied in a bun. This is what the inhabitants of the northern countries looked like, who went to conquer new territories in search of a better life.
Here the Viking is presented in a cartoon form, so it looks very cute and funny. In the process of work, carefully draw all the lines that are marked in red and observe the proportions. Now get your art supplies ready and get down to some fun creative work.
Materials
Pencil
Paper
Eraser
Coloring supplies
Time needed: 30 minutes
How to Draw a Viking
Draw the head and torso.

First draw the head in the shape of an oval and then add the small torso.

Sketch out the elements of the head.

Draw the oval-shaped eyes and add the wide mouth. On the sides of the head draw the ears.

Depict the front of the helmet.

Draw the long spiky stripe across the forehead and add the sides.

Add the rest of the elements of the head.

Draw the outline of the beard and add the horns on the sides of the helmet, while maintaining symmetry.

Draw the legs.

At the bottom of the torso, add the short legs that are wide apart.

Depict the bottom of the clothes.

In the middle of the torso draw the wide belt with the buckle and add the lower outline of the clothes.

Sketch out the arms.

With smooth lines draw the arms that fit snugly against the torso. Add the wide sleeves.

Correct inaccuracies.

Correct the mistakes if necessary and carefully remove any extra lines.

Color the drawing.

Color the skin and hair with natural shades, paint clothes in blue and brown.
The viking is ready! If you tried your best at each stage of drawing, then you should get a great drawing. Share your impressions about this lesson in the comments. Don't forget to download the PDF file, which contains a quick guide and additional helpful materials needed to complete this tutorial effectively.