Learn How to Draw Aang with This Simple Guide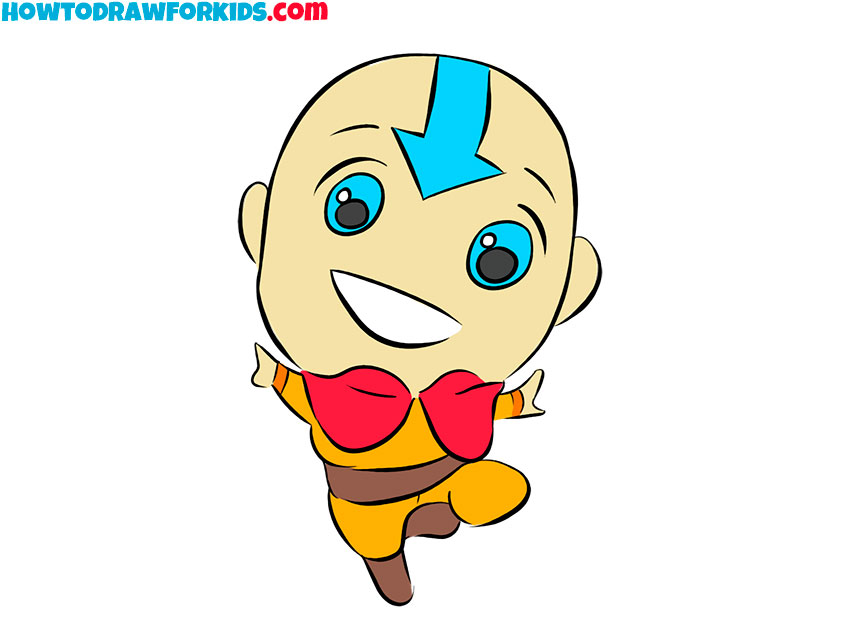 In this tutorial, I want to show you how to draw Aang. This is the hero of the animated series "Avatar: The Last Airbender". This is a young man who was brought up in a monastery, he trained a lot and eventually mastered the martial arts. We also know that Aang had great strength and wielded magic.
Aang is a cheerful, slightly naive young man, he has a good sense of humor. At the same time, he is very responsible and always ready to help. Aang knows how to find a way to the heart of any person. Apparently, that's why he has many friends.
You see that Aang has an unusual appearance. There is no hair on the head, but there is a tattoo in the form of an arrow. Traditionally, monks wore yellow-orange robes. You see such clothes on a young man. Additionally, a red cape complements his image.
In this tutorial, the character is presented in a cartoon style. This style is characterized by certain proportions when the head is larger than the body, and the arms and legs are very short. You can easily depict this in your drawing.
Materials
Pencil
Paper
Eraser
Coloring supplies
Time needed: 25 minutes
How to Draw Aang
Draw the outline of the head.

The head is oval in shape. Leave a gap at the bottom.

Add part of the cape.

At the bottom of the head, draw the elements of the cape in the form of a bow.

Depict the upper body.

Draw short arms that are spread out in different directions.

Sketch out the belt.

Draw a smooth rounded line.

Depict the legs.

With the help of smooth rounded lines draw short legs.

Draw the feet.

Using smooth lines to depict the lower part of the legs.

Add the eyes and ears.

Draw two ovals for the eyes, add pupils and highlights. Depict small ears.

Add details.

Sketch out the mouth, eyebrows, and an arrow on the head.

Color the drawing.

You will need beige, orange, red and blue.
You can download the short version of the lesson in PDF for free. Save this file and start drawing at any time convenient for you.