How to Draw the White House
Learn how to draw the White House with my very simple step by step tutorial. I'm sure you will really like this guide.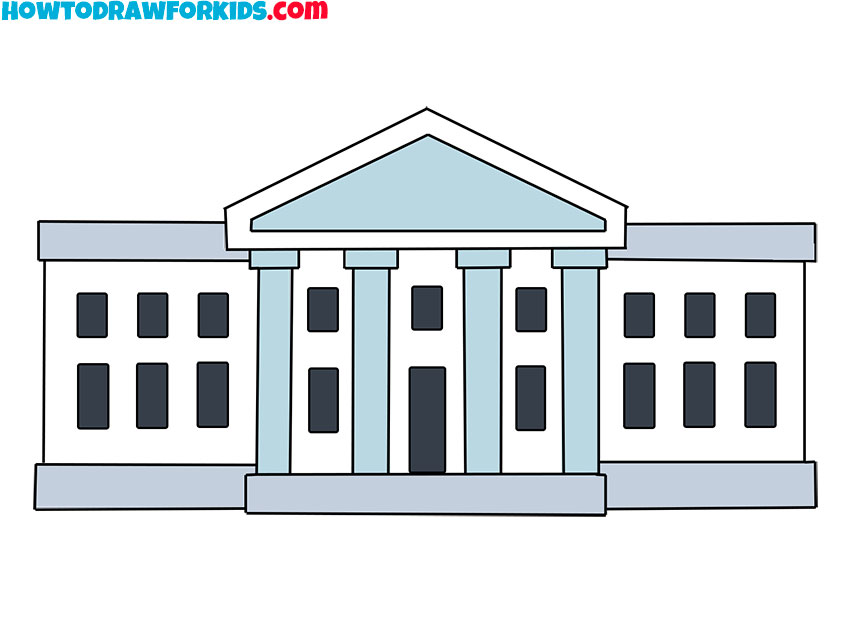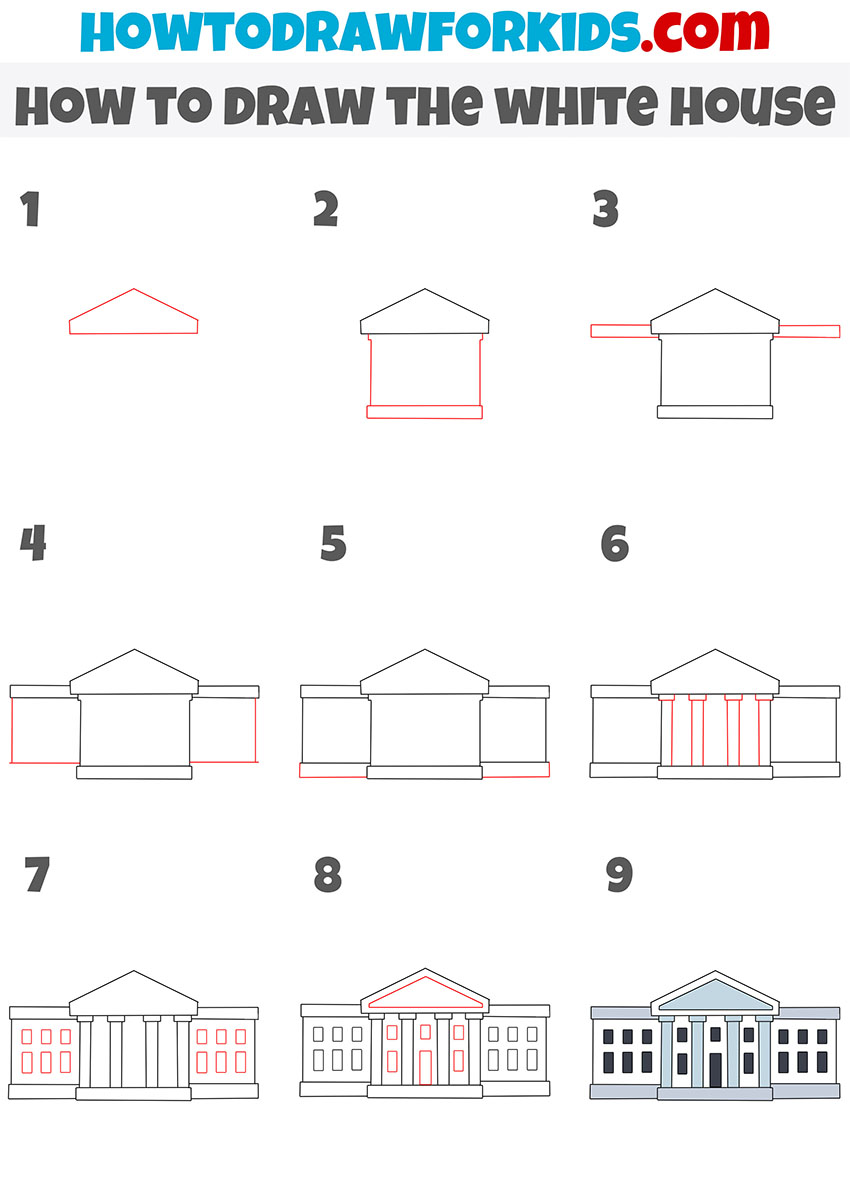 In this tutorial, I will show you how to draw a white house. This is a huge administrative building. There are such buildings in every major city. The building is quite high, the facade of the building is decorated with columns. Columns are used as additional support and are also an important architectural design element.
This tutorial is very simple, but it will still require some skill. Here you need to be able to draw straight lines. Try to do it yourself, without using the tools at hand. Thus, you will train your skills, and this will be useful to you in the future when creating new beautiful drawings.
Also, during this lesson, make sure that both sides of the building are symmetrical. So, get your art supplies ready and get started with this fun tutorial.
Materials
Pencil
Paper
Eraser
Coloring supplies
Time needed: 35 minutes
How to Draw the White House
Draw the center section of the roof.

Depict a horizontal line and add the upper part, which is triangular in shape.

Depict the outline of the central body.

Draw two vertical lines down the sides and draw the lower horizontal part.

Draw the roof of the sides of the building.

Add two horizontal lines on each side and connect them.

Sketch out the sides of the building.

Add straight lines to make squares on each side.

Depict the plinth on the sides.

On the sides of the building, add the plinth using straight lines.

Sketch out the columns.

Using a few straight lines, add four columns.

Draw windows on the sides of the building.

The windows are rectangular. Draw six windows on each side.

Add details.

Depict the door, the rest of the windows, and the inside of the roof.

Color the drawing.

Use a light gray for some parts of the building and a dark gray for the door and windows.
Now you can draw a white house! I hope that you did your best and that you like the result of the work. You can enhance your drawing and add some elements. For example, draw flower beds and shrubs in front of the building's facade and draw the sky at the top of the drawing. You can share your result in the comments.
Finally, I suggest you download a PDF file that contains a short version of the lesson. This will help you return to the lesson at any time, even if you do not have Internet access.