The lesson on how to draw a flower for kindergarten consists of only four simple steps, and you will quickly make it.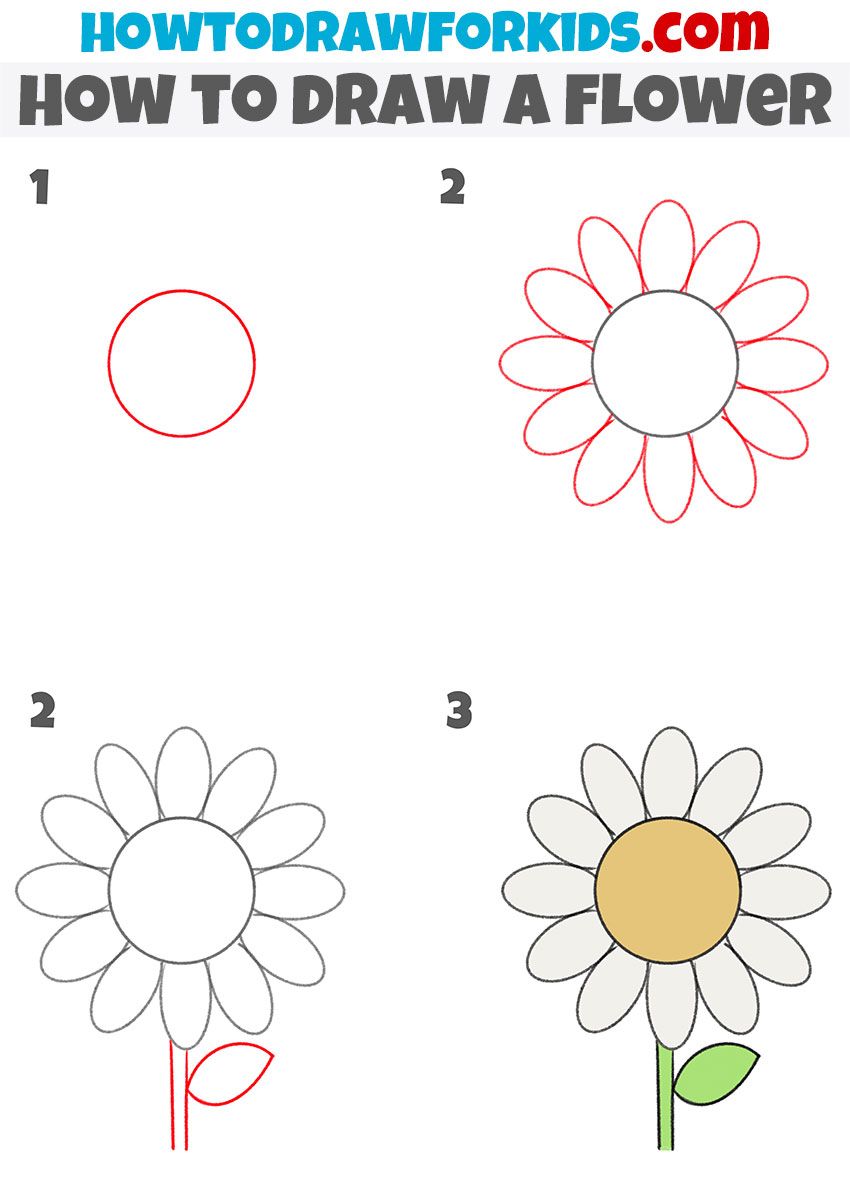 Now another very simple and interesting lesson awaits you. I will show you how to draw a flower for kindergarten. It will be really very easy, and you will see for yourself now. This lesson will not only be interesting but also useful for you. After all, you will see in what sequence you need to draw a flower. You can use the acquired skills in all your next jobs.
This picture shows a small beautiful flower. Surely you have repeatedly seen such an image on various objects or saw exactly the same flowers in nature. This flower is similar to chamomile, but according to the same principle, you can draw any other flowers, you just need to change the color and shape of the petals.
See what elements the flower consists of. There is a stem, a leaf, and a bud. It is not necessary to observe all proportions in this lesson. You can make arbitrary sizes. For example, you can make the stem longer or make the petals shorter. You can also use any color when painting the petals.
Materials
Pencil
Paper
Eraser
Coloring supplies
Time needed: 15 minutes.
How to Draw a Flower for Kindergarten
Draw the middle of the flower.

To do this, determine the position of the flower and depict a circle.

Depict the petals.

Add some petals in a circle with smooth lines.

Sketch out the stem and leaf.

Draw a straight line and depict the small leaf on it.

Color the drawing.

Paint the middle of the flower with yellow. Color the stem and leaf green.
Now you can draw a beautiful flower. You can paint a whole bunch of flowers or a beautiful flower bed. You can also draw a still life where the flower will stand in a beautiful vase. Try coloring the petals with a different color, for this use red, pink, yellow or blue. Make your drawing bright and colorful. You can draw such a flower on a greeting card for your family or friends. It will be very nice.
At the end of the tutorial, I suggest you download the PDF version of this tutorial. In this file, you will find useful drawing tools that you can use whenever you want.