I invite you to a new lesson in which I will show you how to draw Black Adam. This guide will be simple and at the same time very exciting.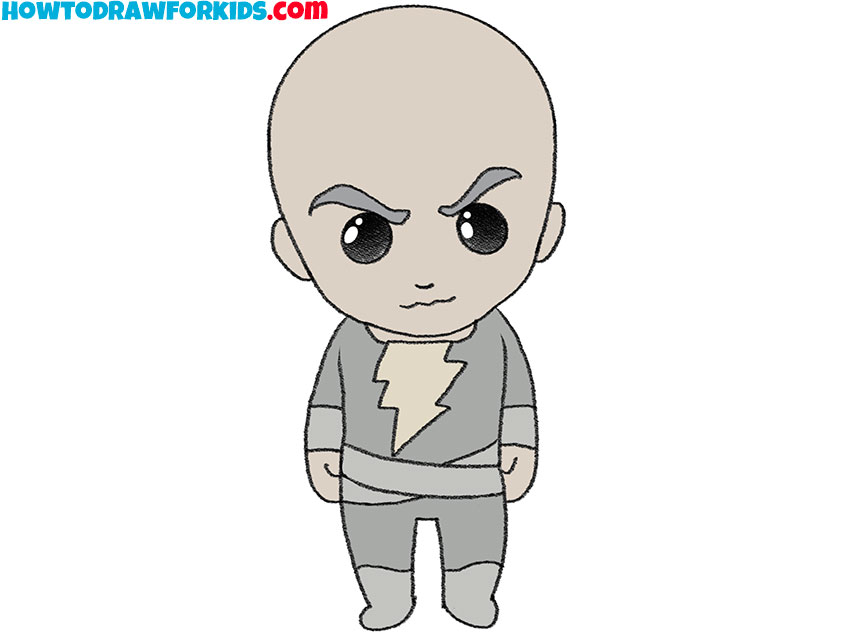 So, let's continue drawing popular characters, and now I'll show you how to draw Black Adam step by step. This is a comic book super villain published by DC Comics. He is a controversial character, as in some comics he was an ally of the Justice League, but sometimes teamed up with villains.
Black Adam has incredible strength and seeks to resist anyone who gets in his way. Black Adam also has other outstanding abilities, for example, he has access to scientific knowledge and speaks various languages, he is brave, invulnerable, and hardy. The Black Adam is able to control his mind and is able to withstand most types of physical damage.
Black Adam has a large build, tall stature, and large muscles. On the chest of the character, there is a magic symbol in the form of a lightning bolt. In this tutorial, Black Adam is presented in chibi style, and you can see that the character has a big head, a small torso and short limbs. Keep these proportions in your drawing and try to correctly depict the emotion on Adam's face.
Materials
Pencil
Paper
Eraser
Coloring supplies
Time needed: 30 minutes
How to Draw Black Adam
Draw the head and torso.

The head has an oval shape, while the upper part is wider. The trunk is small.

Add the facial features.

Draw the eyes, eyebrows, nose, and mouth.

Depict the ears and zipper.

On the sides of the head, add two small ears, draw the lightning on the chest.

Sketch out the legs.

Draw the short legs below the torso, with the feet pointing in opposite directions.

Draw the hands.

From the head, draw down the lines and depict the arms that fit snugly against the body.

Detail the clothes.

Add the collar, sleeve, and shoe outlines.

Draw the belt.

Depict a few transverse lines in the lower part of the body.

Correct inaccuracies.

Check the drawing, use the eraser to correct mistakes if necessary.

Color the drawing.

You will need black and different shades of gray.
So the fascinating lesson on how to draw Black Adam came to an end. If you carefully followed the instructions, then you should get a great drawing. At the end of the lesson, I suggest that you download a short version of this lesson as a PDF file for free. The file contains a brief instruction and additional useful materials that will help you complete the lesson.