Now I will show you how to draw an easy alligator step by step. I am sure that this lesson will be useful for you.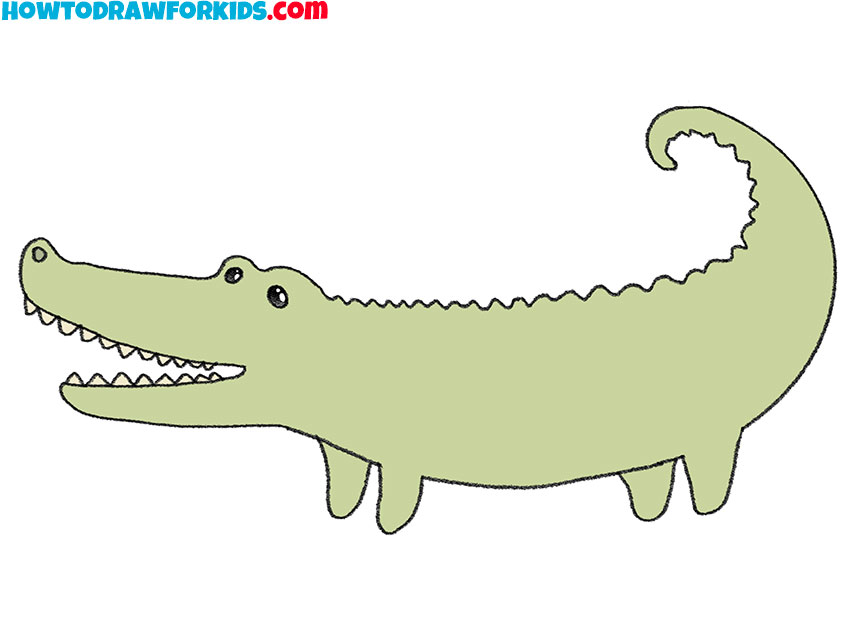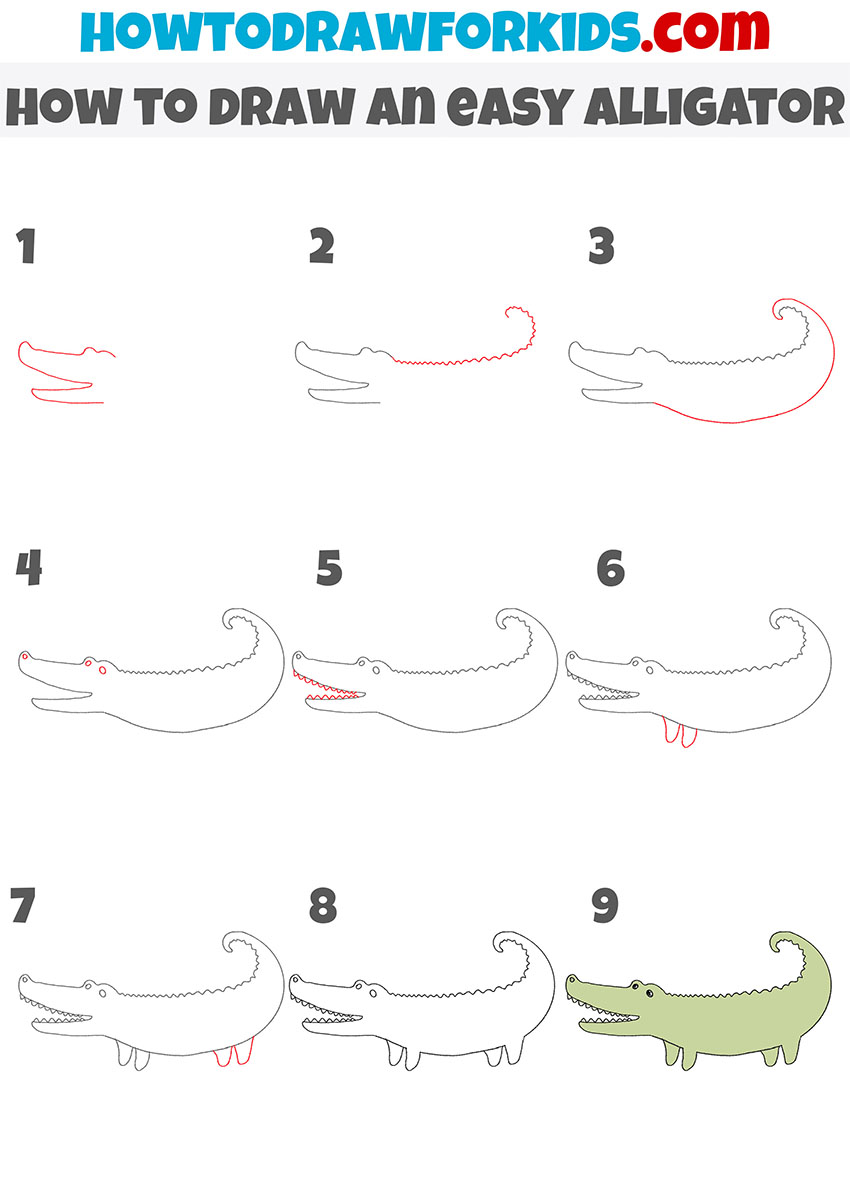 With the help of a clear and accessible instruction, you will learn how to draw an easy alligator step by step. This lesson presents a very simple drawing method that even a beginner can easily master.
The alligator is a large predator. It is very similar to the common crocodile, but has a shorter and broader muzzle. This animal feels great both in water and on land. The alligator has short legs and a long tail. All these features you have to depict in your drawing.
Be careful at every stage of drawing and carefully draw all the lines that are marked in red. Now prepare all the necessary art supplies and start the lesson.
Materials
Pencil
Paper
Eraser
Coloring supplies
Time needed: 30 minutes
How to Draw an Easy Alligator
Draw the head.

Be careful in this step and try to draw the outline of the head correctly.

Depict the back and the top of the tail.

Draw a wavy line from the head and depict the back, which smoothly passes into the tail.

Add the rest of the body

Use a smooth line to draw the chest and the lower part of the tail to make a closed outline.

Sketch out the eyes and nostril.

Draw the small eyes in the form of ovals and add the nostril.

Draw the teeth.

Using a zigzag line, draw the top and bottom row of the teeth.

Depict the front paws.

Draw two short front legs in the lower part of the body.

Depict the hind legs.

Draw the hind legs in the same way as the front ones.

Correct inaccuracies.

Take the eraser and carefully remove all the extra lines in your drawing.

Color the drawing.

You will need green and black.
Now you know how to draw an alligator in the easiest way. If you wish, you can detail the alligator and depict small scales on its body with curved lines. Especially for your convenience, I have previously created a PDF file with a short version of the lesson. Save this file so that you can return to the lesson at any time if necessary.
How to Draw an Alligator for Kindergarten
In this drawing guide, the alligator will be quite cute and simple to execute, because this is a basic figure and it is not difficult to draw it. The alligator has an elongated torso, a long nose, four short legs, and small, round eyes. When the main figure of the alligator is drawn, do not forget to finish drawing the big teeth. Use a dark green color to color the alligator. His eyes will be white, and in the middle draw a small round pupil.